Sunday Forums
Every Sunday during the year, adults at St. Alban's gather for a forum hour to learn together and discuss their experiences and concerns as Christians in the nation's capital. Audio of past forums is available on each forum series page.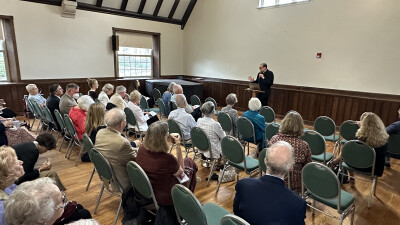 We resumed our Sunday Forums on Fall 2023. On our first series, we are discussing The Apostles Creed.
As the 2020 election approached, our adult formation team developed a series on voting faithfully (meeting on Zoom due to the pandemic).
Our Lenten series focused on walking the way of the cross, with sessions on repentance, atonement, judgment, and resurrection. Check the page for details about our Lenten book groups, as well.
In February 2020, our clergy helped us learn more about how our children and youth are growing in Christ.
We marked Martin Luther King, Jr., Sunday with a forum featuring former Virginia Governor Terry McAuliffe speaking about white supremacy.
Our Advent 2019 series, Waiting with Mary, took a fresh look at Mary, the mother of Jesus, through the Gospels, music and art.
A three-part series, Facing Mortality, examined the end of life as a part of life, something we can prepare for with our values in mind.
Fall 2019 began with a three-part series on Family Matters looking at the dynamics of relationships.
What would it mean to be "one parish, two languages?" Our forum speakers helped Christ Church Cathedral in Indianapolis through that transition and shared lessons learned.
What can a priest learn on sabbatical? Jim Quigley shared his travels in word and pictures.
Religion and science have been in tension for centuries, but recent advances have raised new ethical questions. We explore some of them in a series entitled Playing God.
How is the season of Lent reflected in the arts? This three-part series looks at issues of faith as portrayed in poetry, painting and music.
Why is the Nicene Creed considered Christianity's "symbol of faith?" A three-part series in March on the Creeds explores how it came to be and what it says about us.
On Martin Luther King Sunday, author Sam Fulwood III led a forum on race in America, setting up a four-part series in February on confronting racism.
St. Alban's marked Epiphany 2019 with a forum on Cuba and the Episcopal Church.
We ended 2018 with three forums on the cultural history of Advent and Christmas, Christmas Unwrapped.
The opioid epidemic has claimed tens of thousands of American lives in the past year alone. An epidemiologist and a board member of Recovery Ministries of the Episcopal Church looked at the crisis from different angles.
When stewardship season got underway we invited the co-chairs of the pledge campaign to share its goals.
What do three 20th century theologians have to teach us today? We explored that question this fall in a series we called Theology Updated.
Flannery O'Connor's story Revelation, replete with references to God, was the topic of two September forums.
The Book of Common Prayer was the common theme in our two August forums.
June means summer, so we had a second helping of food and faith at our Sunday forums. We also heard from some of the adults and youth whose mission trip this year took them to Kentucky.
We kicked off May with a forum on the language of flowers, timed to coincide with Flower Mart at the Cathedral.
Our forums in April examined aging faithfully, with a clear-eyed look at dementia as well as the needs of caregivers.
In Lent, we looked at prayer from a variety of perspectives, including prayer through drawing and through meditation.
The first forum series of 2018 explored the church's mission work around the world. We heard what St. Alban's is doing in South Sudan, Jordan and with Casa de Maryland.
Our Advent forums in 2017, led by our clergy, focused on the Incarnation. What are its Biblical foundations, how do we understand the story and what does it mean for us today?
The Protestant Reformation marked its 500th anniversary in 2017. What better time to explore its history and legacy? Ed Roslof was our guide.
All we have is gift. The Christian ethic of generosity was the subject of our October forum series, led by the clergy and our stewardship chairs.
Our J2A youth and their leaders went on pilgrimage to Iceland over the summer. They told a Sunday forum all about the experience and thanked St. Alban's members for supporting them.
What is the Christian perspective on climate change? We explored the meaning of "climate justice" and look at what people of faith are doing in response to climate change.
In August, we focused on the connections between faith and food in our own Christian tradition and in others. We learned new things and sampled foods from around the world.
What does Christianity teach about poverty? What are we at St. Alban's moved to do about it? These are the questions we explored in our first summer forum series, looking at our mission work and our transitional housing program.
As our Muslim neighbors marked one of the holiest seasons of the Islamic year, we gathered to learn more about Ramadan from Imam Johari Abdul-Malik.
Our Easter season forum series focused on sanctuary and the issue of immigration: what our faith teaches us, how the church is responding and what rights citizens and non-citizens have.
During Lent 2017, Priest-in-Charge Geoffrey Hoare led a five-part series on worship, with a particular focus on Eucharist.
In February 2017, our focus was on war and morality. Speakers were parishioner David Wood, author of "What Have We Done: The Moral Injury of Our Longest Wars," Matthew Zeller, co-founder of the nonprofit group No One Left Behind, and Wally Jensen, Canon to the Presiding Bishop for Armed Forces.
Two forums during the season of Epiphany 2017 featured an introduction to Eastern Orthodox icons. Theology in Color was led by parishioner Ed Roslof, a scholar of Russian history and religion.