At St. Alban's, we believe that a child's spiritual growth is just as important as their physical and intellectual growth. Our goal is to help children name and value the presence and love of God in their lives. We do this through a variety of means – by providing stable and consistent adult mentors, encouraging strong peer relationships, and supporting parents in their families' faith lives at home.
Sunday School
Online registration for the 2021-2022 program year (up to Grade 5) can be found here. Please complete a separate form for each child being enrolled. Thanks!
This fall, we will hold two classes: PreK to 2nd Grade and 3rd to 5th Grade. Starting November 28, 2021, classes will be held in the Rectory (the house across the driveway from the Church) with windows open for better ventilation.
At this point, we are asking everyone to wear masks. All leaders have been fully vaccinated.
We hope to resume our 2s & 3s class and nursery care in the Rectory once our youngest children have the opportunity to become vaccinated and/or comfort levels with indoor activities for this age group increase.
Children's Chapel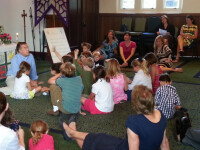 All ages are welcome at all of our services. However, we offer a child-friendly alternative during the 9 a.m. Sunday service called Children's Chapel.
In Children's Chapel, our younger worshippers experience worship at their pace and in their language, through story, prayer and singing.
Starting November 28, 2021, Children's Chapel will be held indoors on the 2nd and 4th Sunday of each month at 9:00 a.m. in Nourse Hall - a spacious hall in the same building and on the same floor as the Church. Masks will be required for everyone over 2, and a side door to the outside will be left partially open for better airflow. To learn more, contact the Rev'd Emily Griffin.