Forums: Lent and the Arts
Images and themes of the Lenten season are reflected in the arts.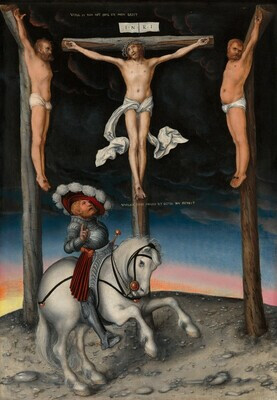 Lent is typically a time for reflection and repentance, as we prepare to remember Christ's passion and Easter resurrection. The season has also inspired artists for centuries, not just visual artists but writers and composers as well. This three-part forum series introduces us to some of those works.
Sunday, March 24: Lent and the Arts--Emily Dickinson and Eternity
Judith Farr, Professor Emerita of English at Georgetown University and longtime parishioner, returned to the St. Alban's podium to speak about the poet Emily Dickinson's vision of eternity. Farr has devoted much of her life's work to the poet. She has written a biography, "The Passion of Emily Dickinson," a novel, "I Never Came to You in White," and a critical study, "The Gardens of Emily Dickinson." Here are the poems cited during the forum.
Sunday, March 31: Lent and the Arts--Crucified

Artists have depicted the crucifixion since at least the 5th century, with the earliest paintings showing a living Christ. More realistic images of Christ suffering on the cross came later. Dianne Niedner, a docent at the National Gallery, led us in "close looking" at some famous crucifixion paintings from the Gallery's collection and the allusions they contain to the Gospels. Here are the slides Dianne showed at the forum.
Sunday, April 7: Lent and the Arts--Sacred Music
Music director Jeremy Filsell led this concluding session on Lent and the Arts by discussing the power of sacred music in liturgy, focusing on compositions written to compliment liturgies focusing on the Passion of Jesus Christ. The forum included the 11:15 a.m. choir in rehearsal, with commentary from Jeremy.