Registration for all Youth Groups
Online Registration for the 2020-2021 Program Year for all four youth groups (grades 6-12) can be found here. Please complete a separate form for each youth being enrolled. Thanks!
Education
All Youth Groups meet immediately following the 9:00 a.m. service until 11:15 a.m.
Youth Group Class Locations:
| | | | |
| --- | --- | --- | --- |
| Class Name | Grade | Room Name | Location |
| Rite 13 | 6th-7th | Phoebe Nourse | Rectory, Lower Level |
| J2A Group | 8th-9th | St. Patrick | Rectory, Upper Level |
| Sr. Youth | 10th-11th | St. Columba | Rectory, Upper Level |
| 12th Grade | 12th | | Rectory |
Rite 13
The first two years of the Journey to Adulthood program (Grades 6 & 7) celebrate the individual gifts and abilities of each young person and their creative potential. Students build a strong foundation of faith in a supportive community of their peers while exploring biblical stories. Learn more about the Rite 13 Group.
J2A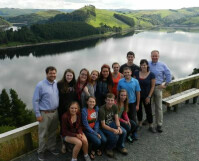 Following Rite 13, teens in the J2A class continue to develop skills they will need in adulthood. These include active listening, assertion, negotiation, partnership and leadership in Christian community. Learn more about the J2A Group.
Senior Youth Group
The Senior Youth Group moves the conversations started in Rite 13 and fostered and developed in J2A toward application of the Christian faith in one's daily life. Learn more about Senior Youth Group.
12th Grade Youth Group
This special class, solely for seniors in high school, focuses exclusively on analyzing current events through the lens of our Christian faith. Conversations are led by the group and cover any number of current topics. This is a critical year for many who are preparing to attend college in the coming fall, and examining their faith with their peers and the adult mentors continues their formation as Christians about to go out into the world. For more information about 12th Grade Youth Group please contact the Rev'd Yoimel Gonzalez Hernandez.
Youth in Service
Youth at St. Alban's have many opportunities to serve our brothers and sisters in Christ, both here at St. Alban's as ushers, acolytes, lay readers and singers, as well as more broadly in the DC area and in our region. Programs like the Salvation Army's Grate Patrol and St. Timothy's Episcopal Outreach Center in Kentucky help address the chronic issues of homelessness, hunger and substandard housing. Friends are always welcome to these events. Our youth rank both Grate Patrol and their mission trip as two of the key ways they put their faith into action.
Grate Patrol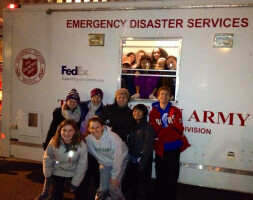 For over a decade St. Alban's youth have participated in Grate Patrol. One of our youth groups participates each month in rotation, meeting on the 2nd Friday of each month from September to June. We distribute the food we've prepared and often other items that have been collected. We put the food directly in the hands of the homeless of our nation's capital. The connection to our baptismal covenant is made real over and over again. Learn more about Youth Grate Patrol.
Youth Mission Trip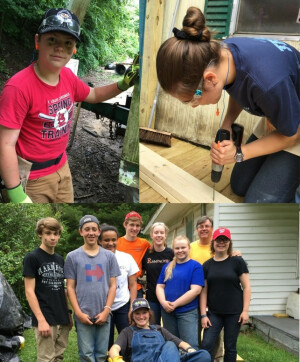 This week-long annual mission trip takes youth ages 14-18 and their adult mentors to locations in rural Appalachia to repair homes in some of the poorest counties in our country. Working with St. Timothy's Episcopal Outreach Center in Kentucky, St. Alban's youth and adults repair homes and get to know the people of Estill County.
The mission trip is typically scheduled for the third week in June. Learn more about it here. For additional information, contact the Rev'd Yoimel Gonzalez Hernandez.