Join Us for Worship In Person or Online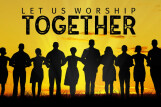 Here is our in-person worship schedule:
8:00 am (English) in the Church
10:00 am (English) in the Church, with Children's Chapel in Nourse Hall

(

Nursery available on the 2nd floor of Satterlee Hall.)
11:15 am (Spanish) in Nourse Hall
And here is everything you need to worship with us online this Sunday:
The worship services in English will be live on our YouTube channel this Sunday at 10 am.
Si quieres ver nuestro servicio en Español en vivo, ingresa AQUÍ el próximo Domingo, a las 11:15 am y acompáñanos desde donde estés.
The full set of readings in English is here.
You may donate online by clicking here.
Si quieres ofrendar a través de nuestro sitio web, puedes encontrar aquí una explicación paso a paso de cómo hacerlo.
Young Adult Program This Summer

If you are in your 20s or 30s, please join us for our upcoming events which include Grate Patrol (preparing and serving food to homeless people in DC), on Friday, August 25, from 5 to 8 pm, a Picnic on Saturday, August 26, from 6 to 8 pm in the Bishop's Garden, and a brunch to plan the program year on September 10 in Trenbath Assembly after our 11:15 am service.

Questions? Contact the Rev'd Yoimel Gonzalez Hernandez.

Sunday School/Godly Play Registration Now Open!

We can't wait to welcome children back to Sunday School this fall. Our primary curriculum is Godly Play, a Montessori-based method of spiritual guidance for children of all ages. Register at https://form.jotform.com/232125663901148. Classes for children run from age 2 ½ to Grade 5 and meet on the 2nd floor of Satterlee Hall (the large building across the driveway from the Church). An Open House will be held on Sunday, September 10 at 10:15 a.m. Classes resume on September 17 at the same time. Questions about Sunday School or Godly Play? Contact the Rev'd Emily Griffin at .
Youth Program kick-off

St. Alban´s Youth Program begins on September 10 with an open house from 10:15-11:05 am. Youth and parents are welcome to the Conference Room, downstairs of Trenbath. During this time, you will have more information about the program year. Classes begin on September 17 at the same time. Please register for the academic program 2023-2024 in HERE. More information will be provided in the next few days, specifically about other opportunities for our youth to learn, serve, and live the whole experience of faith and ministry in our parish.

Click here
for all of the news of the week.