Pastoral care is a gift from God when we are in crises or difficult life transitions. At St. Alban's, the clergy are the primary pastoral caregivers, but every parishioner is a caregiver to those in need. St. Alban's also has several dedicated caring ministries that serve as extensions of the pastoral care offered by the priests.
Please call the church office at (202) 363-8286 if you need pastoral care. In the event of illness or death outside of regular office hours, a member of the clergy can be reached at (240) 670-4898.
St. Alban's WeCare
The St. Alban's WeCare team is comprised of volunteers wishing to meet the needs of others in the church family. These needs may include transportation to church or medical appointments, errands, meals, visits in the home or hospital, notes and calls, child or pet care during a crisis … just about anything that poses a challenge. Care team volunteers can be available for a single task or teamed for an ongoing commitment to one parishioner. If you need help from the care team, or would like to be part of this comprehensive caring effort, contact Margie Delaney.
Communion for Homebound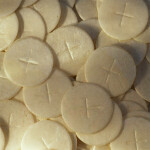 We are the people of God outside our church as well as inside. Supplementing home Communion offered by clergy, Eucharistic visitors (EVs) are trained and licensed by the diocese to bring Holy Communion to people in their homes, hospitals and nursing homes. If you are interested in this ministry or would like to have Communion in your home, contact the Rev. Emily Griffin.
Prayer List
Your fellow parishioners, clergy, and staff work tirelessly to respond to your pastoral needs. Calls, visits, prayers, and responses to specific requests are part of our daily ministry, especially to those who are sick, grieving, or in need of conversation, support, and spiritual guidance. If you would like your name (or that of a loved one) to be included on our prayer list, please contact the Rev'd Yoimel Gonzalez Hernandez. (If you are requesting for someone else, please make sure that you have their permission first.) First and last names will be read at our Sunday services and shared in our weekly electronic newsletter – typically for about three weeks, unless we hear from you otherwise. Knowing your needs will allow your clergy and parish to support you in prayer and respond accordingly.
Pastoral Emergencies
If you need to reach a clergy member in an emergency outside of regular office hours--in the event of illness or death--please call (240) 670-4898.
Stephen Ministry

Stephen Ministry, a nation-wide program, is an integral part of St. Alban's pastoral care. Stephen Ministers are carefully selected, spiritually mature parishioners who receive extensive training and supervision. They meet with their care receivers to listen and comfort, providing one-on-one support for those facing difficult life changes such as loss, illness, divorce or unemployment; the relationships are strictly confidential. If you would like to know more or think you might benefit from supportive home visits, contact Carol Aschenbrener.