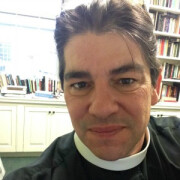 The Rev'd Jim Quigley
Associate Rector
Office: 202-363-8286 x217
Email »
Website: la-vav.com

Jim Quigley was born and raised in suburban Chicago, Illinois. A graduate of the Art Academy of Cincinnati, for many years Jim made his living as a painter, sculptor and furniture maker. After a mid-career calling Jim attended The Virginia Theological Seminary and graduated with honors in theology. He has served as an Associate Rector, College Chaplain and Rector at parishes in Kentucky, New Orleans and Washington, DC.
Jim oversees adult formation, outreach and pastoral care.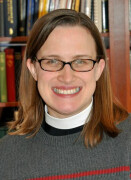 The Rev'd Emily Griffin
Associate Rector
Office: 202-363-8286 x204
Email »

Emily Griffin grew up in Syracuse, NY. After completing a dual Masters of Divinity/Masters of Social Work at Princeton Seminary and Rutgers University (along with a Masters of Sacred Theology at General Seminary in NYC), she was ordained to the priesthood in 2003. Emily has served parishes in New Jersey, Virginia and now Washington, DC – with a primary focus on Christian education across the generations; she is also an accredited Godly Play Trainer. She and her husband Mike live in the District.
Emily oversees children's formation & family ministries, coordinates our worship guilds, and oversees our ministries in Spanish.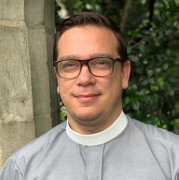 The Rev'd Yoimel González Hernández
Associate Rector
Office: 202-363-8286 x226
Email »

Yoimel (prounounced 'Joimel') was born in Cuba where he studied theater and theology. Over more than 10 years, Yoimel developed his leadership in the church in Christian education, youth ministry and lay formation. Yoimel graduated from Virginia Theological Seminary and was ordained as a priest in the Diocese of Washington in June 2019. While at St. Alban's, he will also be serving in a part-time position as dean of the Latino Deacon School in our Diocese.
Yoimel oversees our youth ministry and assists in the leadership of our Spanish liturgy.