Latest News
What's new at St. Alban's? Read on for Vestry updates and other news from the St. Alban's community.
Blessing of the Backpacks

Join us on Sunday, September 10 at 9:00 a.m. (the day we begin our fall Sunday schedule) as we bless all those who carry a backpack to school or work at the onset of this new school year. Kids, teens, teachers, faculty, staff – we invite you to bring your backpack to church on this day so we can bless it and you! We'll pray for you as a group during the announcements and give you a special backpack tag to remind you of the light of Christ that shines in and through you.
The Sunday Forum Returns September 10

Was Paul Jewish or Christian? Why do we call God a Trinity of persons? What did the earliest Christians have to say about the Eucharist? This fall our Sunday Forums will take a deep dive into the core elements of Anglican theology. Please join us in Trenbath each Sunday following the 9am service coffee hour.
Youth Program kick-off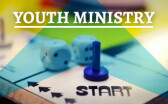 St. Alban´s Youth Program begins on September 10 with an open house from 10:15-11:05 am. Youth and parents are welcome to the Conference Room, downstairs of Trenbath. During this time, you will have more information about the program year. Classes begin on September 17 at the same time. Please register for the academic program 2023-2024 in
HERE
. More information will be provided in the next few days, specifically about other opportunities for our youth to learn, serve, and live the whole experience of faith and ministry in our parish.
Coming Soon: Wednesday Nights at St. Alban's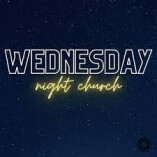 Some of the best opportunities for building an intergenerational community and growing in faith happen when we pray, eat, and learn together. That's exactly what we'll do on a weekly basis on Wednesday nights this fall, starting September 13. The current plan is to start with Evening Prayer at 5:30pm in the Church, share a meal from 6 to 7pm in Nourse Hall, and then split off from 7 to 8pm for age-appropriate faith formation. (We will eat together on Vestry nights and alter programming as needed.) Feel free to join us for the portions of the evening that best fit your schedule. More details to come, but if you're interested in helping us to organize the food portion of the evening, please contact Mery Montenegro (who returns from vacation on August 22.)
Young Adult Program This Summer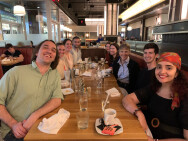 If you are in your 20s or 30s, please join us for our upcoming events which include Grate Patrol (preparing and serving food to homeless people in DC), on Friday, August 25, from 5 to 8 pm, a Picnic on Saturday, August 26, from 6 to 8 pm in the Bishop's Garden, and a brunch to plan the program year on September 10 in Trenbath Assembly after our 11:15 am service.

Sunday School/Godly Play Registration Now Open!

We can't wait to welcome children back to Sunday School this fall. Our primary curriculum is Godly Play, a Montessori-based method of spiritual guidance for children of all ages. Register at
https://form.jotform.com/232125663901148
. Classes for children run from age 2 ½ to Grade 5 and meet on the 2nd floor of Satterlee Hall (the large building across the driveway from the Church). An Open House will be held on Sunday, September 10 at 10:15 a.m. Classes resume on September 17 at the same time. Questions about Sunday School or Godly Play? Contact the Rev'd Emily Griffin at
.
Welcome to STA, Brian!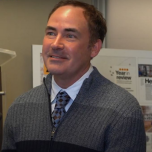 Meet
Brian Bello
, our new Financial Coordinator here at St. Alban's. Brian will assist with our in-house finances and coordinate with our external financial management firm. He is originally from Arizona and has lived in DC for 16 years.
If you have any questions about your financial contributions or reimbursements, please get in touch with him at
.
Young Adult Program This Summer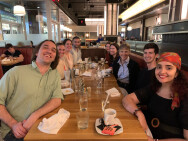 We're pausing our book discussions until September, but we will still meet over the Summer. If interested, and if you are in your 20s or 30s, join us for our upcoming events which include a Retreat (June 23-25, Claggett Center) and Grate Patrol (preparing and serving food to homeless people in DC), Fridays July 28 and August 25, 5-8 p.m. Details on these and other events will be announced closer to the date.
Summer Schedule 2023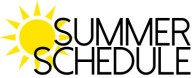 Please note that we move to our Summer Schedule soon.
Starting on May 28 (Pentecost)
, we will have Sunday services in English at 8:00 and 10:00 am (with both Nursery and Children's Chapel offered at 10:00 am) and 11:15 am in Spanish.
For your convenience, we'll offer
nursery care
throughout the Summer,
from 10 am to 11 am -Upper Level, Satterlee Hall.
For more information,
click here
.
Access Our New Directory from Our Website
Did you know you can access your Directory profile from our website, www.StAlbansDC.org? On our homepage, look for the "Login" button in the top right corner (next to "Events.") Once you click on it, you'll be redirected to STA's Directory's login page. You can do it on your phone, desktop, or tablet. It is straightforward.

Also, if you feel more comfortable using the app on your phone, whether you use an iPhone or a phone with an Android system, scan one of the QR codes after this announcement to download the platform on your mobile device.




If you have any questions or need help updating your information, please reach out to our Communications Manager, Mery Montenegro. And again, thank you for being part of this process!
Tutor Children at Harriet Tubman Elementary School

Tubman Principal Amanda Delabar says that the school is ready to welcome St. Alban's volunteers back into the school. In the past, tutors have worked on reading or math skills with individual students or in the classroom to support the teacher. Some clearance by the school system is required to be ready when classes begin next fall. If you are interested, email Marcy Fisher at for full information.
Prayer List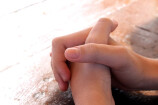 Your fellow parishioners, clergy, and staff work tirelessly to respond to your pastoral needs. Calls, visits, prayers, and responses to specific requests are part of our daily ministry, especially to those who are sick, grieving, or in need of conversation, support, and spiritual guidance. If you would like your name (or that of a loved one) to be included on our prayer list, please contact
the Rev'd Yoimel Gonzalez Hernandez
. (If you are requesting for someone else, please make sure that you have their permission first.) First and last names will be read at our Sunday services and shared in our weekly electronic newsletter – typically for about three weeks, unless we hear from you otherwise. Knowing your needs will allow your clergy and parish to support you in prayer and respond accordingly.