Latest News
What's new at St. Alban's? Read on for Vestry updates and other news from the St. Alban's community.
THANKSGIVING THANKSGIVINGS
by Tricia Pinkard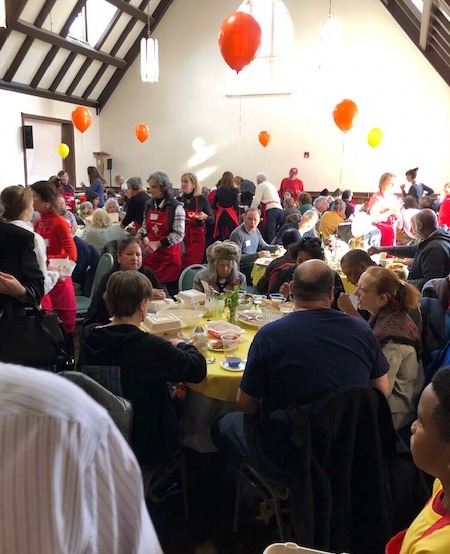 The annual Thanksgiving dinner was hosted by St. Alban's this year and it was a huge success. We had 50 to -75 more people than past years for a total of 240 or so diners (so I've been told). We had blessings in Spanish, Hebrew and English by the priests and rabbi. And our guests came from a wide range in our community: from homeless people to Muslim refugees, rich to poor, Latino to Anglo, elderly to young.
Even though the bigger numbers meant we ran out of turkey at the end, it also meant we strengthened the ties in our community among disparate populations. It was wonderful to see it all in action, and I feel lucky to have spent the day with all of these folks. My day was made when a homeless man gave me a hug and told me he felt spoiled by the warm meal and hospitality, as he walked out the door with leftovers. Success... at least for a day!
Your offerings of time, food, love and prayer made it all possible. This day was a gift to many, and I thank you for being a part of it all.
CANDIDATES FOR ELECTION
On a November 25 conference call, the Vestry finalized the slate of candidates for election on January 26, as developed by the nominating committee. They are (in the random order in which they will appear on the ballot):
For Junior Warden (one, for a 3-year term): Ted Swett, Carol Aschenbrener

For Vestry (four, for 3-year terms): Megan King, Karina Rodriguez, Rachel Colson, Anton Vanterpool, Brian Keane, John Thorne IV, Carol Aschenbrener
Note that one of the Warden candidates is also standing, simultaneously, for election to the Vestry. We have instituted this practice – of offering Warden candidates the opportunity to also stand for election to the Vestry – in order to avoid losing altogether the possibility that a Warden candidate who is not elected to that office may have no other chance to serve in elected lay leadership. It will work this way: a winning Warden candidate will be dropped off the Vestry Member list, and any votes he/she receives for Vestry Member will be disregarded. The remaining Vestry Member candidates will be ranked by votes received, and elected accordingly.
PLEDGE UPDATE
from Walker Carter and Suzy Mink
Thanks to all of you who have renewed your pledge for 2020. We have made good progress toward ensuring that we can fund the critical missions of this parish that benefit those within and outside our walls. More than half of you have increased giving levels from prior years, and we are grateful for your commitment to St. Alban's.

That said, we are moving rapidly into our planning cycle for 2020, and we are looking to establish as much certainty as we can with respect to the resources that will sustain this parish. If you have yet to make your pledge, please take a moment to reflect on the important work of St. Alban's and what it means to your own life and in the lives of others.

For those of you who are new to St. Alban's, please consider making a pledge, and if you have any questions on practicing generosity, please contact any member of the clergy or me, and I would be happy to share with you how critical the annual appeal is to ensuring that our parish continues to thrive. As a reminder you can make your pledge online through the parish website. You can also call Doug Dykstra or fill in a pledge card (available on Sunday in the narthex) and mail it to the parish office (St. Alban's Church, 3001 Wisconsin Avenue, NW, Washington, DC 20016).
NOVEMBER VESTRY NEWS
by Senior Warden Ken Patterson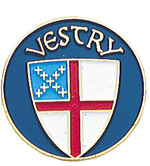 The Vestry had a shortened agenda for our November meeting in order to provide an opportunity for Vestry members to place telephone calls to folks who have traditionally pledged to St. Alban's in the past but haven't yet done so. On that note, I would ask each one of you who hasn't gotten around to pledging to please practice generosity today. Our goal is a 10% increase over last year's campaign total, and that we meet or exceed receiving pledges from 300+ households (as we did last year). We are at or above 50% of those goals, and while this is not unusual at this point in the campaign, we hope to see an influx of the additional pledges over the next couple of months.
Treasurer Hollis McLoughlin distributed to the Vestry a first draft of the 2020 budget, a placeholder. The budget will not be finalized until we determine whether we will meet the aspiration goal of a 10% increase over last year.
The Nominations Committee reported that we now have the six candidates contemplated by the Bylaws as needed to stand for election in order to fill the four slots that will be open on the Vestry at year's end, and we currently have one candidate for Junior Warden. The Vestry approved the slate as it currently stands, but will convene by electronic meeting on November 25 to review and approve the final slate that may contain additional names; this will give a number of folks currently considering standing for one of the positions an opportunity to complete their discernment. The final slate for the January 29, 2020 election will then be announced to the Parish.
Expanded summaries of this and previous Vestry meetings can be found here.
REST IN PEACE, DICK PARKINS
Longtime St. Alban's parishioner Richard (Dick) Parkins died this week. He was 83 and had been suffering from cancer. Dick was a leader in our global ministries and helped to connect St. Alban's with Hope and Resurrection School in South Sudan. He was the former director of U.S. Office of Refugee Resettlement and of Episcopal Migration Ministries.
"Richard was all that is best about our church," said Russell Randle, a member of The Episcopal Church's Task Force on Dialogue with South Sudanese Anglican Diaspora. "He was articulate, joyful, persistent and wise, a gracious colleague, a steadfast friend and an example to me and many others of what it means to grow into the full stature of Christ."
The Episcopal News Service posted this lovely remembrance.
A memorial service will be held at St. Alban's on Saturday, September 21, at 11:00 a.m. with a reception to follow.
WELCOME OUR NEW CHORISTER PROGRAM DIRECTOR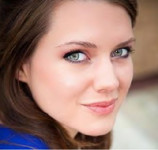 Hannah Baslee has been singing and teaching professionally in the DC area since 2015. She is originally from Texas where she earned her Master of Music in Vocal performance from the University of Texas at El Paso. She now sings regularly for Washington National Cathedral and the National Shrine, in addition to her freelance solo and chorus work and private teaching.
Hannah sang in the Schola Cantorum here at St. Alban's for the past year and will now be spearheading the Chorister Program and occasionally leading music in Children's Chapel. Hannah will be here on August 18th to greet our younger congregants and their families. Please greet her warmly.
On Thursday August 29, Hannah and music director Matthew Steynor held an open house for the 2019-2020 choristers. If you missed it, it's not too late to sign up for choristers. Click here to register or contact Hannah for more information.
WELCOME, YOIMEL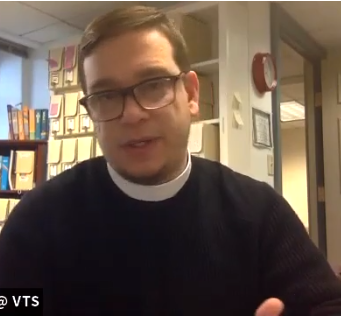 Our Vestry has unanimously affirmed the call of Yoimel Gonzalez Hernandez to serve his first appointment, often styled as a 'curacy', with us at St. Alban's. Yoimel is a native of Cuba, where he was in youth ministry in the Presbyterian Church. He will be ordained a Priest of this Diocese on June 15 after completing his studies at Virginia Theological Seminary. He is sponsored by St. Stephen and the Incarnation and doing his field work at St. Patrick's, DC.

Yoimel (pronounced 'Joimel') will begin his ministry with us on August 1, 2019. His primary role among us will be leading our youth ministries, in addition to being pastorally available to those of our parishioners who speak only Spanish. We have developed a plan for his first three years in which he will be introduced to all aspects of parish ministry, toward the end of which he will develop some additional areas of ministry such as working with our growing group of young adults. One quarter of his time for at least the next two years will be taken and reimbursed by our Diocese, who need him to be involved in developing materials and working in the Deacon's School.

So far Yoimel, in addition to being present at our recent Vestry meeting, has met with interview teams of Ken Patterson, Lucy Fraser, Ted Swett, Tomas Montgomery, Veronica Quiguango and Lauri Fitz-Pegado. He has also met with the J2A youth twice and some of the parents once, although not in an 'interview' situation. His extensive list of references, both here and in Cuba, are universally positive. One of his earliest tasks will be to join the J2A pilgrimage to Greece this summer.
CONGRATULATIONS, JO TURNER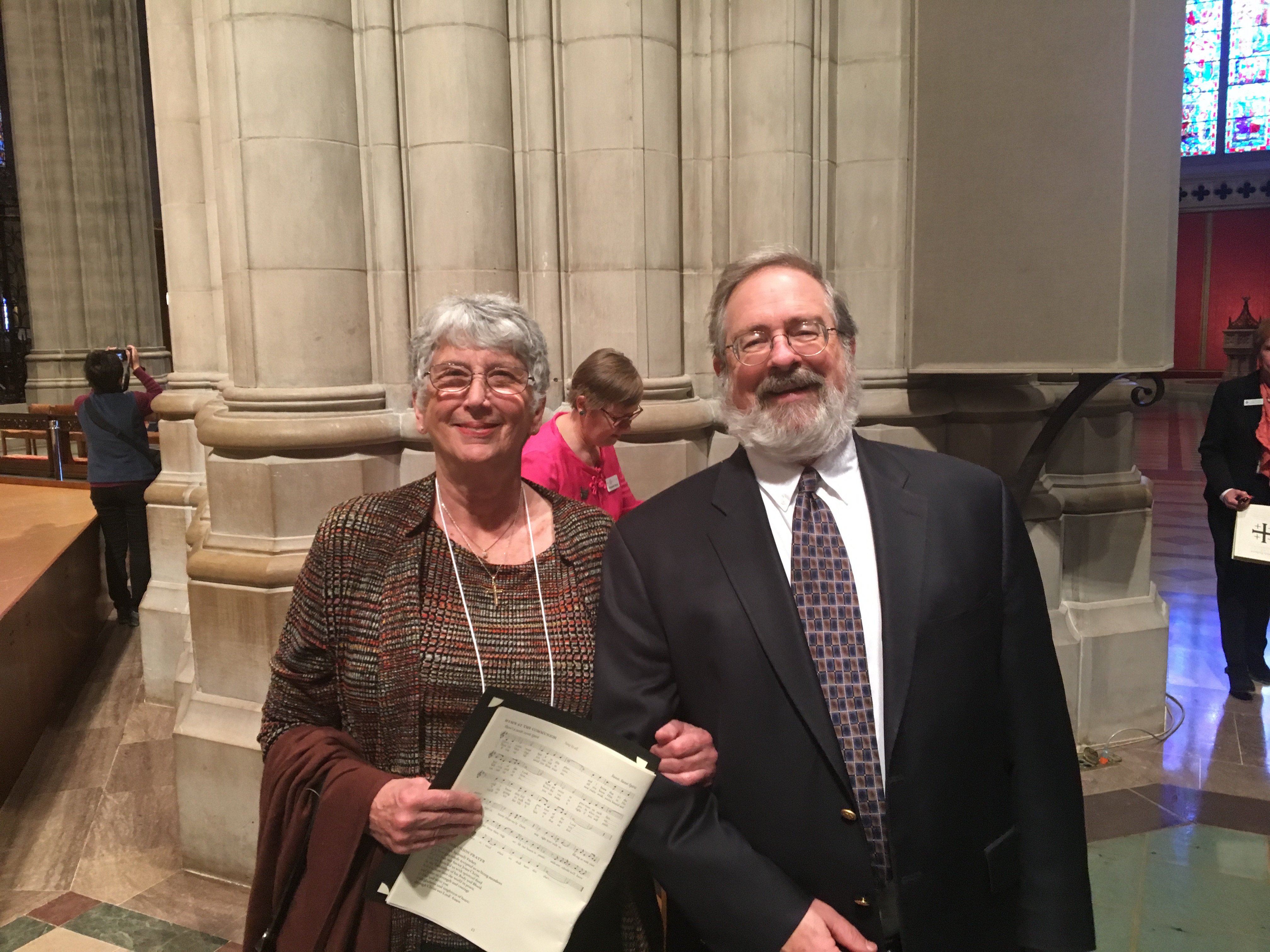 Seabury's annual celebration of service at the National Cathedral honored our own Jo Turner as "an older adult who has made a significant impact through service and leadership." Jo's citation notes her 25 years of active service at St. Alban's and her life of "compassion and care-giving." The full text along with information about other honorees is here.
Congratulations, Jo!
FAREWELL, DEBBIE
by the Rev'd Geoffrey Hoare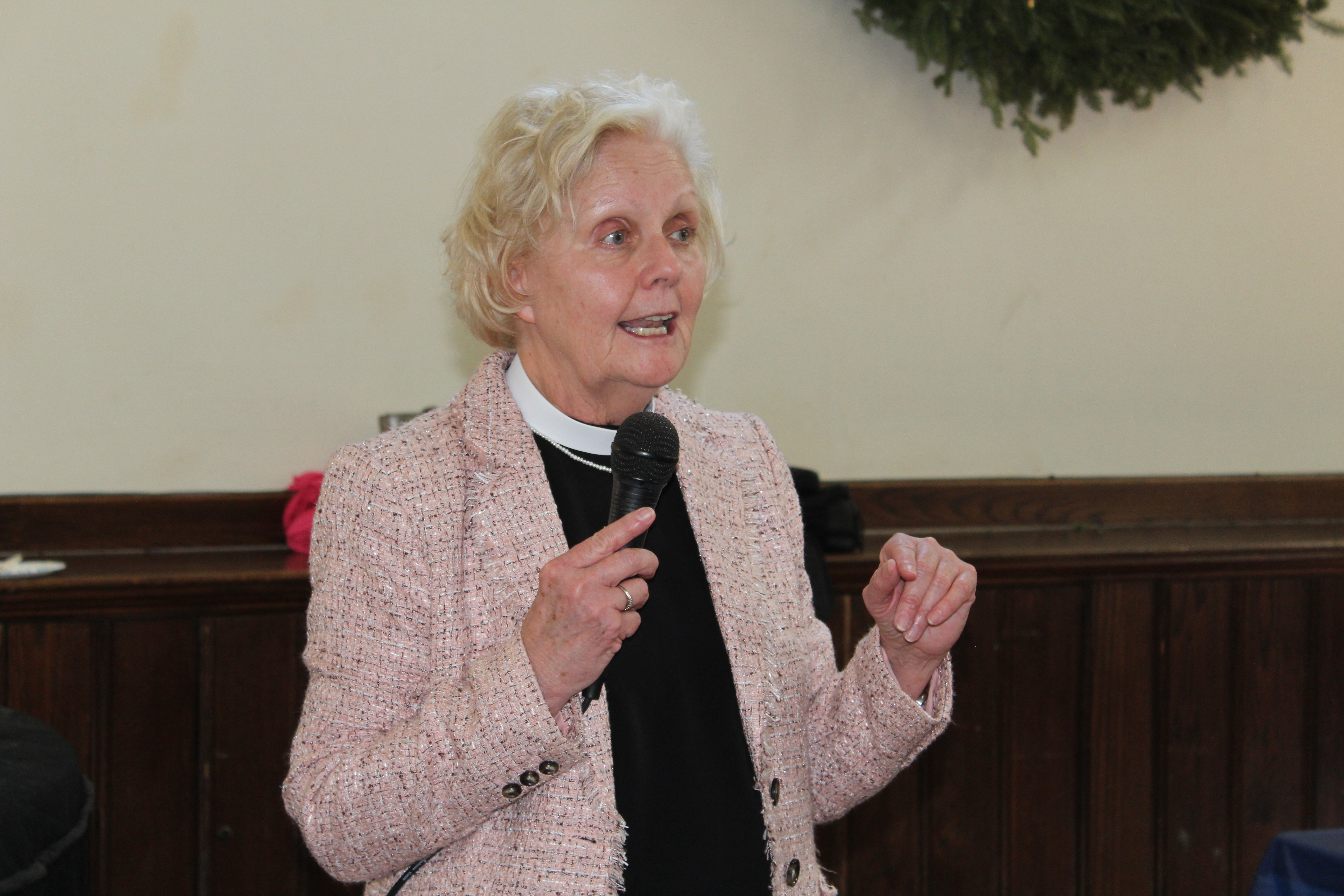 It is with decidedly mixed feelings that I have shared with the attendees of our 11:15 Spanish Language Liturgy that Debbie Kirk will be leaving us this summer. There are two parts to this. First, as most of you know, we were able to fund Debbie's position with us by donating half her time to CASA de Maryland and paying for it as part of our Global Mission budget, which was not sustainable in the long term. Second, I have been in conversation about how to find or create a sustainable model for this congregation going forward, given that 'separate is vulnerable.' We will be restructuring clergy roles and changing staffing to create such a model.

Debbie has been an important part of our common life in the whole parish in the past two years and a significant leader among our Spanish speakers for much longer - serving first as seminarian and then as primary pastor for the San Albano community. She has offered leadership development and been with us in times of joy and sorrow, offering her significant pastoral skills and giving tirelessly of herself for the growth of the community. We hope to be able to announce that Debbie has found a new ministry opportunity before she steps down this summer, and that we can enjoy a wonderful celebration of her ministry, both past and future.

Among her many accomplishments, she has embraced talking less about 'the San Albano community' as a separate group and more about the Spanish liturgy of St. Alban's Parish and the community being fully part of one parish. This seemingly small thing is actually significant, and we will be exploring what that means as our distinctive but accessible-to-all liturgy is served by all the clergy of the parish who will also offer pastoral care as we do for all Anglo and other parishioners.

There will be further conversation about that in the weeks to come, but for now I ask that we turn our attention to celebrating our time with Debbie and the gifts she has both shared and brought forth in us.
---
Looking for something you once found on this page? Want to take a look back at previous events or announcements? Check the news archive page.