Latest News
What's new at St. Alban's? Read on for Vestry updates and other news from the St. Alban's community.
MATTHEW STEYNOR TO BE MUSIC DIRECTOR
Announcement from Geoffrey Hoare:
I am delighted to announce that I have invited Matthew Steynor to join us at St. Alban's to lead our music program. He has accepted with enthusiasm, as you will see from his note to us below. Matthew has served since 2007 as the Director of Music for
Trinity Episcopal Cathedral
in Miami, Florida. While there he started and sustained an Evensong Chorale and a successful community choir of boys. He has accompanied and led music for liturgies in English and Spanish for the Cathedral in addition to major Diocesan events and services. Matthew has also led choir tours and overseen a significant concert series in Southeast Florida. His early training was as a Senior Organ Scholar at Queens' College, Cambridge and then at Great St. Mary's, the University Church in Cambridge. He subsequently served at Christ Church Cathedral in Nassau, Bahamas and St. Thomas' Parish in Coral Gables, Florida. (I recommend searching his name on
YouTube
where you will find some examples of his playing and conducting while at Queens'.) He is excited not only by the quality of our adult choirs but also by the potential of our Choral Scholar and Chorister programs.
Matthew struck the group advising me (Laura Ingersoll, Kate McNamara, Chuck Burg, Doug Dykstra and the clergy) as a particularly good fit for us among an extremely strong field of candidates. His references are stellar as is his reputation in the Diocese of Southeast Florida. I believe he has the gifts to lead us to great things in the next season of our parish life.
Matthew will begin with us on May 15, 2019. I hope you will mark your calendars and plan to join us to welcome him on that day.
He writes:" Greetings and ¡Saludos! from Miami, Florida, where I have lived and made music for the last fifteen years. I am tremendously excited to be joining your dynamic Rector and team at St Alban's in mid-May, and to be continuing the wonderful musical tradition that has been part of this parish for many years. It is a distinct pleasure to be succeeding Jeremy, having been an admirer of his playing since I was a teenager. The St Alban's choir is super and, as I witnessed when I visited in November, can sing anything! It will be especially thrilling to be part of a thriving church where both adults and children make great music since in my current situation they are thirty miles apart. I look forward to meeting you all and to serving God and the St Alban's congregation for many years to come."
NEW LAY LEADERS ELECTED
The results are in from the annual meeting. The following were elected:

Senior Warden (three-year term)
Ken Patterson

Junior Warden (one-year term)
Lucy Fraser Cage

Vestry Members (three-year terms)
Paul Brewster
Barbara Manard
Josepha Musabyemariya
Dudley Winthrop
We are thankful for all who stood for election.
JANUARY VESTRY NEWS FROM THE SENIOR WARDEN
by Laura Ingersoll
The Vestry unanimously approved a balanced Operating Budget for 2019, based upon the nearly $1.3 million in pledges made to date (thank you, dear fellow parishioners!) and other income sources including $79,822 in unspent funds carried forward from 2018. The budget funds our increasingly robust music program and anticipates hiring a youth director for the 2019-2020 program year. It also accounts for ongoing planned maintenance and repair projects, and our communications infrastructure upgrade. We increased our outreach budget (not including OpShop and other "pass-through" receipts/disbursements) to $111,516 to match our slightly increased annual Diocesan contribution – continuing to move each item toward our aspirational goal of a 10% tithe of the Operating Budget. The Operating Budget, plus over $200,000 in pass-throughs (including WSA funds and designated Endowment Funds), tops $2 million.
Director of Music Jeremy Filsell discussed a report prepared by Schantz Organ Company, based on a recent inspection and assessment of our organ, which recently received a comprehensive overhaul. Our current organ was installed in 1998 to replace a much smaller 1928 instrument, and is deemed to be somewhat too large for our space and sub-optimally sited, leading to performance and maintenance challenges. While no near-term change is recommended, the Vestry will keep these factors in mind for the future.
Vestry members ending their terms of service gave heartfelt reflections on their Vestry experiences, and the end of the Vestry term was marked with chocolate cake!
The first meeting of the new Vestry will be on February 20.
Previous Vestry meeting summaries can be found here.
CHRISTMAS THANKS
To our community Christmas dinner helpers: Thank you to all who planned, shopped, cooked, decorated, set up, welcomed, hosted, "kitchened," served and, best of all angels, cleaned up. We served upwards of 150 meals and sent people home with over 50 clamshells of leftovers. While all is still fresh in memory, we would appreciate your feedback: what worked; what didn't; what we needed more, or less, of; and any comments received or observations made – yours or others'. Email Phoebe Jane.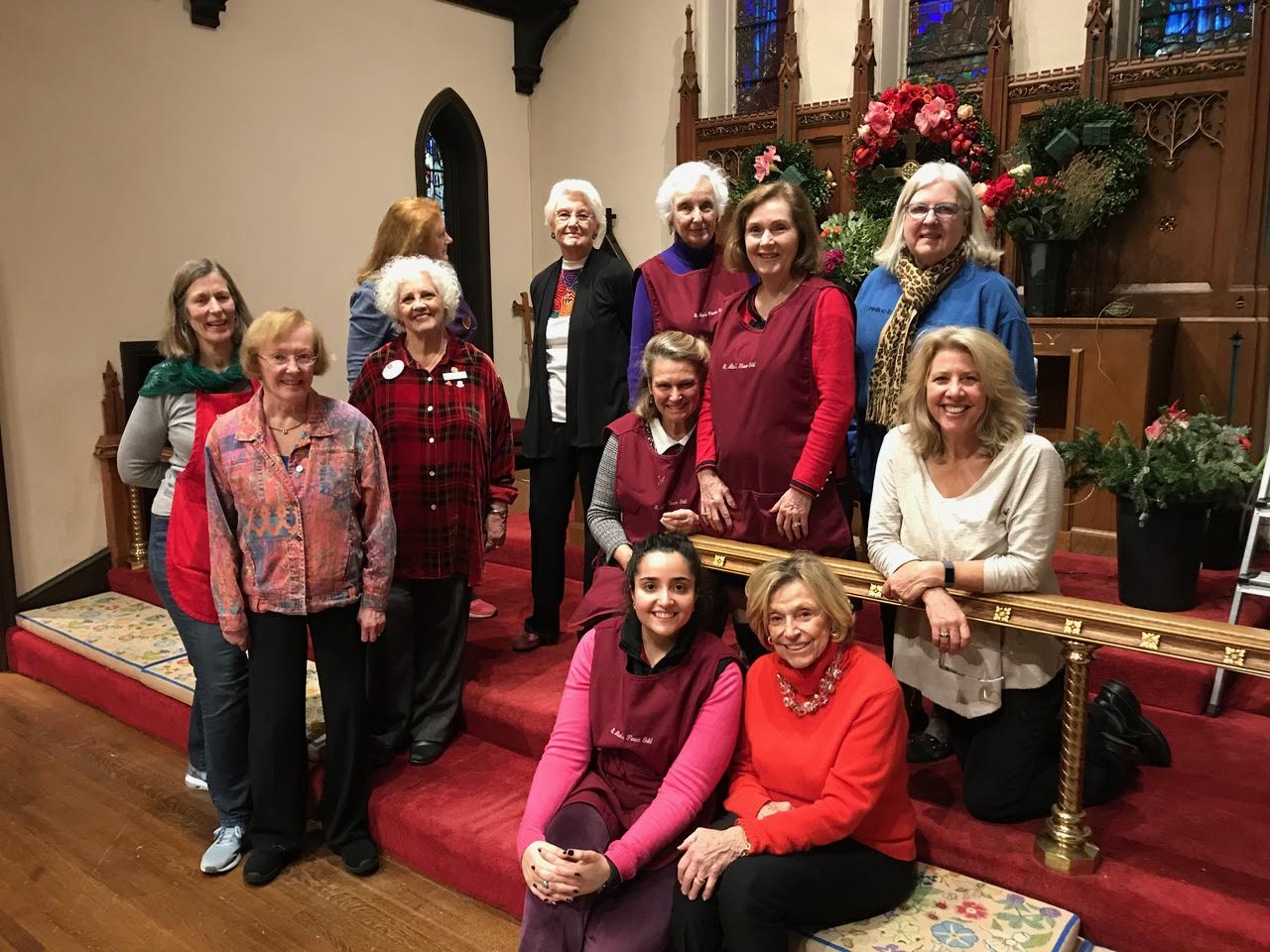 Thanks, as well, to our amazing flower guild for making sure St. Alban's looked its best inside and out during the Christmas season. Flowers on the altar, the font, the pulpit and lectern, and at St. John's chapel were gorgeous. Roping and bows throughout the sanctuary, wreaths on all of our red doors--all of it came together and lasted right up to Epiphany. Did you know you can see the flower guild at work and many of its arrangements in this photo gallery? If you're interested in joining the guild, contact Katie Wilson.
TUBMAN HOLIDAY SHOW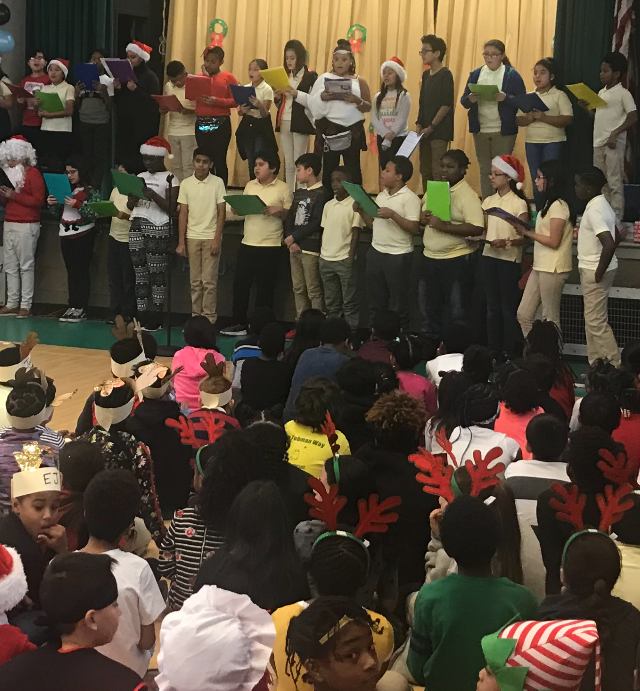 St. Alban's members who volunteer at Harriet Tubman Elementary School got a treat in December when the children performed their annual holiday show. Joy to the world!
Located just three miles from St. Alban's, Tubman serves children from three homeless shelters and two housing projects.
Learn more about our partnership with the school and contact Tom Jansen if you'd like to get involved.
EVENSONG @ ST. ALBAN'S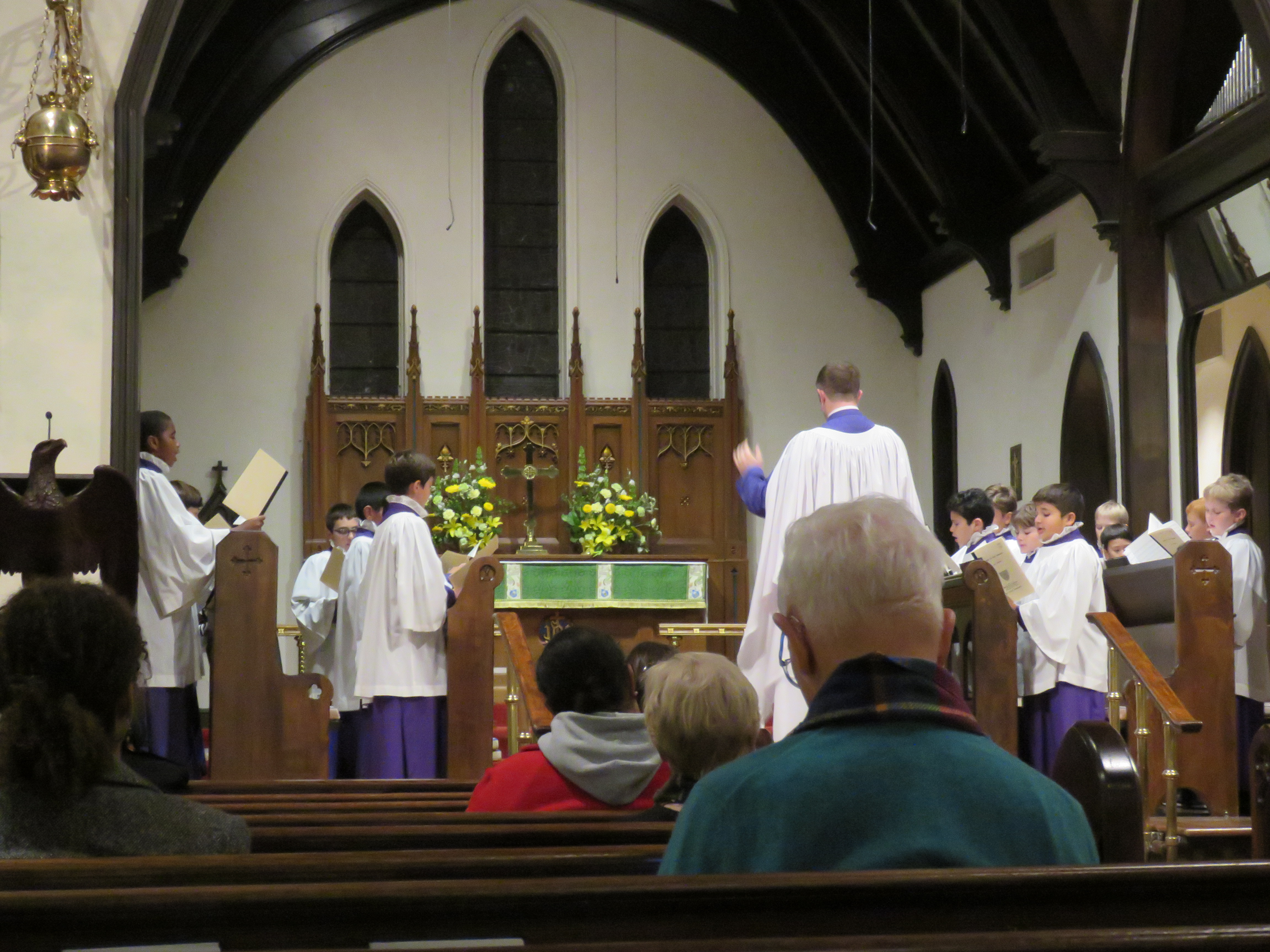 St. Alban's hosted the Washington National Cathedral's weekly Choral Evensong, on Tuesday, November 14. The service featured the sublime voices of the Cathedral's Boys Choir under the direction of Brian Glosh (a St. Alban's parishioner). Our Rector Geoffrey Hoare was the officiant. Choral evensong is an enduring spiritual element of the Anglican tradition, and offers respite, contemplation and inspiration in the midst of our busy modern lives.
ROWAN WILLIAMS VISITS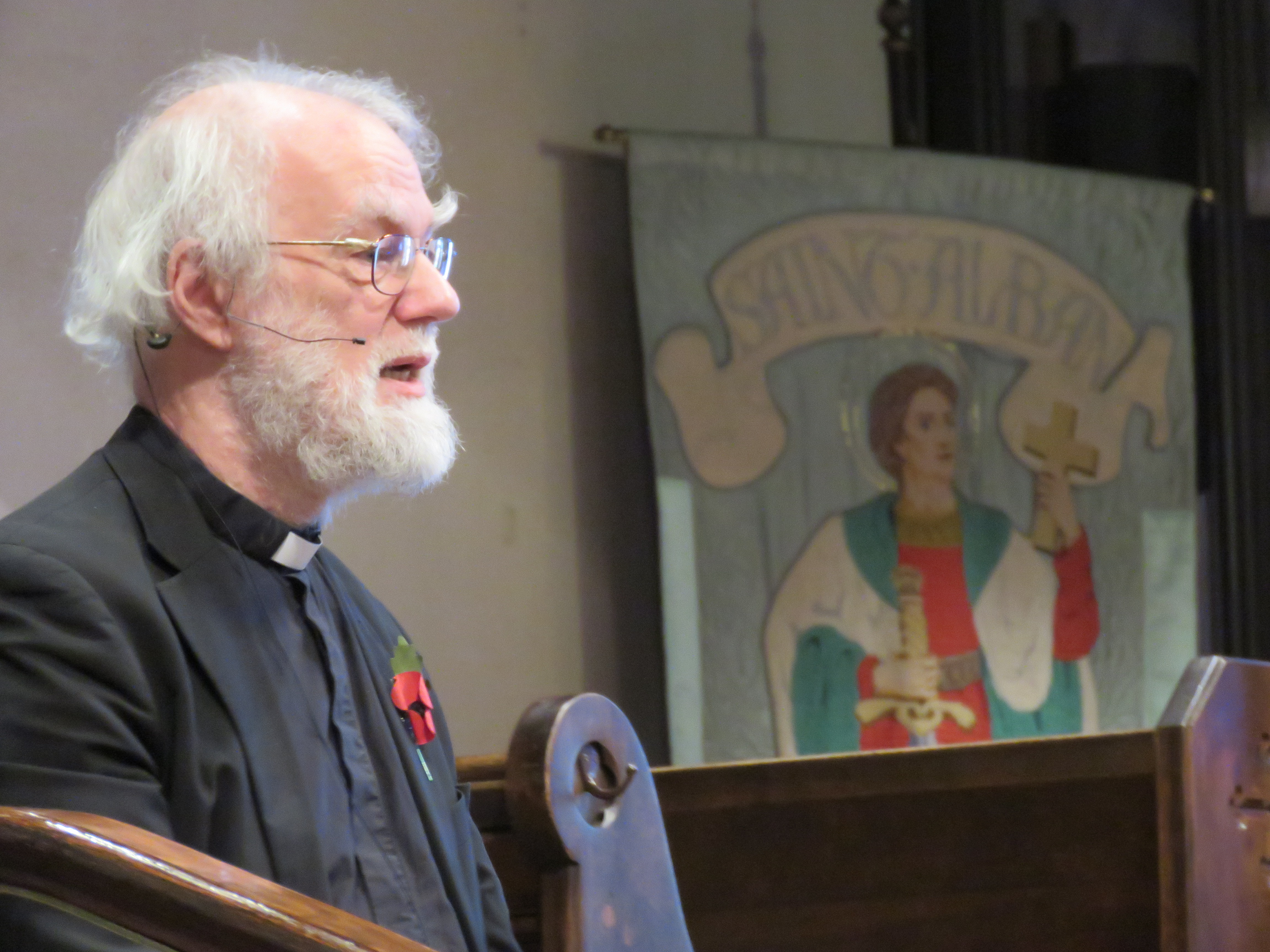 On a crisp autumn morning, November 8, over a hundred people hungry for faith-understanding gathered at St. Alban's to hear former Archbishop of Canterbury Rowan Williams speak about Christian believing and discipleship and then address thought-provoking audience questions. Parishioners have been reading two of Bishop Williams' recent books, Being Christian and Being Disciples – slim volumes aimed at helping us work out the essentials of our faith. Since serving for a decade as primate of the Anglican Communion (2002-2012), Williams has been Master of Magdalene College at Cambridge University (alma mater of our Rector, Geoffrey Hoare), and continues to be a leader in the contemporary church's progressive thinking, ecumenism, and interfaith reconciliation work. Listen here:
BYLAWS APPROVED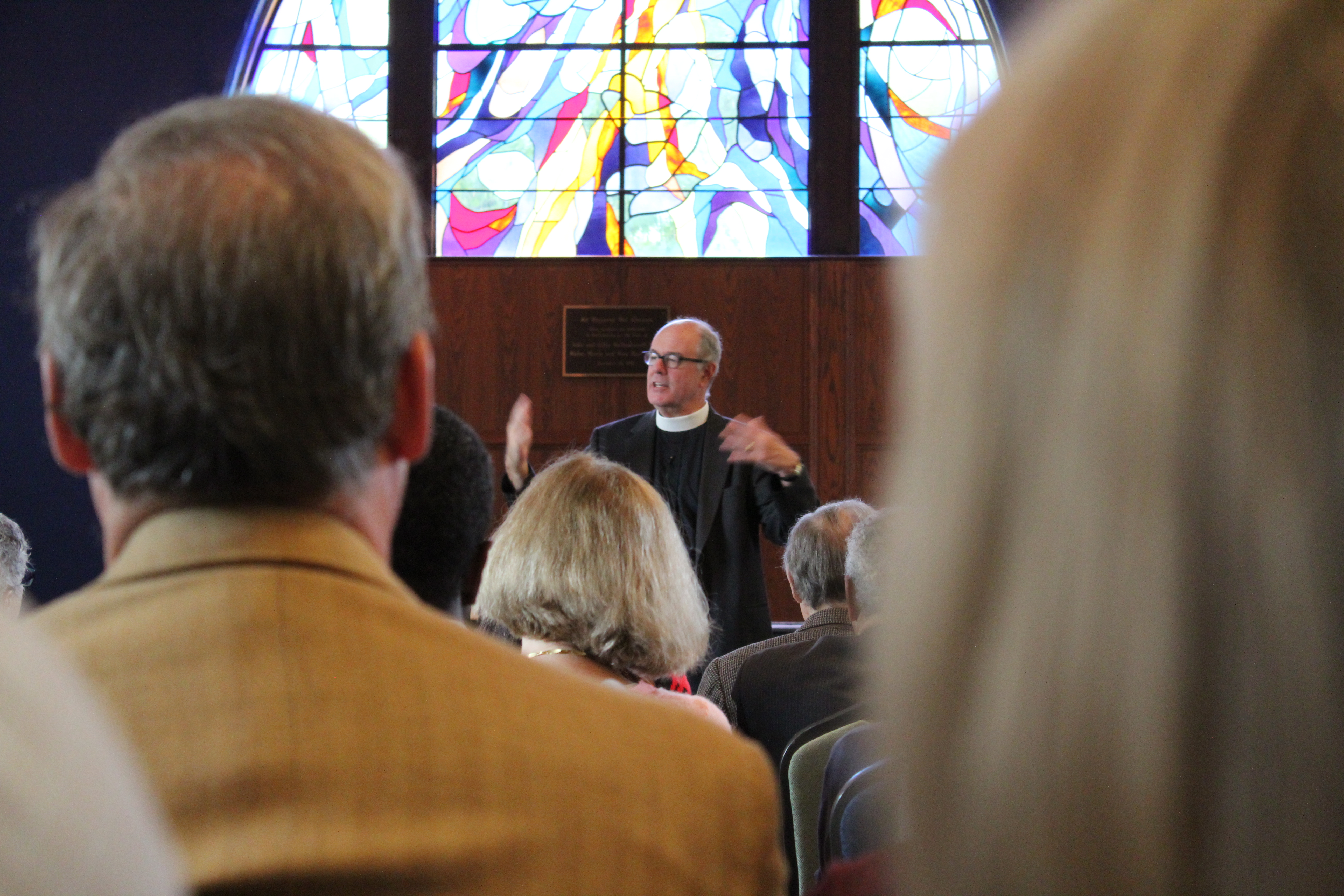 By a unanimous voice vote, members of St. Alban's approved the revised parish bylaws that conform to new diocesan requirements. The new bylaws can be found
here.
At the meeting on Sunday, October 28, Geoffrey shared some of his hopes for the parish going forward, commenting on music, children and youth ministries, and collaboration with the Cathedral.
WHAT HAPPENED TO "WATER INTO WINE?"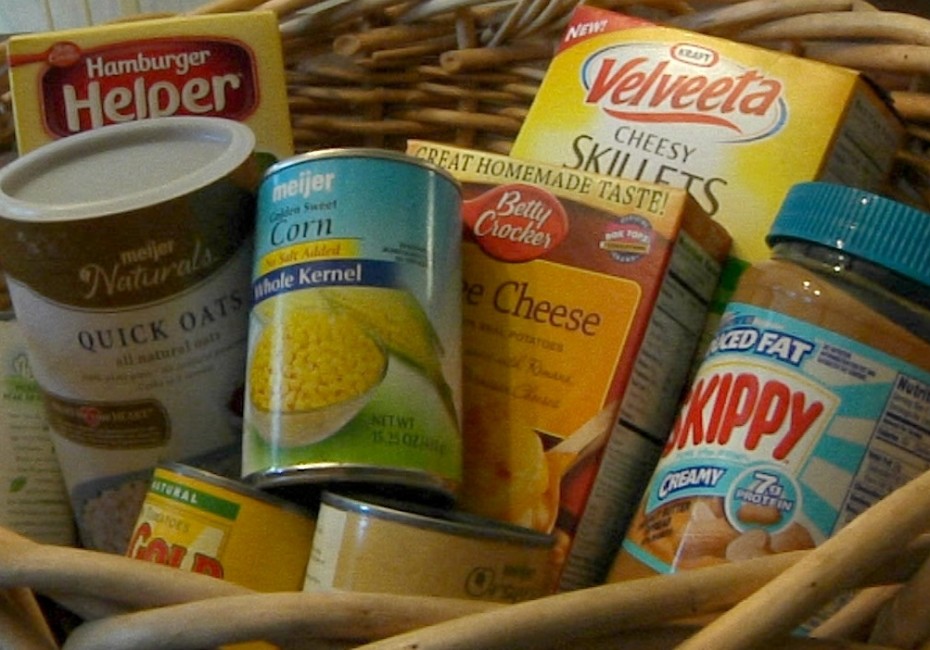 Parishioners who are used to putting non-perishable food or items collected for our Water-into-Wine initiatives into the brown bins near St. John's Chapel in the Nave may have discovered that the bins are no longer there. While we will still occasionally ask for donations for Water-into-Wine initiatives we will no longer be using the bins. When collections are announced, drop-off locations will be provided. In the meantime, if you have been placing non-perishable food donations in the bins, thank you! From now on, please put them in the wicker basket located in the Narthex.
THANK YOU, HEATHER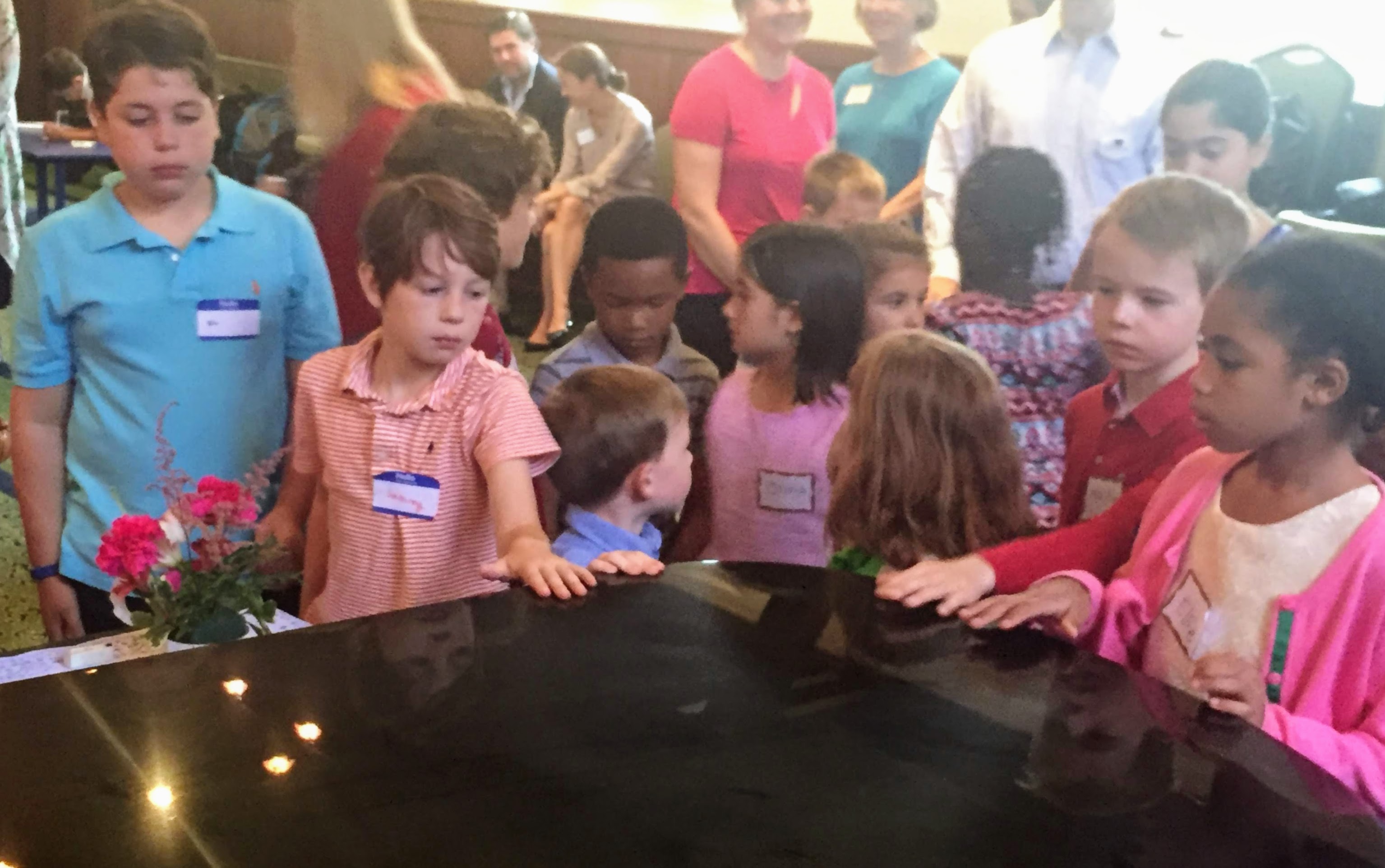 Children's Chapel has a new grand piano, a generous gift from St. Alban's member Heather Hunt, who died in September. Heather was a long-time music leader in Children's Chapel, a much-loved and cheerful presence in the lives of our youngest parishioners. Phoebe Jane played Heather's piano for the first time on Sunday, October 7, and it sounds amazing. In memory of Heather, the children came forward to touch her piano and thank her for her gift.
CELEBRATION SUNDAY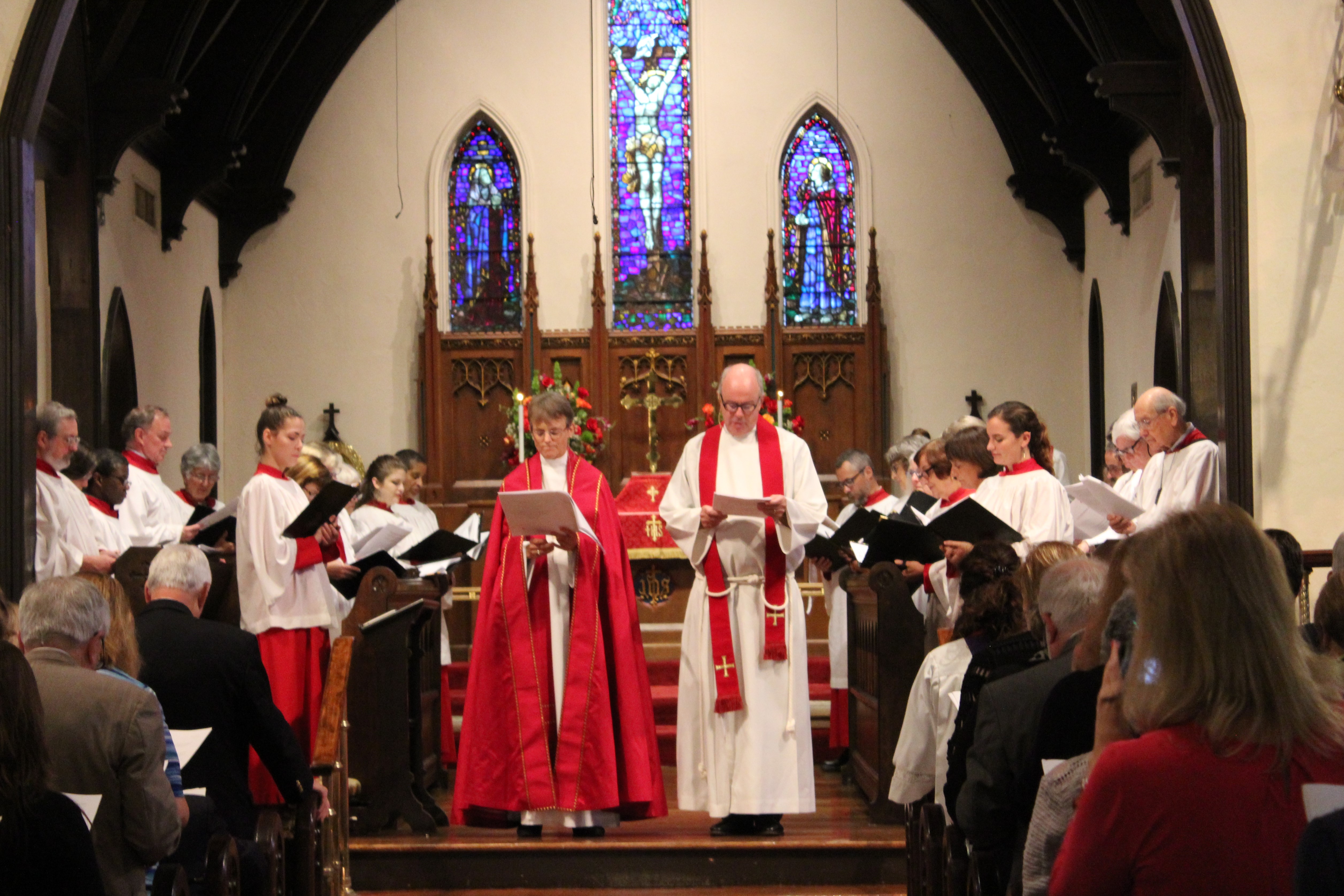 It's official! Geoffrey was formally installed as our rector on Sunday, September 16, at a glorious afternoon service. Bishop Mariann commended the Vestry's choice and affirmed the call, asking the congregation, "Are you, the people of St. Alban's, ready to continue in your ministry, with Geoffrey as your rector?" The people responded with a loud, "We are."
The service, which also celebrated all the ministries of St. Alban's, was followed by a festive reception. Thanks to Susan Morris, who organized the party, and to all who helped to set up, contributed food and drink, served, and cleaned up.
THANKS BE TO JO
Sunday, September 9, was proclaimed "Jo Turner Sunday" at St. Alban's as we thanked Jo for her three years of service (without pay) as our pastoral care coordinator. Many at St. Alban's benefited greatly from the prayers, visits and home-delivered meals Jo helped to coordinate during her time on staff.
The Faith Talk blog that Jo has written for several years is taking a break. After some restful discernment, Faith Talk will resume on a less frequent schedule (she thinks).
Looking for something you once found on this page? Want to take a look back at previous events or announcements? Check the news archive page.