Latest News
What's new at St. Alban's? Read on for Vestry updates and other news from the St. Alban's community.
NOVEMBER VESTRY NEWS FROM THE SENIOR WARDEN
by Laura Ingersoll
The Vestry accepted an annual outside auditors' report that found our financials to be in fine shape. We allocated two substantial recent bequests (a $200,000 installment of the Griest bequest, and approximately $53,000 from Chris Larsen) to the Endowment, except for 20% which will go to the Reserve Fund to address significant water infiltration remediation issues in our three buildings. We established the John LeMoyne Ellicott and Beatrice Berle Meyerson Fund for General Purposes within the St. Alban's Endowment Fund, and gratefully assigned to it $50,000 in gifts received for that purpose.
Pursuant to the new bylaws, the Vestry appointed Ted Swett to continue Vestry service, filling out the two-year term vacated by Lucy Fraser Cage when she was appointed Junior Warden. We accepted the slate of candidates for election (see below) and approved balloting procedures for publication online to the Parish. All Vestry members, wardens, officers, and diocesan delegates having made their 2019 pledges, we adjourned to conduct a phonathon to encourage parishioners who have not yet pledged to do so.
The next regular Vestry meeting will be on December 19.
Previous Vestry meeting summaries can be found here.
WARDEN AND VESTRY CANDIDATES
At its November 28 meeting, the Vestry accepted the slate of candidates for election on January 28, 2019. They are (in the random order in which they will appear on the ballot):
For

Senior Warden

(one, for a 3-year term):
Paul Brewster
Ken Patterson


For

Junior Warden

(one, to complete the final year of a 3-year term):
Lucy Fraser Cage
Bob Witten


For

Vestry

(four, for 3-year terms):
Rachel Colson
Barbara Bolling Manard
Ken Patterson
Josepha Musabyemariya
Dudley Winthrop
Lucy Fraser Cage
Pamela Melby
Paul Brewster
Note that three of the four Warden candidates are also standing, simultaneously, for election to the Vestry. Senior Warden Laura Ingersoll explains here.
EVENSONG @ ST. ALBAN'S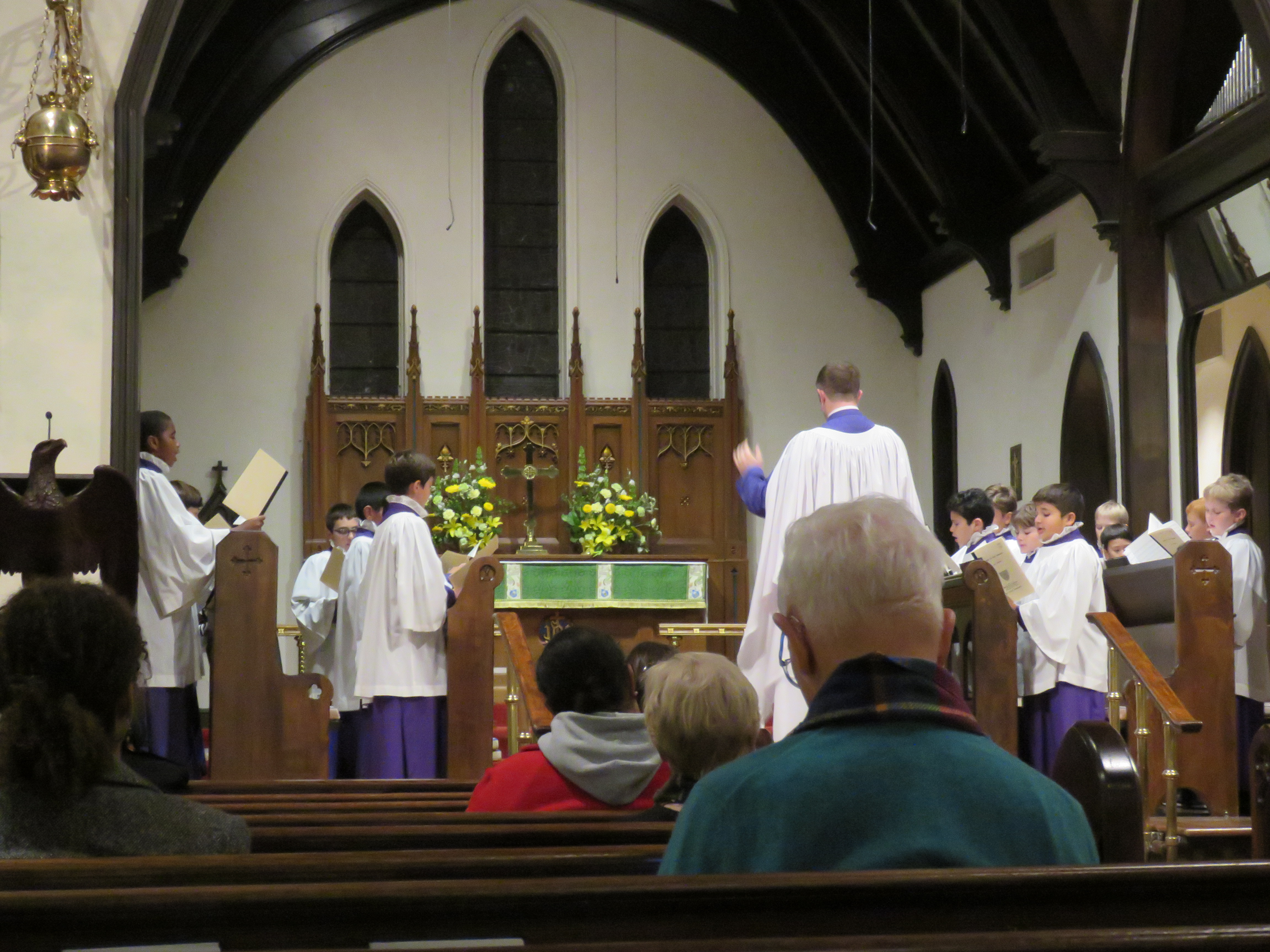 St. Alban's hosted the Washington National Cathedral's weekly Choral Evensong, on Tuesday, November 14. The service featured the sublime voices of the Cathedral's Boys Choir under the direction of Brian Glosh (a St. Alban's parishioner). Our Rector Geoffrey Hoare was the officiant. Choral evensong is an enduring spiritual element of the Anglican tradition, and offers respite, contemplation and inspiration in the midst of our busy modern lives.
ROWAN WILLIAMS VISITS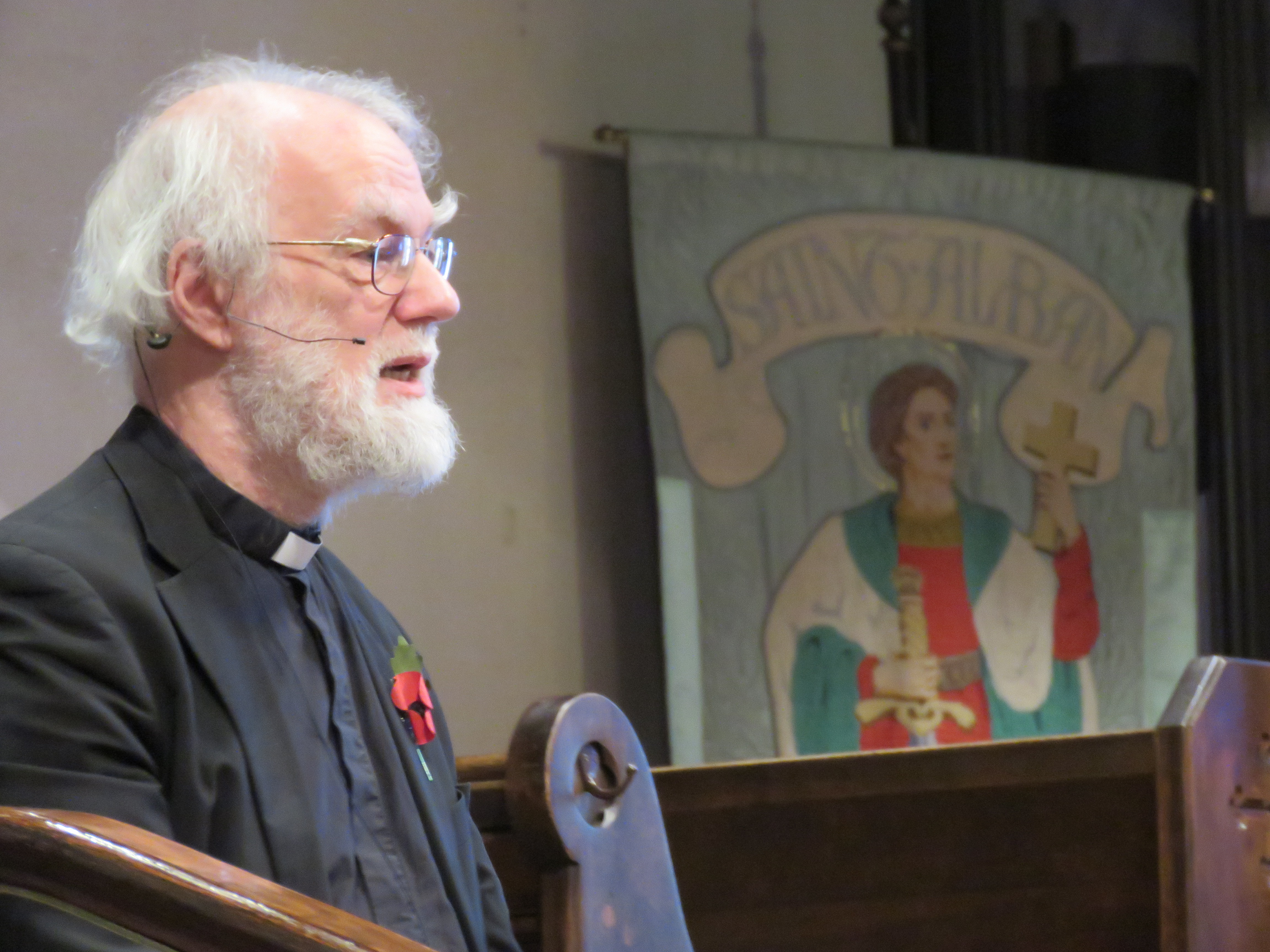 On a crisp autumn morning, November 8, over a hundred people hungry for faith-understanding gathered at St. Alban's to hear former Archbishop of Canterbury Rowan Williams speak about Christian believing and discipleship and then address thought-provoking audience questions. Parishioners have been reading two of Bishop Williams' recent books, Being Christian and Being Disciples – slim volumes aimed at helping us work out the essentials of our faith. Since serving for a decade as primate of the Anglican Communion (2002-2012), Williams has been Master of Magdalene College at Cambridge University (alma mater of our Rector, Geoffrey Hoare), and continues to be a leader in the contemporary church's progressive thinking, ecumenism, and interfaith reconciliation work. Listen here:
BYLAWS APPROVED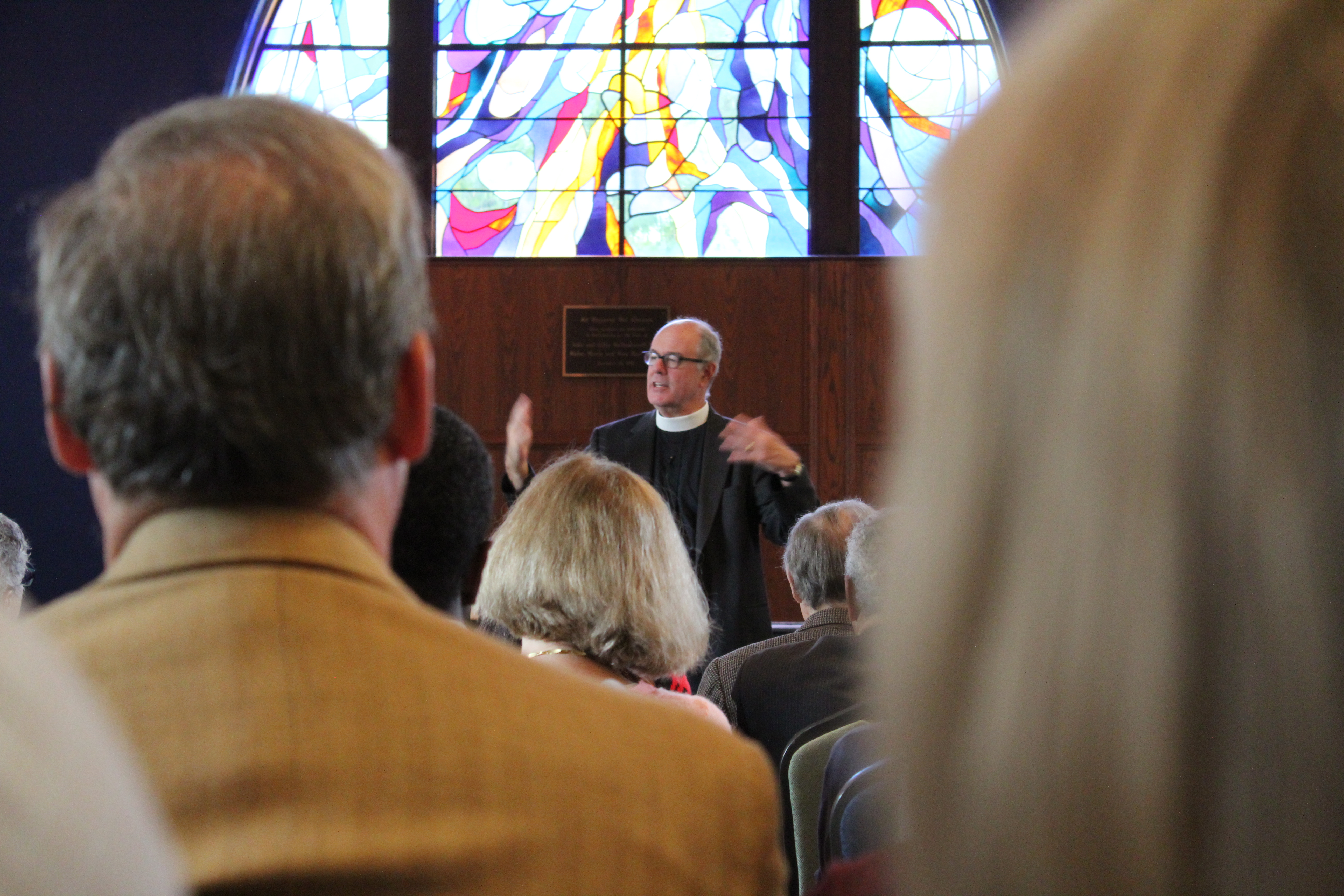 By a unanimous voice vote, members of St. Alban's approved the revised parish bylaws that conform to new diocesan requirements. The new bylaws (annotated) can be found
here.
At the meeting on Sunday, October 28, Geoffrey shared some of his hopes for the parish going forward, commenting on music, children and youth ministries, and collaboration with the Cathedral.
WHAT HAPPENED TO "WATER INTO WINE?"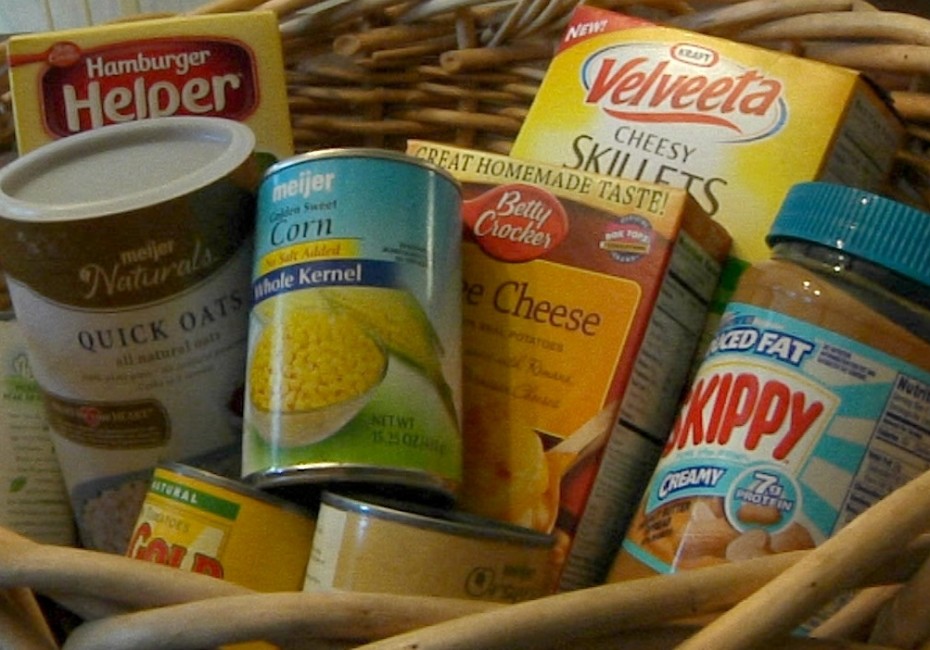 Parishioners who are used to putting non-perishable food or items collected for our Water-into-Wine initiatives into the brown bins near St. John's Chapel in the Nave may have discovered that the bins are no longer there. While we will still occasionally ask for donations for Water-into-Wine initiatives we will no longer be using the bins. When collections are announced, drop-off locations will be provided. In the meantime, if you have been placing non-perishable food donations in the bins, thank you! From now on, please put them in the wicker basket located in the Narthex.
THANK YOU, HEATHER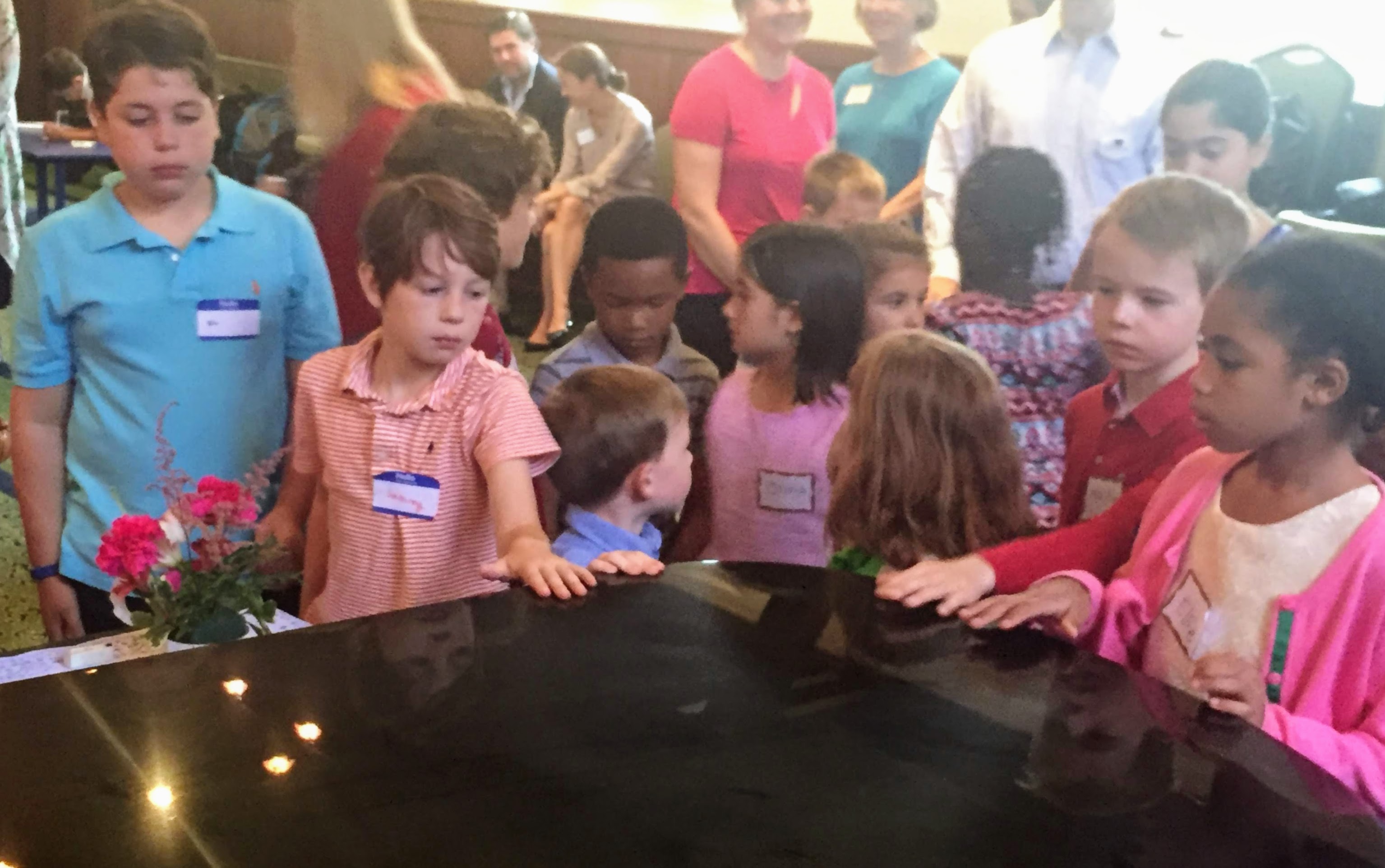 Children's Chapel has a new grand piano, a generous gift from St. Alban's member Heather Hunt, who died in September. Heather was a long-time music leader in Children's Chapel, a much-loved and cheerful presence in the lives of our youngest parishioners. Phoebe Jane played Heather's piano for the first time on Sunday, October 7, and it sounds amazing. In memory of Heather, the children came forward to touch her piano and thank her for her gift.
CELEBRATION SUNDAY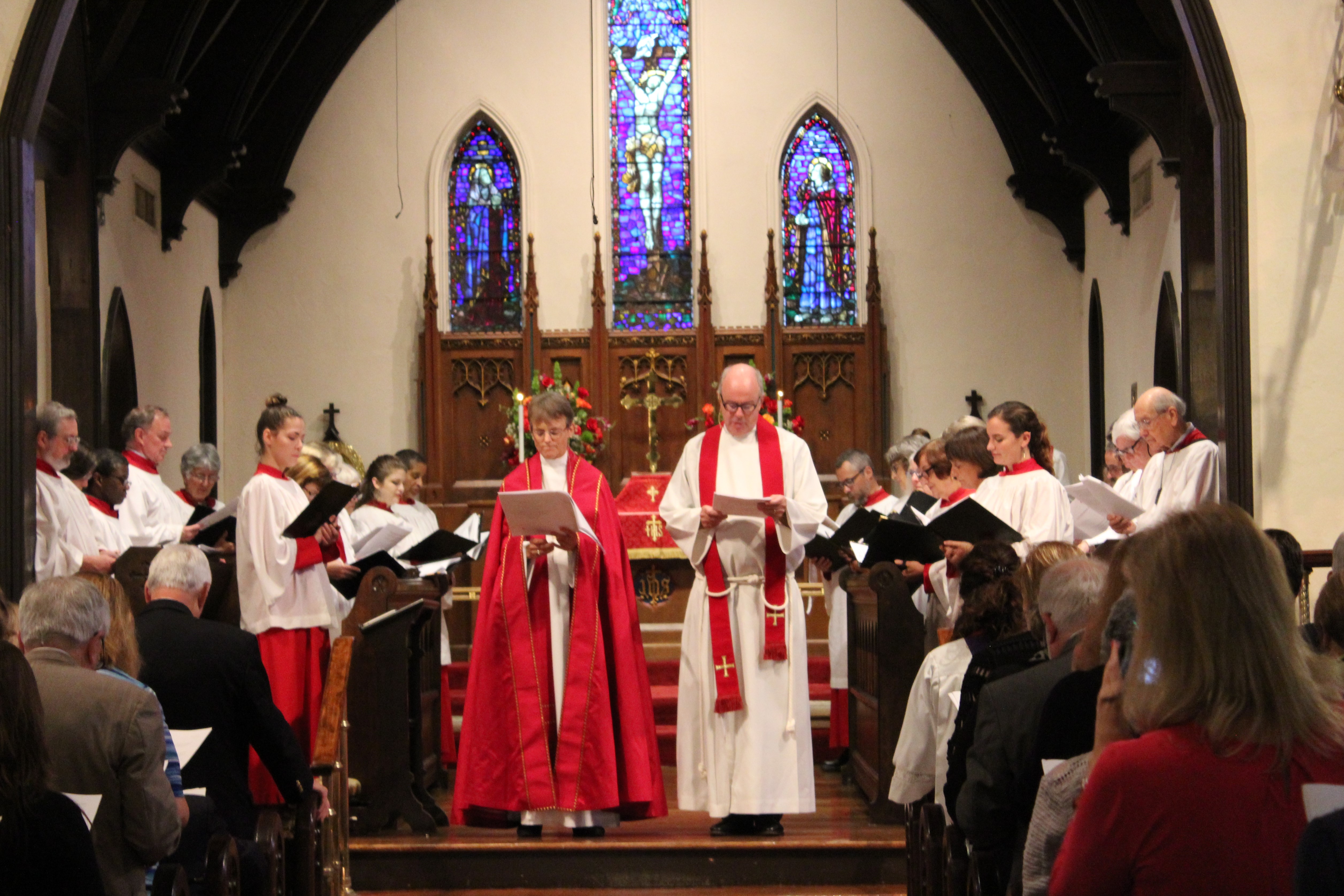 It's official! Geoffrey was formally installed as our rector on Sunday, September 16, at a glorious afternoon service. Bishop Mariann commended the Vestry's choice and affirmed the call, asking the congregation, "Are you, the people of St. Alban's, ready to continue in your ministry, with Geoffrey as your rector?" The people responded with a loud, "We are."
The service, which also celebrated all the ministries of St. Alban's, was followed by a festive reception. Thanks to Susan Morris, who organized the party, and to all who helped to set up, contributed food and drink, served, and cleaned up.
THANKS BE TO JO
Sunday, September 9, was proclaimed "Jo Turner Sunday" at St. Alban's as we thanked Jo for her three years of service (without pay) as our pastoral care coordinator. Many at St. Alban's benefited greatly from the prayers, visits and home-delivered meals Jo helped to coordinate during her time on staff.
The Faith Talk blog that Jo has written for several years is taking a break. After some restful discernment, Faith Talk will resume on a less frequent schedule (she thinks).
Looking for something you once found on this page? Want to take a look back at previous events or announcements? Check the news archive page.