Latest News
What's new at St. Alban's? Read on for Vestry updates and other news from the St. Alban's community.
Join Us for Christmas Services
Adult Forum Alert! "Episcopal Ministries in the Holy Land" Forum on December 11, at 10:15 am in Nourse Hall

The Episcopal Church runs 16 schools, 2 hospitals, 6 centers for the disabled and 2 homes for the elderly across Jordan, Israel, the West Bank, Gaza and Lebanon. All of these institutions are open to people of all faiths. Come learn about this life-giving work at our forum on December 11th. Lisa Sams will speak about her October visit to these institutions, with special mention of the Saviour's School in Jordan (with which our church has had a close relationship for many years). We hope to see you there!
December Grace Notes
We'd like to thank the following parish members for their primary leadership roles:
Phoebe Jane Winthrop
(for the 2022 Thanksgiving Dinner);
Robin Rudd
(for the reopening of the Op Shop),
Candice Brown, Noell Sottile, and Luis Leon
(Young Adult Godparents in the Growing Young initiative).
Thanks to each of you and thanks to the many other volunteers who support the work of Parish Life at St. Alban's.
Join us for Reverse Advent 2022
Turn your "want list" into someone else's "need list" this Advent as you focus on the journey to Bethlehem. In a time of uncertainty, Mary and Joseph gathered what they had and traveled to Bethlehem to be counted in a census. What would they eat? Would they be warm? What did they need for themselves and their baby?
Here's the invitation:
Gather 4 plain brown grocery bags

(one for each week of Advent.)
Cut apart the 4 Reverse Advent signs

(found

HERE) and attach one to each bag. (You'll collect things like non-perishable food, warm clothes, basic toiletries and baby items.)
Decide when and how you will practice this spiritual discipline.

You may choose to fill your bags all at once, add one item each day, etc. The choice is yours.
Each Sunday morning in Advent

(November 27, December 4, 11 and 18),

bring your bag to church and place it by the manger in the Narthex.

(We'll keep collecting over the 12 Days of Christmas.)
There will be a special dedication of these gifts on Sunday, January 8.
Following the dedication, the items will be distributed to Samaritan Ministry, Grate Patrol, and Bright Beginnings.
For more information about why we celebrate Advent, click
HERE
.
Congratulations Anton!

Parishioner Anton Vanterpool has been elected as the North DC Region's nominee for Lay Deputy to General Convention in 2024. His name will appear on the ballot at our next Diocesan Convention in January 2023. Thanks, Anton, for your willingness to serve!
Exciting Weeks Ahead!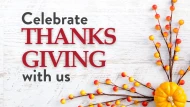 We'll be offering multiple opportunities to give thanks for God's goodness in our lives.
Join us on Thanksgiving Day, at 10:30am, as we celebrate our annual Thanksgiving Day Eucharist.
We'll sing, reflect on Scripture, pray and share Communion together.
On the same day, at noon, and in partnership with Washington Hebrew Congregation and Annunciation Catholic Church, we will resume our
annual Community Dinner on Thanksgiving Day
. Dinner will be served in Trenbath Hall at noon, and kitchen volunteers will begin arriving around 9:30 am. Again, this Sunday we'll have sign-up sheets for specific roles and food donations in the Narthex.
On another note, and just in time for the most wonderful time of the year,
the Opportunity Shop will reopen its doors to the public on Saturday, December 3rd
. On Friday, December 2, we will celebrate a 'soft opening' to bless our faithful and dedicated volunteers, the refurbished shop, and welcome Courtney Cunningham, the newest member of St. Alban's staff. Courtney will begin her work as the new Opportunity Shop Manager on December 1st.
Thank you all for your continued support and patience!
Dancing In the Dash: An "All-Ages Encouraged" Forum on Living a Meaningful Life: This Sunday, November 20 in Nourse Hall from 10:15 to 11:00 a.m.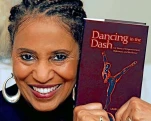 St. Alban's parishioner's Dancing in the Dash is the memoir of a woman whose experiences have taken her around the world with a diverse range of dancing partners: the performing arts, activism and advocacy, and the world of policy, politics, and diplomacy.
We invite you to come and hear Lauri's story.
A woman of great faith, Lauri serves on the board of directors of The Washington Ballet, the Association for Diplomatic Studies and Training, and Mother Jones. She is on the Advisory Board of the Ron Brown Scholars, is a Senior Advisor for the International Career Advancement Program (ICAP) and is a member of the Council on Foreign Relations, and the International Women's Forum.
Tolle Lege: The Sunday Morning Bible Study, 10:15 - 11:00 a.m. in Room 203, Satterlee Hall

After overhearing a group of children saying "take and read" while playing in a garden outside his window, St. Augustine picked up the nearest book - a Bible - and began reading it. He describes that moment as critical to his conversion to Christianity. All are invited to this year long Sunday Morning Bible Study. In 28 sessions spanning most Sundays in the church program year, participants will read significant portions of the Bible from the beginning to the end. Led by Jim, Emily, Yoimel and others. To register, contact
the Rev'd Jim Quigley
.
Young Adult Program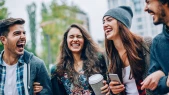 Are you in your 20s or 30s? Please mark your calendar for the next events. The program was decided by some of St. Alban's young adults, and it includes social events as well as discussion and spiritual discernment based on the book
Receiving Jesus. The Way of Love
, by our Bishop Mariann E. Budde. Contact the Rev. Yoimel González Hernández at
.
Saturday, November 19, 2022, 6:00 pm: Noell and Jim Sottile along with Candice and David Brown are hosting a Pie Party for the Young Adult Group. There is a pie for every course. Who doesn't like pie! Come for dinner and an evening of socializing. For details on this activity, contact Candice Brown.
Sunday, November 27, 2022, 4:00 - 6:00 p.m. in Nourse Hall:

Personal and group spiritual discernment.
Saturday, December 3, 2022, 6 p.m. Place to be announced:

Social event with wine testing.
Sunday, December 11, 2022, 4:00 - 8:00 p.m. in Nourse Hall:

Spiritual Retreat and Dinner.
Stewardship Campaign 2023
We invite you to consider participating in this year's annual stewardship campaign and approach 2023 determined to BE JUST, BE KIND, and BE HUMBLE. And, rejoicing in the power of the Spirit, let us also commit ourselves to BE GENEROUS.
How do we pledge?
Fill out the pledge card you received in the mail or can find in the church lobby and mail it to Giving 2023, St. Alban's Episcopal Church, 3001 Wisconsin Ave., NW, Washington, DC 20016.
Visit www.stalbansdc.org/give/
Contact Director of Finance Doug Dykstra at (202) 363-8286x209 to arrange a direct debit, Required Minimum Distribution (RMD), or donation of appreciated stock.
Text (202) 831-2993 with the keyword PLEDGE and amount.
Questions? Please contact Stewardship Chair Matt Cunningham or Director of Finance Doug Dykstra at (202) 363-8286x209.
Let's Support these Ministries
Two of our dearest annual sales are happening this weekend until the beginning of December, and we have all the information you need to know:
The Christmas season is coming soon, and the
J2A Youth Group Annual Christmas Sale has almost everything you will need to decorate your house this year.
Begin decorating your home with beautiful poinsettias, or order extras to give as hostess gifts or to brighten up the home of an elderly acquaintance. Don't forget the beautiful greenery or fresh wreaths and pine roping. You can make your order with our youth every Sunday or
use this link
. You can pay in cash or on our
website
(choose the J2A Wreaths/Poinsettias Purchase option).
Pick-up day will be Sunday, December 4th, from 9 am to noon.
Note that all proceeds benefit the Youth J2A pilgrimage.
This year, the Global Mission Committee will be selling olive oil products in the Wade Room starting this Sunday, November 13, November 20th, and December 4th after each service
(for fans of the Rumi olive oil – it's back). You may order in advance for pick-up on one of those Sundays by emailing your order form to Lisa Sams . For online payments, click here. Also, you can make checks payable to St. Alban's Church and pay when you pick them up.