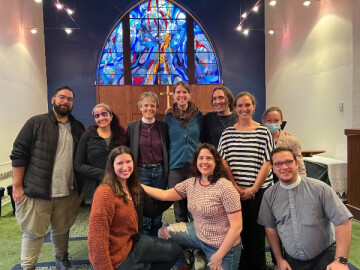 Those in their 20s and 30s are essential to our parish and gather under the name G.I.F.T. (Growing In Faith Together). The group has identified four main areas of interest and needs: spiritual growth, community building, socials, and service. The group meets informally for coffee hour after our services on Sundays and has prepared a program in response to the areas of interest.
Please fill out the newcomer welcome card on our website or the printed copies in our pews on Sundays, and we will reach out to you. We would love to get to know you better and support you in your faith journey.
The young adults' events in the following weeks and months are:
Monthly gatherings around the topics of personal discernment and vocation led by a guest presenter. First Saturday of the month, from 6-8 pm. Dates during this year: October 7, November 3, and December 2.
Friday, October 27, 8-9 pm - Escape Room
Saturday, December 2, 6-8 pm - Conversation with Bishop Mariann E. Budde, about her book "How we learn to be brave" (this event is open to other young adults in the diocese).
If you have any questions, you can email the Rev. Yoimel González Hernández.