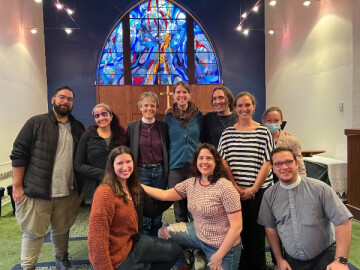 Those in their 20s and 30s are essential to our parish and gather under the name G.I.F.T. (Growing In Faith Together). The group has identified four main areas of interest and needs: spiritual growth, community building, socials, and service. Book discussions on themes of interest are part of the frequent gathering of this group.
Please fill out the newcomer welcome card on our website or the printed copies in our pews on Sundays, and we will reach out to you. We would love to get to know you better and support you in your faith journey.
The young adults' events in the following weeks and months are:
Book discussions on Sundays, 12:30 – 2 pm (bi-weekly, from January 29 to May 21)
Wine Tasting Social Event – March 4, 6-8 pm
Lent Contemplative Day and Labyrinth Walk – March 26, 2-4 pm
GIFT in the Escape Room – May
Young Adults Retreat – June 23-25
Picnics – Summer
If you have any questions, you can email the Rev. Yoimel González Hernández.