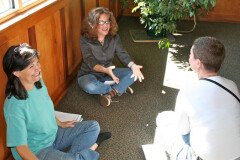 We are called, no matter our age, to grow in our life of faith through acts of service and regular worship as well as spiritual discipline and learning. St. Alban's has a variety of educational and spiritual offerings designed to help you deepen your faith. At St. Alban's we grow together as disciples of Jesus Christ.
There are many opportunities for Christian formation for children, youth and adults, each of which provides a unique and different way to explore faith and spirituality.
Children and youth
Children and youth meet on Sundays during the school year. We use the Godly Play approach for children (pre-K to 5th grade) and the Journey to Adulthood program for youth (grades 6-12). Our 2- and 3-year-olds have their own special class! Learn more about Sunday school and youth groups at St. Alban's.
Sunday forums
On most Sundays throughout the year, adults at St. Alban's gather for a forum hour, where they can learn together and discuss their experiences and concerns as Christians in the nation's capital. See what we've discussed lately and what's coming up.
Adult classes and small groups
Weekly Bible study is a long-standing tradition at St. Alban's.
Adults wishing to learn more about the Episcopal Church or become members can take an Enquirer's class, typically offered twice each year.
Education for Ministry (EfM) is a nationally-recognized program for lay people offered at St. Alban's.
St. Alban's hosts several covenant groups, whose members share their experience of God's presence in their everyday life journeys. This ministry is open to anyone who seeks to deepen their spiritual life by participating in the life and spiritual practices of a small-group community.