Forums: Waiting With Mary
This Advent forum series focuses on Mary, the mother of Jesus.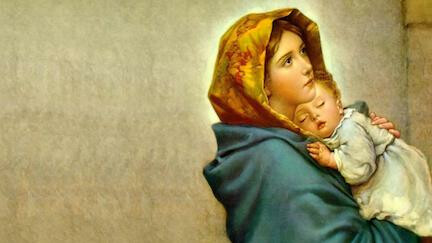 "Mary pondered all these things in her heart." This Advent we are waiting for the coming of the Christ Child along with his human mother and pondering the meaning of her message today.
To complement the forum series, we have put together a set of poems, one for each day in Advent. Download it to print at home or read online on your computer, or have a poem e-mailed to you from December 1 through December 24. Let Deborah Potter know if you want to receive the daily email. Links to more readings and resources can be downloaded here.
Sunday, December 8: Waiting With Mary of the Gospels
When you think about Mary, the mother of Jesus, do you think of an actual flesh and blood person? Dr. Tracy Radosevic, professor of Biblical Storytelling at The Luce Center for Arts and Religion at Wesley Theological Seminary, helps us to hear Mary's story anew.
Sunday, December 15: Waiting With Mary in Song
The fifteenth-century Franciscan devotion to the Seven Joys of Mary has inspired some of the most beautiful music created in the Christian West. Dr. Sara Pecknold, professor of sacred music at the Benjamin T. Rome School of Music, Drama and Art at Catholic University, looks at how Mary has been depicted in music.
Sunday, December 22: Waiting With Mary in Art
The Rev. Emily Griffin looks at how Mary has been depicted in art over the centuries. What do these images say about her, and what do they say about us? To see what Emily describes, open her presentation (PPT) while you listen.