Property ministries
St. Alban's members are hands-on in supporting the work of the church, through ministries that care for our buildings, grounds, and history.
St. Joseph Guild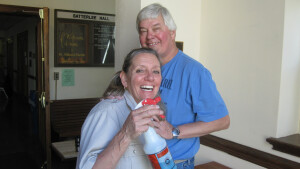 Can you screw in a lightbulb? Use a hammer? Scrape and paint? Join the volunteers of the St. Joseph Guild and help keep our buildings in tip top shape. The Guild organizes regular church-wide clean-up days, and members work in teams or individually to complete simple maintenance tasks. Contact Bob Witten to learn more or to volunteer.
Garden Guild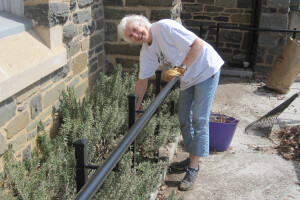 If you love planting and pruning, this is the ministry for you. Garden Guild volunteers help to plan and maintain the flowers and shrubs around our buildings. The Garden Guild collaborates with the St. Joseph Guild on regular clean-up days. Contact Lucy Fraser to learn more or to pitch in.
Green Team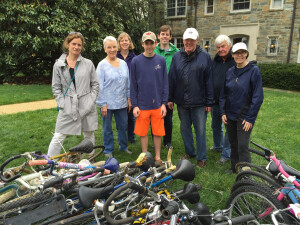 St. Alban's was one of the first churches in the area to install solar panels as a sign of our commitment to preserving the environment. We believe there is a moral dimension to the energy choices we make. Our Green Team encourages environmentally conscious behavior at church and at home. We host an annual recycling fair for the wider community, in partnership with groups like Bike for the World. To learn more or to volunteer, contact Alex Stavitsky-Zeineddin.
Archives & History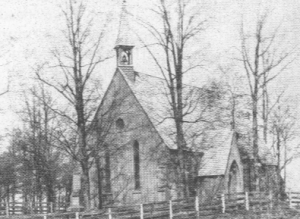 St. Alban's has a long and storied history. Established in 1854, we were the first "free church" in Washington, DC, in which pews were free for anyone to use rather than being sold or rented. Our church history is the subject of Church at the Crossroads by Ruth Harwood Cline. A brief history dating to our 125th anniversary in 1979 is online here (PDF). A timeline, compiled by Francine Morris Swift, is available here (PDF). We have beautiful stained glass windows, listed and described here. (PDF) The archives committee meets approximately once a month to preserve existing documents and to accept new documents into the church archive. Contact Marc Fetterman to learn more.
Arts & Memorials
Members of St. Alban's with a background in fine arts or conservation advise the Rector on the placement of fine arts and memorials in our buildings and on our grounds. This is a Rector-appointed committee. Contact Marc Fetterman to learn more.