St. Alban's Op Shop Summer Break
Due to a well-deserved Summer break, our Op Shop will be closed. We will announce a reopening date later this season.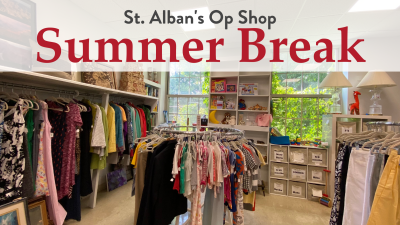 St. Albans Opportunity Shop will be shutting down for our summer break on Saturday, July 30, 2022.

We would like to thank all of you for your continued support with donations, volunteering, shopping, and helping us in any way you are able. Your efforts have allowed us to continue the ministry of helping those that need it the most. We are grateful for such a successful partnership that remains so strong.

We will announce a reopening date later this summer and will come back together to set up for the fall season. We are glad that we were able to extend our season an extra few weeks this summer. While we are closed we will have signs posted for other places where donations can be dropped off.