01.29.23
Fourth Sunday After Epiphany - Bilingual Service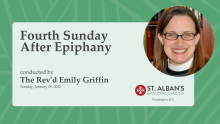 Series: Epiphany
Speaker: The Rev'd Emily Griffin
Sermon for the Fourth Sunday after the Epiphany
St. Alban's, DC – 1/29/23 – The Rev'd Emily Griffin
Micah 6:1-8, I Corinthians 1:18-31, Matthew 5:1-12
So, how are we doing? Today, the day of the Annual Meeting, is a good time for a check- up on how we're living up to our mission as a church. Don't worry – this isn't a report card; I'm not giving us a grade. But particularly given the gun violence and police brutality we've witnessed this week and our yearning to offer more than just silence in return, it makes sense that we're hearing Micah's famous words again. This was the focus not only of a preaching series last fall but of our entire stewardship campaign: be just, be kind, be humble, be generous. Or as Micah puts it: do justice, love kindness, walk humbly with your God.
Let's stay with this last image for a moment. We don't need to run faster than God. Nor do we need to crawl in shame with our eyes to the ground. Walking means that we're standing together with our eyes open. We don't always know where we're going when we walk but knowing the destination in advance isn't always necessary. The good news in this season of transition in our parish is that we don't have to pretend to know more than we do. We don't have to walk quickly or perfectly or without stumbling; we just need to keep walking humbly. When we're humble, we know our limits, and we are honest about them (even when we don't like them or wish they were different). We're realistic about who we are and what we can do – and we don't expect perfection from ourselves or anyone else.
I wish someone had told Jesus that. Just when we think that we can orient our lives around Micah's teaching and reach some manageable goals, we get today's Gospel to show us how far off the mark we really are. The Beatitudes are the beginning of the Sermon on the Mount; soon we get the scourge of perfectionists everywhere: "Be perfect, therefore, as your heavenly Father is perfect." And lest we think that he's speaking to the core leadership only, he's not. He's talking to anyone within earshot. He's talking to the faithful, the seeker and the doubter. He's talking to us.
It's hard to know how this could be good news. Why not just stay with Micah? I mean, we want to be just, especially in the face of horror. We want to be kind, at least most of the time. We may even try to be humble – but no one really wants to be meek. No one wants to be poor in
spirit. We'd like to think that those who mourn will be comforted, that there is some kind of reward in being merciful or in seeking peace. But if purity of heart is the standard, then forget it. Even if we're talking about single-minded allegiance to God and not moral perfection, it still seems unattainable. And if rejoicing in the face of persecution is the way to the kingdom of heaven, then why even hope to get there?
To be fair, Jesus never claimed that any of this is easy. He said that we would be blessed. What does that mean? Anyone who has ever been told "bless your heart" knows that it means the exact opposite. When many people say that they're blessed, it means that they're grateful for what they have. It's a way of making peace with the unacceptable gap between those who have and those who don't. If we're grateful for what we have, then we don't have to feel guilty about it, right? Honestly, I'm not sure that guilt helps here. The most vulnerable among us don't need our guilt; guilt does not feed or clothe or protect anyone. Guilt is not the point; the fact that Jesus calls us to more than just gratitude is. Then what does blessing mean? When we're blessed, we are loved and cared for by God, whether we realize it or not. As my mentor Jerome Berryman once put it, we are affirmed where we are and, at the same time, the best is called forth from us. In other words, we can become more than what we have been; we can do more than what we have already done. We are trusted with what is worth doing in this life.
Perhaps the good news in today's Gospel is this: the Beatitudes are not entrance requirements for our individual salvation; they're a description of what a community living toward the kingdom of heaven looks like – what we are called to look like. When we recognize our poverty and emptiness in spirit and that self-sufficiency was never the goal, we as a community are blessed. When we acknowledge the beauty and value of what we have lost and let ourselves mourn, we are blessed. When we're humble and recognize that God is God and we are not, we have a proper sense of our place in the world and are blessed. When we hunger and thirst for righteousness rather than assume we already have it, when we show others the mercy we've been shown, when we seek peace and pursue it – even if we are persecuted in the process

Whenever we can love God and each other with singleness of heart, we are blessed. We're affirmed where we are, and the best that is in us has a chance to emerge. We don't need to run, and we don't need to crawl. Let's stand together today with our eyes wide open and follow wherever God leads us next. In the Name of the One who walks with us always, Amen.