Capital Campaign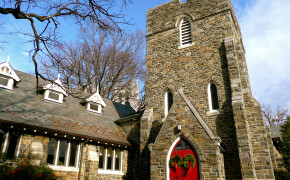 As we consider the real possibilities of regathering, we have issues that we need to address, and we need your help.
Ver español a continuación
Dear Friends,

As we consider the real possibilities of regathering, the community of St. Albans longs to be together. We want to sing our hymns and share our Eucharist. When, we have asked, can we be back in the pews, surrounding the coffee urn, bumping into each other in Nourse Hall? When can we pass the peace, participate in Bible Study, The Opportunity Shop, Grate Patrol, Children, Youth, and Adult Formation? When can we get back to the business of worshiping, serving and giving?

Welcome to the Hallelujah Homecoming Campaign! As the weeks have turned into months and then more than a year, we have learned much more about the virus and the spaces we inhabit. The pandemic has taught us about the vital role of air circulation in keeping us all safe. Through appropriate testing, we have examined the church itself and found its air circulation to be good, especially with the windows and doors open. Unfortunately, many other spaces have been found lacking. For example, the library and other rooms where we gather to learn and engage with one another lack the kind of air circulation we now know is vital. Prompted by this finding, we have had an engineer examine our HVAC systems and have been informed that most of the machinery is beyond its useful life. Moreover, the existing systems have been cobbled together through makeshift repairs, in some instances with inadequate materials or workmanship.

Before the people of St. Alban's resume our core feeding ministries, the kitchen needs serious and costly attention, predominantly to replace the hood to minimize the risk of fire or injury.

As we have thought about health and safety, we have also recognized a need for enhanced building security. To that end, we have decided to install a camera and buzzer system for Satterlee Hall and to convert door looks in that building to a fob or keycard system. These measures will make it much easier to control and manage access to Satterlee, including the Opportunity Shop.

It is necessary to look to all our resources, including the generosity of our parishioners, to address these challenges so that we can gather safely once again. A quiet phase of a capital campaign has been underway for several months relying largely on word-of-mouth. Thank you for those of you who have already responded so generously. As of this writing, we have raised more than $1.3 million for this effort. With those generous pledges in hand, some of the work can begin. But the work we have to do is complicated and expensive. We will all need to contribute to complete this work.

Many of our fellow parishioners have made heartfelt commitments to get us to this point. We hope you will consider what re-gathering means to you and join us in contributing now or making a pledge to this vital need. It is urgent, compelling and obvious. It is necessary for our common life. Please join the Hallelujah Homecoming Campaign by going online to https://form.jotform.com/211514081958153, and join with us in preparing our church to re-open.

Ken Patterson Suzy Mink
Campaign Co-Chair Campaign Co-Chair
---
Queridos amigos,

Al considerar las posibilidades reales del regreso a la iglesia, la comunidad de St. Alban´s ansía volver a estar junta. Queremos cantar nuestros himnos y compartir la Eucaristía. Durante este tiempo nos hemos preguntado, ¿cuándo volveremos a sentarnos en los bancos de la iglesia, a tomar café juntos o a saludarnos en Nourse Hall? ¿Cuando nos daremos la paz nuevamente, o participaremos del Estudio Bíblico, de la Tienda de Oportunidades, de Grate Patrol o de las clases de niños, jóvenes y adultos? ¿Cuándo podremos hacer nuestra misión de adorar, servir y ofrendar?

Bienvenida la Campaña de Regreso Aleluya. Durante las semanas se han convertido en meses y en más de un año, hemos conocido mucho más sobre el virus y los espacios que habitamos. La pandemia nos ha enseñado sobre el rol importante de la circulación del aire para mantenernos saludables. A través de análisis apropiados, hemos examinado los edificios de la iglesia y hemos encontrado que la circulación del aire es buena, especialmente con las ventanas y las puertas abiertas. Desafortunadamente, muchos otros espacios no cumplen esto. Por ejemplo, la biblioteca y los otros salones donde nos reunimos para aprender y compartir no cuentan con el tipo de circulación de aire vital. Animados por este descubrimiento, un ingeniero ha examinado nuestro sistema HVAC y nos ha informado que la mayoría de la maquinaria está caduca. Además, el sistema existente se ha desgastado debido a las continuas reparaciones, en algunos casos con materiales y mano de obra no adecuada.

Antes de que los miembros de nuestra iglesia comiencen otra vez con los ministerios de alimentaciones a los necesitados, la cocina necesita una atención seria y costosa, especialmente para reemplazar la campana que minimiza el riesgo de fuegos o peligros.

Mientras pensamos en la salud y la seguridad, reconocemos la necesidad de ampliar la seguridad de nuestros edificios. Con este fin, hemos decidido instalar una cámara y un sistema de entrada electrónica para Satterlee Hall y convertir los cierres de las puertas en ese edificio en cierres magnéticos. Estas medidas asegurarán un mejor control y velar el acceso a Satterlee, incluyendo la Tienda de Oportunidades.

Es necesario buscar todos nuestros recursos, incluyendo la generosidad de nuestros feligreses para responder a estos retos, para así volver a reunirnos de manera segura otra vez. La fase inicial de la campaña capital ha estado en marcha por algunos meses a través del boca a boca. Gracias a todos los que ya han respondido generosamente. Hasta este momento, hemos recibido la promesa de $1.3 millones para este esfuerzo. Con estas generosas promesas en la mano, ya ha comenzado el trabajo. Pero el trabajo que tenemos que hacer es complicado y caro. Todos necesitamos contribuir para completar la obra.

Muchos de nuestros feligreses han hecho compromisos de corazón para llegar hasta este momento. Esperamos que tú consideres lo que el regreso a la iglesia significa para ti y que te unas a contribuir ahora o a hacer una promesa para responder a esta necesidad. Es urgente, convincente y obvio. Es necesario para nuestra vida en común. Por favor, únete a la Campaña de Regreso Aleluya y dona a través de https://form.jotform.com/211514081958153, en nuestra preparación para la reapertura de la iglesia.
Ken Patterson Suzy Mink
Co-presidente de la Campaña Co-presidente de la Campaña