What Holds Us
Floating unassisted is not my strong suit. Relaxing, staying motionless when I feel cast adrift, trusting that the water will carry me – I was never very good at that.
Maybe it's because I grew up in landlocked Central New York. I didn't spend much time in swimming pools at home, where a child could use the shallow end to get her bearings. I understand my family's reasoning on that front, of course. Why invest in a pool when winter lasts from October to May?
During the precious few weeks of Syracuse sunshine, my stepfather used to take us out on Otisco or Oneida Lake on his boat. We'd speed off to points farthest from land and then put on our life jackets before we tested out the water. Or at least, that's how I remember it. Given that I never really knew when I was out of my depth or what wildness might meet me in the lake, the life jacket always seemed a more reasonable means of floating than trying to go it on my own.
Besides, I drew comfort from the boat – not to mention the strength of my fellow passengers. I didn't construct the boat; it reflected the craftsmanship of generations of folks who knew far better than I how to make something seaworthy. When I tried to water ski, it didn't matter if I fell on my face. The boat would come around, pick me up and carry me until I was ready to be brave and venture out again.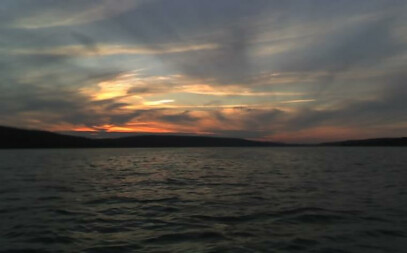 In one of my favorite books, Jayber Crow, Wendell Berry describes the life of faith as one that "puts you out on a wide river in a little boat, in the fog, in the dark" (p. 356). That's not as frightening as it might sound. I know that boats can leak, and should that happen, I do know how to swim. (Mom made sure of that.) Given enough time, I might even be forced to relax and float. But the option of the boat seems far preferable to me than always trying to go it alone.
There's a tradition stretching as far back as Noah, likening a faith community like ours to a boat on stormy seas. Some of us know the storms all too well these days, but it's the image of the boat that intrigues me now. This tradition is even reflected in our church architecture. We sit in the "nave," which comes from the medieval Latin word navis, or ship.
My point? "Sometimes tradition holds us when we cannot hold ourselves." So writes Pat Schneider in How the Light Gets In: Writing as a Spiritual Practice (p. 101). She finds various metaphors for religious tradition – at first, it's "a life preserver in a stormy sea," "the hand of a stranger when you're drowning." Later, its force becomes more constricting than freeing. Her images shift. Is religion a heavy cloak that protects you, but also grounds you when you're trying to fly? Are its practices recipes we're free to ignore? I find Christianity a more seaworthy vessel than she does. Still, amid all her unanswered questions, she affirms the potential power of a faith community – its prayers and its practices, its grounding in boundless love - to hold what we cannot hold on our own.
There's comfort in finding our place in a boat we didn't construct on our own. Our fellow passengers might annoy us at times; but they can also be the first ones to find us when we're flailing. Thank God for the boats that hold and carry us and, if we let them, teach us how to float.
Peace,
Emily+