Regaining the Shore
What do we do when we're in a place we've never been before, when there is no map or companion beside us to tell us what to do next? It doesn't take much for us to feel like we're in uncharted territory. Loss can bring us there – the loss of a job, the loss of a relationship, the loss of a country we thought we understood. How do we get our bearings and figure out the next right step?
Well, in certain parts of the world anyway, we look for a cairn. A cairn is a human-made pile of stones used as a memorial or a landmark. They've been around since pre-historic times. Sometimes cairns mark a burial place or a battle site. Often though, they are used as trail markers in places where the path forward is anything but clear. You'll see them on mountains above the tree line, in deserts or tundras. Sometimes they mark the edge of a cliff when the snow makes the drop-off impossible to see. Cairns mark the paths that generations before have used to get through.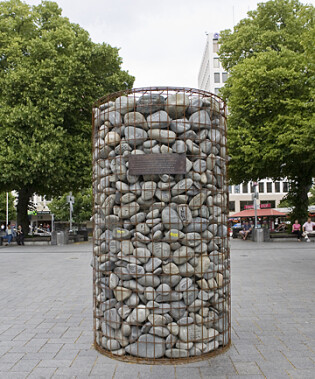 I saw one recently on my vacation in New Zealand in the main square of Christchurch. It was built in 2010 as a symbol of protest. You see, the people who were elected to protect the region's rivers had been replaced by appointed officials whose interests seemed to favor profit over water quality. So thousands of people gathered in Cathedral Square. They brought stones from their local rivers and created a cairn as a plea for restored democracy. The Anglican Bishop blessed the cairn, and prayers were offered.
Less than a year later, an earthquake devastated the city. The Cathedral's tower crumbled; its face shattered. The cairn, however, survived. It withstood the storm. Six years later, the Cathedral is still in ruins. (Some other time, I'll tell you about worshipping in the nearby Transitional "Cardboard" Cathedral. Still processing that.)
A plaque on the cairn reads: "A cairn by tradition is a mound of stones on the edge of a river by which travelers in the high country indicate a place of departure and a place to regain the shore." We all get disoriented sometimes. We need help from those who've gone before us – whether it's to help us find a path that's new for us or to bring us back to the water that will nourish us for whatever comes next.
In this season of disorientation, what cairns are you finding? What markers from generations past are helping to guide you? For me, it's Scripture and the sacraments. (I know; I'm a priest. You'd expect me to say that. But it's true.) I take comfort in knowing that my generation is not the first to feel lost. The stories and images and rituals of our faith feel like guideposts to me right now, like trail markers. They give me hope that we too will find our way.
The cairn in Christchurch reminded me of another pile of stones – this time, in the book of Joshua. As soon as the people crossed the Jordan River into the Promised Land, they took twelve stones from the riverbed and placed them where they made camp that night. Joshua explained the purpose – so that when their children passed this way again and asked what the stones meant, the people would be able to share the story of their deliverance. They'd remember and tell of how the LORD helped them cross the dangerous waters to a new place.
May we have the eyes to see the cairns already in our midst laid by the faithful who've gone before us – those markers of protest and direction and deliverance – that we too may regain the shore.
Peace,
Emily+