Nicholas, Miracles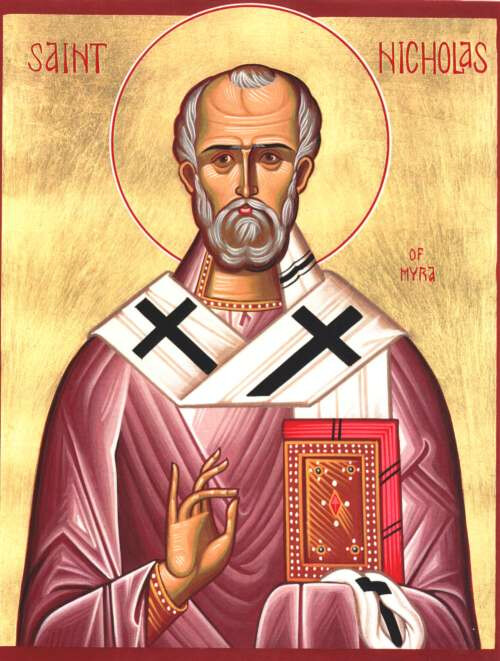 Today, December 6, is the feast day of St. Nicholas, Bishop of Myra. No slacker in the fourth century Christian Church, he attended the First Council of Nicaea and was a signer of the Nicene Creed. Nicholas is considered the patron saint of a diverse lot, including sailors, children, merchants, archers, brewers, and pharmacists. His habit of secret gift-giving probably led to the genesis of Santa Claus. Like many other early saints, the list of miracles attributed to him is both lengthy and colorful; one well-loved story was that he resurrected three "pickled boys" who were killed during a famine by the town butcher and put in a brine barrel to cure.
Such miracle stories can be more than eyebrow raisers to our modern sensibilities. But how do we understand miracles today? What we call miracles are surprising, wonderful events that cannot be explained, so we attribute them to the workings of God. We often label happenings as miracles because we like the sound of it: It's a miracle that my son brought his grades up. It's a miracle that I got a good price on that car. Really?
I believe in miracles. Although I understand they can be a sudden occurrence, the miracles I understand feel like the slow work of God—and they cannot happen without love. I see miracles in my children, who had every reason to grow up angry and selfish but became wise and caring. I see miracles in my church, which did not break when pressured. I see miracles in those caring for Syrian refugees through Doctors Without Borders, in Jose Andres and hundreds of volunteer chefs who fed millions of Puerto Ricans for months. You and I can find miracles in the memories of those who sacrificially and lovingly got us where we are today. Because I am a miracle and so are you. If we are faithful people, love made us who we are. Buddhist teacher Thich Nhat Hanh's statement rings true: "People say walking on water or in thin air a miracle. But I think the real miracle is to walk on earth."
Now, in Advent we prepare for the greatest miracle of all, the Incarnation. God takes human form and comes to us as his son, to walk on earth with us. The baby will grow to feel every joy and pain you and I do. We will know there is nothing we can experience that Jesus has not felt. We can learn just how great God's love is.
Advent. Live your miracles. Prepare for The Miracle.