Lost Collections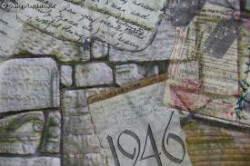 Last weekend, I went to the Textile Museum to see their exhibit, Stories of Migration. (My
colleague Jim and others had urged me to go months earlier, but life intervened.) Many of the quilts were beautiful; some transfixed me. Among those was Sandra Lauterbach's Wailing Wall of Krakow, which depicted a mosaic of images made up of letters, photographs, and inscriptions from Jewish tombstones in a desecrated graveyard in Poland.
My family were not, as far as I know, from Krakow, but I have seen graveyards like this one, elsewhere. The tumble of stones inscribed in Hebrew. Fragments pointing to lives that were once loved. In some cases, a museum with pictures and letters from the locals who could not be buried at home, because they had been herded onto trains and burned to ashes far away.
What struck me was the beauty of the thing: how Lauterbach had been able to create, out of images of dust and tumbled rock, a thing that spoke across time and culture, that touched the human heart. These fragments I have shored against my ruins.
Gathering up the fragments is the work of the church; we do it every Sunday. Across the world, in buildings beautiful and plain and even ugly, we gather together the fragments of our story: a few words, spoken long ago: a scattering of stories; songs ancient and new; a few bits of bread and drops of wine. We gather these together and write over them a new story: This is my body.
This is my body.
Those words are a form of rehearsal: rehearsal for the work of re-membering that is the ultimate task of every human being. We who bear on our brows the mark of Christ, it is our
burden and our glory to walk through the broken things of this world and give them back their dignity. It is our work not to forget, but to hold the shards up to the mercy of God: the shards of history, the shards of loss, even the shards of our own lives.
Unlike others, we do not hold them up in anger or in vindictiveness or in eternal grief. We hold them up in hope, knowing that it is the nature of God to pity them, to pour his grace upon them. It does not undo the loss. It does not make the deaths all right. But it redeems them, somehow, in a ways we cannot see or understand. And doing it makes us whole, too.
This weekend, we will have special occasion to re-member, because it is the anniversary of tremendous loss, and also of more-than-tremendous valor. Our church staff has struggled with whether to commemorate that day, and how. Does remembering give the terror continuing power? Or does it allow us to rewrite the story, to take that horrible word, Death, and write over it another word, one even more powerful, Love?
The poet Adrienne Rich writes it best:
Freedom. It isn't once, to walk out
under the Milky Way, feeling the rivers
of light, the fields of dark --
freedom is daily, prose-bound, routine
remembering. Putting together, inch by in
the starry worlds. From all the lost collections. ("For Memory")