Candles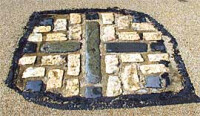 If you wander the streets of Oxford, you will come upon a strange mosaic cross, right in the center of Broad Street. It marks the place where Hugh Latimer and Nicholas Ridley died.
Latimer and Ridley were Bishops in England at the time of the Reformation, and were strong proponents of the new Protestant theology. Latimer was a fiery preacher who pointed at the stained-glass saints in the windows of his church, decked out like kings and queens, and castigated his flock for spending more on glass images than they did on the living images of God who hungered and thirsted and shivered around them. Ridley worked to de-mystify the elaborate Eucharistic theology of the late Middle Ages, replacing altars with tables to return the church to the simplicity of Jesus.
They are not, by and large, remembered for the work they did, but for how they died. Arrested by the forces of Queen Mary and tried for heresy, they were sentenced to be burned at the stake on October 16, 1555. Instead of being cowed, they turned their death into a demonstration of active piety, giving away their garments to the poor and going to the stake with their heads held high. As they were burning, Latimer turned to Ridley, and said, "Be of good comfort, Master Ridley, and play the man! We shall this day light such a candle, by God's grace, in England, as I trust shall never be put out."
The audacity of it takes my breath away, but the thing is: they were right. Christianity has never been about winning. Christ went to the cross, after all, as have far too many of his followers.
Christianity is about the love that breaks forth even from loss. It's about being transfigured by what, in earthly terms, would cause shame. It's about the courage and hope and trust in God that allow us to live with real freedom: the freedom that comes from knowing that nothing anyone can do to us will take us away from God or strip from our souls the love we have for one another.
The poet Gerard Manley Hopkins writes of this kind of freedom in a magnificent poem called "The Windhover." Savor it today, and ask yourself: when I break down and buckle, what wild beauty is born in me then?
I caught this morning morning's minion, king-
dom of daylight's dauphin, dapple-dawn-drawn Falcon, in his riding
Of the rolling level underneath him steady air, and striding
High there, how he rung upon the rein of a wimpling wing
In his ecstasy! then off, off forth on swing,
As a skate's heel sweeps smooth on a bow-bend: the hurl and gliding
Rebuffed the big wind. My heart in hiding
Stirred for a bird, – the achieve of, the mastery of the thing!
Brute beauty and valour and act, oh, air, pride, plume, here
Buckle! AND the fire that breaks from thee then, a billion
Times told lovelier, more dangerous, O my chevalier!

No wonder of it: shéer plód makes plough down sillion
Shine, and blue-bleak embers, ah my dear,
Fall, gall themselves, and gash gold-vermilion.