Downwards from Delphi, Upwards in Spirit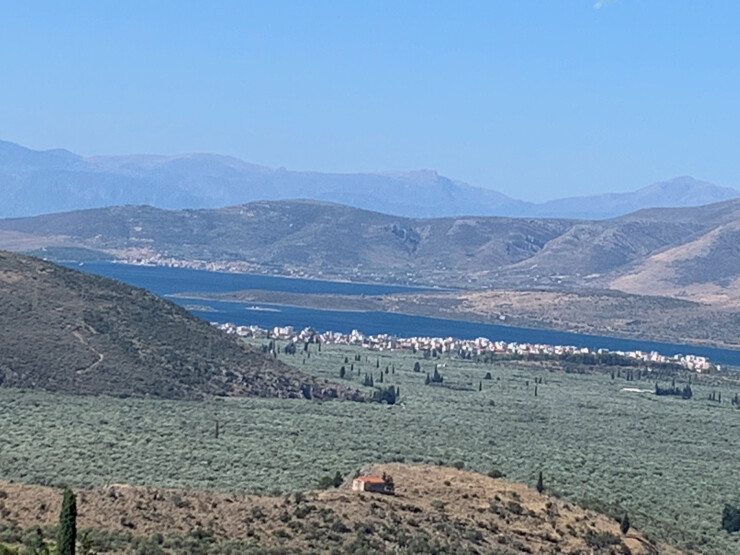 Our second and final full day in the ancient Greek city of Delphi was one to remember. After waking up in our hotel at 8:00 AM and heading downstairs for a hardy complimentary breakfast, all of us were set to leave on our ambitious hike down the mountains of Delphi. At 9:00 AM, we met with two knowledgeable tour guides outside of our hotel. We graciously introduced ourselves to them and they taught us a few essential Greek phrases; good morning (Kaliméra), goodbye (Antío geia), good-good (kala kala), bad (kakó), and thank you (efcharistó). With new knowledge under our belts, we set off on our spiritual adventure down the mountains.
The first thing I noticed while walking through the mountains of Delphi, aside from the vegetation filled, breathtaking mountains themselves, were the million olive trees directly below the mountains. In the distance a small port town, could be seen connected to a large body of water that went far beyond. It was the most beautifully clear and vibrant body of water any of us had ever seen. As we traversed down the surreal landscape, we occasionally stopped to look at noteworthy things; a small chapel, an aqueduct full of clear blue water, and various plants native to these mountains. During the stops our tour guides sharpened up our knowledge on Greek myths relating to the area; the journey travelers would make to the Oracle of Delphi, Apollos lost brother and lover, and beliefs that the evil eye had the power to kill or ruin one's crops. These were amongst the parables that felt twice as potent when superimposed on picturesque landscape we were witnessing with our own eyes.
Around lunch time, we stopped at a small chapel to taste some authentic Greek olives, homemade cheese (feta and graviera), iced mountain tea, and goat cheeses that our tour guides had brought for us from their very own farm. However, the Greek wind god, Aeolus, was not on our side, and many of our supplies were abruptly blown down the mountain. As we continued on, we ventured down towards a cliff overlooking more olive trees. After a brief 15-minute hike further down the mountain, we reached flat ground. Around us, we were engulfed in a sea of olive trees, all of which were on private property without clear delineation, however, each farmer was well aware of where their plot began and ended. Our tour guides taught us of the envious evil eye, which many Greeks believed had the power to harm others (or olive trees) unless counter-acted with the lucky blue eye that we had seen for purchase countless times in many of the local shops. After the escapade through the fields of olive trees had come to a close, majority of us got on a bus that had been waiting for us at the foot of the mountain for our return back to the hotel in Delphi. Some of us, feeling particularly brave - Geoffrey, Griffin, and Emily - decided to trek back up the mountain to complete the other half of their now strenuous hike.
After a brief lunch at a local restaurant full of traditional Greek food, such as Souvlaki, we were given the opportunity to bond with each other. I personally went back to my hotel room where I spent time with Eric and Griffin, blasting Greek news and hiking through the streets of Delphi. Afterwards, everyone reconvened for dinner at a restaurant with jaw dropping views overlooking the mountains of Delphi. We then spent the rest of our time before curfew shopping in the streets of Delphi. As Delphi's stores were less dependent on American tourists, we were followed and intensely watched by untrusting employees at almost every shop we went into. At one store, Valerie was yelled at in Greek and accused of stealing a lighter that was still clearly on the shelf of this very disorganized store. In another, we were forbidden from touching things after knocking into a row of shelves. At 10:00 PM, we returned to bed where we were given the opportunity to reflect on our spiritual day. Both in the exploration of the great city of Delphi and in our relationships with God and one another.