10.18.15
The Twenty-first Sunday after Pentecost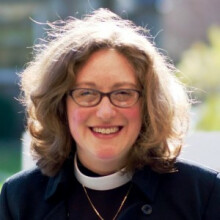 Series: Pentecost
Speaker: The Rev. Deborah Meister
18 October, 2015 Rev. Dr. Deborah Meister
Job 38:1-7; Ps 104: 1-9, 25, 37
Heb 5:1-10; Mark 10: 35-45
A few years ago, I took a two-day trip to Alabama to visit my god-daughter and her family. While I was there, I set out to visit my friend Louie in Montgomery. Now, Louie is a gifted priest and poet, but he lacks some of the basic skills in life. Turns out, navigation is one of them. I set out on the highway as he instructed. I began to pass businesses of the sort you don't see too much in Washington, DC: the feed and seed store, the gun and pawn shop. Gradually, the classical station faded out and I began to listen to country music. I passed through Gordo, a town which seems to have three churches per residents. Then I came upon a sign which said, "Welcome to Mississippi." Hmm, I thought, that's odd. I figured maybe it was a brief loop through Mississippi en route to the rest of Alabama, then I realized that, as shaky as my mental map is, I recalled that border between Alabama and Mississippi as being straight. As in, vertical. No loops. So I got on the phone: "Louie, why am I in Mississippi?" There was a drawn-out moan from the other end of the line: "Oooohhh! I told you to go West, didn't I??? I never can keep east and west apart!" Sometimes, the only thing to do is turn around and head the other way.
We've all been there. We've all come to those points in our life -- a relationship gone wrong, a bad career move, a moral failing; we realize that we are nowhere near the place we want to be any more, and the only thing to do is turn ourselves around and try again. The words Jesus is handing out today are hard medicine. They are hard to preach in DC, which calls itself the most powerful city in the world. They are hard to preach at St. Alban's, a congregation of many leaders and few followers. It is not easy to accept that Jesus is asking us for a complete reversal of the way things are usually done: that instead of dominating, we serve, and that even service does not necessarily lead to power. But when we look at the condition of our city, of our country, of this world, it's hard to avoid the feeling that perhaps we need to turn ourselves around and try again.
James and John come to one of those points this morning. They know where they want to go, what kind of messiah they want to follow. They want to be seated at the right and left hands of Jesus in his glory. They believe that the way to get there is to stick with him, to hover close, to beg him for favors and to cut out their rivals. In other words, they behave like junior staffers in the presence of Senators; that's the only model they know for leadership. They are so convinced that this is the way Jesus must be planning to lead that they even manage to ignore all the evidence to the contrary: that he eats with the wrong sort of folk, doesn't seem to curry favor with anyone, values children more than rich people, and keeps saying he's going to die. They are walking down the road beside Jesus, but they do not know where they are going.
But this morning, they come to the moment of reckoning. They ask Jesus to fulfill their dreams, but instead of agreeing, he turns to them and says: "You do not know what you are asking." He points out that their truth and his are not congruent. They do not understand him at all. This is the God who speaks of his crucifixion as being "raised on high," of his death as the time when he will be "glorified." The places at his right and his left are already marked out -- not by thrones -- but by two empty crosses, where a pair of thieves will die beside him. They are not for James and John (although they will find their deaths). But Jesus does not leave it there; rather, he invites them to turn around and begin again: "Are you able to drink the cup that I drink, or to be baptized with the baptism that I am baptized with?" he asks.
The question Christ asks James and John is the question he asks us each day. Are you willing to go where I go, to live as I live, to begin again? Once, a seeker went to an ancient monk and asked him, "Teacher, is it possible to begin again each day?" The holy man replied, "If you wish, you can make a new beginning each moment." That is the freedom of Christ: the freedom to refuse to be bound by our past errors, our old habits, or false choices. At any moment, we can begin again, by the grace of God. The keys to the kingdom have unlocked the iron gates of time: we can go through them in both ways, and be born anew in the image of God. The church calls it metanoia: holy transformation.
There's only one catch: It ain't easy.
To begin again, you need to begin to see where it is you must go. At the moment of his conversion, St. Paul went blind. He spent three days in darkness; then another believer came to him, laid hands on him, and (Scripture tells us) "immediately something like scales fell from his eyes, and his sight was restored." (Acts 9:18) It is a remarkably accurate description of what it is to change your life. When you first realize that the road you are traveling will not lead you where you want to go, you are profoundly disoriented. The truths you trusted to guide you have led you wrong, or the inner strength you relied on has failed, but they are all you know. In terms of finding a way out, you might as well be blind. You need to see with new eyes. You need a new kind of baptism, one which washes away the scales from your eyes and lets you see anew.
The novelist Annie Dillard once came upon the results of a scientific study which documented the experiences of people who had been born blind, but who had had their sight surgically restored. Apparently, the physical healing of the eye is the easy part; once it has been done, the patient needs to engage in a process of radical reinterpretation of the world if she is to be able to learn to use her new capacity. Dillard writes, "In general, the newly sighted see the world as a dazzle of color-patches. They are pleased by the sensation of color, and learn quickly to name the colors, but the rest of seeing is tormentingly difficult" [because the newly-sighted have no understanding of how to link the color-patches to their previous experiences of size, solidity, temperature, or texture.] ...The mental effort involved in these reasonings proves overwhelming for many patients. It oppresses them to realize, if they ever do at all, the tremendous size of the world, which they had previously conceived of as something touchingly manageable...A disheartening number of them refuse to use their new vision" at all.[1] Like James and John confronted with the teachings and presence of Christ, they choose to remain in their old world, closing their eyes and then moving around by using the old, familiar senses. They are given the key to a new world, but are too frightened to turn it in the lock.
A few, however, mostly the young ones, find the ability to walk through the door. They are not yet so set in their ways that they cannot learn to experience the world anew. Like children climbing back into the womb, they have the courage to be born again. When Jesus tells the disciples,"Let the little children come to me; do not stop them; for it is to such as these that the kingdom of heaven belongs," this is what he is pointing toward. (Matt 10:14) "Whoever does not receive the kingdom of heaven as a little child will not enter it," because only one who is willing to become like a child again can relinquish his former competence enough to learn to live anew. There are two actions in metanoia: letting go of the person we have been, and growing into the person God created us to be. Between lies terror.
But beyond it grows a beauty we can only begin to imagine. When one of the little girls in the study was taken to visit a garden for the first time, she was "astonished." She "stands speechless in front of [a] tree, which she only names on taking hold of it, and then as 'the tree with the lights in it."[2] Before, she had known the tree by touch. Now, she can see it in all its grandeur, sheltering her in its leafy embrace, and the light of God shining through the branches. It is the vision which awaits James and John, which awaits all of us -- you and me both -- when we set aside our former understandings and learn to see the beauty of the cross: the tree with lights in it, the tree which brings the light of God.
In that light, in the light of Christ's loving sacrifice, to world takes on strange forms and distant majesty. In that baptism, the baptism in which Christ restored our vision, we begin to see the dim outlines of the kingdom of God. In that saving act, we begin to know where we are going, and that, somehow, the road we had always feared, the sacrifice we were afraid to make, will bring us, not annihilation, but the healing of God, entry to a world whose ordering is utterly unlike our own. A world in which self-assertion gets us nowhere, but where we yield to one another with reverent joy.
The poet R. S. Thomas writes:
It's a long way off but inside it
There are quite different things going on:
Festivals at which the poor man
Is king and the consumptive is
Healed; mirrors in which the blind look
At themselves and love looks at them
Back; and industry is for mending
The bent bones and the minds fractured
By life. It's a long way off, but to get
There takes no time and admission
Is free, if you purge yourself
Of desire, and present yourself with
Your need only and the simple offering
Of your faith, green as a leaf.[3]
Are you able to drink the cup that I drink, or to be baptized with the baptism that I am baptized with? Christ asks. And James and John reply, "We are able." And they are. They do not know what they are asking, but by the time they do know, they are ready. In that simple act of assent, they turn their feet around and begin again, walking not in the light of their own understanding, but in the light of Christ.
What's called for is not extraordinary ability, but the dawning awareness of trust. When we look at a person we love and say "I believe in you," we do not usually mean that we are convinced that they are real and in the world. Rather, we are saying: I trust you. I have confidence in you. I believe that even though you are walking through a hard time, you have within you resources that will allow you to make it through. I have faith in you. We are speaking not of a movement of the head, but of the heart. Even so, when we learn to have faith in Jesus, we are offering our heart, "green as a leaf." We are choosing to place our trust in his life rather than in our own.
You can make that choice today, now, in this instant. Each of us is called make that choice, choosing, minute by minute, the way of peace, of freedom, of faithfulness, and of healing. These are the choices that set us on the road, the choices that peel the scales from our eyes and allow us to begin to see the approaching kingdom of God. They are the ways we open our soul to the grace which surrounds us, leading us, luring us, urging us on, until we can begin to see that it is all grace: life, health, friendship, even apparent defeat, becoming a single, shining strand which draws us home.
[1] Pilgrim at Tinker Creek, pp. 29-30.
[2] Ibid, p.31.
[3] "The Kingdom"