12.06.15
The Second Sunday of Advent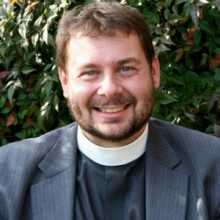 Series: Advent
Speaker: The Rev. Matthew Hanisian
"The word of God came to John son of Zechariah in the wilderness."
God works in some wonderful and often mysterious ways. This past Monday night, the Charlie Brown Christmas special was on. This year is the 50th anniversary of Charles Schulz's Christmas classic. One thing struck me: remember the mangy, scrawny little twig of a tree that Charlie Brown picks out? He brings it back to the school where the rest of the kids are rehearsing for their Christmas pageant and Peppermint Patty proclaims, "Charlie Brown that has to be the worst Christmas tree that ever was!" In response the tree sheds a handful of needles it can hardly afford to lose. Towards the end of the show Charlie Brown tries to spruce up his tree and hangs an ornament on it, but the tree bends under the weight of the ornament looking even more fragile, scrawny and forlorn…
But at the end of the show…. that little tree that was ordinary—maybe even faulty—became the thing around which God is glorified. The moment when the characters began to sing "Hark the Herald Angels Sing"… Well THAT was the moment when the gospel story from today became a sermon for this morning.
Our lives--and our images of ourselves--are sometimes a bit like Charlie Brown's Christmas tree. Sometimes we might see ourselves as being a bit like the National Christmas Tree. On other days if we look a bit closer at our lives and who we truly are, perhaps we see a less spectacular tree…maybe a tree more like the ones some of us will have in our homes. But there are also days, when we take a REAL close look at our selves and our lives. If we look that closely maybe we see something else—a bit like that experience of looking at ourselves in the magnifying mirror in the hotel bathroom. When we look THAT closely—we'll see that our lives are FAR from perfect, far from ideal. I bet that when we peel back the layers of finery that we decorate ourselves with, we probably feel more like that little needle-shedding tree in the Charlie Brown Christmas Special than like the majestic National Christmas Tree.
Now, Advent is a time of self-reflection…but Advent is also a time of hopeful preparation, and joyful anticipation. And here's some Good News: In Luke's gospel, who gets to receive the word of God? Who are the ones that God seeks out and finds? Who are the ones that God goes after and who receive the gift of knowledge about what God is about do in the world?
Open your bulletins and take a look at the list of titles at the start of our gospel passage today. What titles do we see: Emperor, governor, ruler, and high priests. But…Are THEY the ones God goes after and chooses to trust with the inside knowledge about the savior of the world? No, they aren't, and for the second time in Luke's gospel we get a list of who doesn't get it...the insiders, the powerful and elite. No, God gives the "how-to" plan, so we can invite Jesus into our hearts…and the almighty power of God's forgiveness into our lives…to the one who is just about as far away from the insiders as you can get. He is so far away from being an insider that he's literally out in the wilderness. He is just about—in about every sense of the word—as "outside" as you can be.
This crazy son of Zechariah, who rants and raves…the one who dresses in clothes no one would wear, who eats bugs, and at EVERY chance he gets calls those who dare to listen to him—his congregation…he calls them a brood of vipers. This wildman is the one who God goes after and chooses.
Let's back up a chapter in Luke's gospel to chapter 2 which describes the birth of Jesus—we witness the first time that Luke identifies a particular point in time….and uses a listing of the powerful elite. In Chapter 2, who gets the inside knowledge about what God is up to in the world? Well, its not the rulers of the land…its not the one who gives the command and the whole world jumps up to be enrolled in a census—heck, God doesn't even choose the innkeeper. God reveals what God is up to—the greatest scoop in the history of the world—to…the shepherds!
Look, God could have chosen anyone and God chooses the people who weren't even allowed to be inside the village, much less inside a house, they are the ones Linus invokes as he takes center stage and, quoting the King James Version of Luke's gospel says: "And there were in the same country shepherds abiding in the field, keeping watch over their flock by night. And, lo, the angel of the Lord came upon them, and the glory of the Lord shone round about them: and they were sore afraid. And the angel said unto them, Fear not: for, behold, I bring you good tidings of great joy, which shall be to all people. For unto you is born this day in the city of David a Saviour, which is Christ the Lord."
Luke is trying to make the point that God chooses to reveal the glorious Good News and the formula for our salvation to those who are on the outside—God chooses to reveal how we can help restore ourselves to better relationship with God and neighbor…to those who are separated from relationship, those who are alone. The ones to whom God gives God's overflowing grace aren't those who think they are in control and have everything all figured out. God gives the plan for restoration to wholeness, the plan for right relationship with God to the ones who know they need God's grace and Good News the most. As one of my favorite theologians, Bob Capon was fond of saying; "God is a sucker for those who are the last, the little, the lost and the least."
So, as it turns out, the Good News is also that we are on the outside. We are the outsiders…you…me…all of us. Our sins alone make us the outsiders. Our thoughts words and deeds keep us in a varying state of separation from God.
Most Episcopal congregations in DC have their fair share of powerful people amongst their parishioners, people who can influence public policy and political leaders. And we often refer to people of influence as the "insiders," but we know—and, more importantly, God knows—that they are as much outsiders as the rest of us, because we are all sinners in need of God's grace and abiding love. We are all like that little twig of a Christmas tree that sheds its leaves and is bowed over by a single ornament.
When we stop and realize that we are on the outside, and that we need God's forgiveness, grace, and salvation…those are the moments when we open ourselves up to God. Those are the moments that make it possible for God to make changes in us, in our thoughts, in our words and in our actions. Those are the moments when God's light and love can stream into us.
God IS light and love, and in this season of Advent we recognize the interplay between darkness (sin, the ways of the world, things that take us farther from the love of God) and the light (the upcoming birth of THE light, that is: Jesus—our savior and redeemer of the world).
The events of this past week…I went online yesterday and looked up the number of mass shooting deaths since I preached last on All Saint's Day…67. 67 people have died from mass shootings in our country since November 1. The events of this past week only serve to show us again that there is darkness in our world. But even in this dark time in our country and in the world, even at those times when we find ourselves in total darkness…there is hope….there is ALWAYS hope in the Good News of the Gospel.
True, in this morning's gospel one may have to look hard to find the Good News, but that Good News is there. The Good News comes in John's message of baptism of repentance for the forgiveness of our sins.
This "baptism of repentance" is a bit of a salvation two-step process: The first step is that we need to own up to our sins. All of them. We need to be honest with ourselves and we need to be honest with God about the places where we have chosen, not to walk closer to God but to walk farther away from God.
The second step is that we actually do something to change the paths we are on that lead us farther into darkness…away from the light of God. Those crooked paths full of valleys and hills and rough places are the ones that lead us farther away from the wholeness and restoration that only God can give.
Now, I think we are pretty good at doing the first part of that salvation two-step maneuver. The second part…well, that's the harder part, isn't it? But…as the old saying goes, actions speak louder than words.
Both John the Baptist and Jesus use the same Greek word for the changes or adjustments we make so we don't sin again. The word is…"metanoia." Metanoia literally means a turning around—like 180-degrees-turn-around…to walk in the exact opposite direction from which we've just come. Metanoia is the repenting part, that second part of John's message of God's salvation.
Metanoia seems hard. Making changes in our lives in how we are, and act, is difficult…but not impossible. And, what makes repenting easier, is knowing that when we have a metanoia moment—that that moment is a moment of great rejoicing. And why are metanoia moments moments of great rejoicing? Because we have the sure-fire knowledge that God loves us. And we can rejoice knowing that all God wants is to celebrate our return back to God, our homecoming back to God's compassion, forgiveness, and love. God cannot wait to rejoice over our moving away from the dark path we were on. God cannot wait for us to take even that first step, so that God can start cheering us on as we move closer towards the light of God's grace and love.
The Good News of John's message is that once we acknowledge that we're on the outside and own up to how we've moved away from God…and then make that change in our lives to walk closer to God…The Good News of John's message is: that God is there with arms wide open to welcome us home.
We have a choice: we can dwell on our sins and on the darkness in our nation and the world and do nothing about them, moving farther away from God's love, or we can break that downward spiral and turn around, heading back to and leading others towards the light that is poised to break into the world and into each of our lives.
God is waiting for us to come home. God is waiting to cheer us on and rejoice over our return. God is waiting for us to come be held and loved…no matter how far away we have gone, no matter how unforgivable we think our trespasses may be…no matter how far outside of the bounds of God's love we feel we are. God is there, ready, waiting, to rejoice over our return to God's mercy, forgiveness and love.
Now is the time. Turn around. God is waiting with arms flung wide open to rejoice over our return home.
AMEN.