11.29.15
The First Sunday of Advent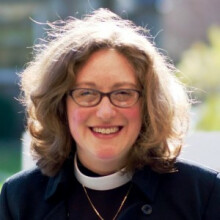 Series: Advent
Speaker: The Rev. Deborah Meister
Advent is a time of anticipation, a time when beautiful sights and good scents and acts of kindness tumble over one another, so that we are caught up, asking, "What will happen next?" Except that this Advent, it feels more like, [tone of trepidation], "What will happen next?" And so maybe we are in the right frame of mind to hear Jesus' words this morning:"There will be signs in the sun, the moon, and the stars, and on earth distress among nations ... People will faint from fear and foreboding of what is coming upon the world." (Luke 21:25-26) Normally, these are hard words to preach in the pulpit of an Episcopal church. We are a rational people, a comfortable people, a brave people, not a people given to alarmist tendencies and vague fear. This year, however, is not like other years; this year, these words seem to speak to our times, don't they? And that's an alarming thing, because they are part of a genre called "apocalyptic," and when the apocalyptic starts to make sense, that's a bad sign, friends! A few years ago, I was reading Revelation, and I realized it no longer seemed crazy to me. It was the most alarming experience I had that whole year. A baaad sign.
Most of the sections of the Bible that are considered crazy are apocalyptic: Revelation, parts of Daniel, parts of Zechariah, certain sayings of Jesus'. These are works written for desperate times, times when the world seems out of joint. In normal times, people put their trust in the sheer strength of the ordinary: the cycle of seasons, the goodness of people, the regular workings of government (good, bad, or indifferent). Surely, we think, things will just work out.
But when they do not work out, when the bad news seems unlikely ever to end, when good people perish without reason at the hands of the wicked, when government seems impotent or predatory, when drought devours the harvest and flood erases cities and towns, then people look toward God as their last, best hope. And they start to write strange works, often in coded language so that they have plausible deniability if the agents of power come calling, works which are framed by the conviction that God will intervene in power to save the righteous believers from all the forces of evil that are arrayed against them. That's why I said it was a bad sign when these works begin to make sense, because they are written for a time of despair -- despair in the power of human beings to set the world in order again.
Jesus spoke his apocalyptic words right before he went to cross; that's why he says, "when these things begin to take place, stand up and raise your heads, for your redemption is drawing near." (Luke 21:28) That's right: your redemption. Your salvation, not your destruction, for at the heart of these words lies the unbreakable conviction that we are already citizens of the Kingdom of God, the one "kingdom that cannot be shaken", come what may. (Heb 12:28) When Jesus speaks these words, he already knows what is coming: his death on the cross, the death that brings life to the world.
Today is the first Sunday of Advent, the start of the new church year, and so it is fitting that Jesus tells us to look for the signs of the times, at what is drawing near. Look at the fig tree, for just as it sends forth leaves in spring, the kingdom of God is being born among you. And yet, what is this kingdom of God we anticipate? This is not a question without import in our world today.
Scripture gives us two primary images of the Kingdom, images that are not consonant with one another. On the one hand, it is the kingdom of the pure: the small group of those who have been righteous in the eyes of God. In the last few weeks, our daily prayer readings have been taken from Maccabees, which embodies this vision, and I have to say, I found them distinctly unsettling. The story is a simple one: after the death of Alexander the Great, his empire was carved up among his closest friends, and Israel found itself under the control of Antiochus Epiphanes, a pagan ruler who was determined to spread his own culture and wipe out the practices of God's chosen people. And so he planted Greek institutions in Israel: gymnasiums, schools, and theaters, and many of the Jews liked them, erased the marks of their circumcision, and abandoned their own religion.[1] Then Mattathias arose, a righteous Jew, and he and his sons refused to abandon their faith. Instead, they rallied the remaining faithful Jews in mountains and in forests, waged battle against Antiochus, regained control of their land, purified the holy places, and re-established the Temple in Jerusalem. Mission accomplished!
It is a story of divine triumph, but reading it, in these times, I found myself wondering: how is this story different from the story that ISIS/Daesh tells itself? After all, they would say that they are waging war in the name of their God against a form of Western cultural imperialism that has led their own people to abandon their traditional practices, adopt foreign customs, and debase their religion. And their goal is nothing less than the re-purification of the land they believe is theirs, by gaining control of the land, abolishing common practices, slaughtering people who do not interpret the faith as they do, and enforcing compliance with religious law. My point is this: that narrative is in our Bible, too, and we have to admit that it's there.
But it does not control us or our lives, and it does not guide our interpretation of the whole, because there exists alongside it a competing vision, which is not a tiny kingdom of the pure, but an expansive kingdom that gathers the all peoples of the earth into harmony. Listen to these words from Isaiah: "In days to come the mountain of the Lord's house shall be established as the highest of the mountains and shall be raised above the hills; all the nations shall stream to it. Many peoples shall say, 'Come, let us go up to the mountain of the Lord...that he may teach us his ways and that we may walk in his paths.'" (Is 2:2-3) Isaiah predicts a future in which all peoples will turn to Jerusalem, will study the law of God and be united in peace, "beating their swords into plowshares" (2:4) and forgetting the terrible arts of war. Later, he is even more explicit: "In that day Israel will be the third with Egypt and the Assyrians, a blessing in the midst of the earth, whom the Lord of hosts has blessed, saying, 'Blessed be Egypt my people, and Assyria the work of my hands, and Israel my heritage." (Is 19:24-25) Third with the Egyptians and the Assyrians, each of which had at times been enemies of Israel. And yet, here God claims these alien peoples as God's own, saying, "my people," "the work of my hands," and "my inheritance."
These two visions exist side-by-side in our scriptures, except that as Israel moves further into monotheism, the vision of the kingdom of the pure begins to wane, and the claims that God is god of all the earth gain strength. For if there is only one God, then all peoples are God's, without exception. The question becomes whether they know it and how they live it.
The theologian John Zizioulas has written provocatively on what it means to be in right relationship with those who are different than ourselves (which is everyone). (There's only one You.) And he writes that fear of the Other is original sin, for when Adam and Eve rejected God himself, who was Other than they were, they set in motion a world order in which the Other is seen as an enemy and a threat rather than as one to be welcomed. (Communion and Otherness, 1-2). Think about it: if we reject God, the Other who is entirely good, how likely are we to welcome one another, who are rather...spotty. But Zizioulas does not stop there; he continues by looking, not at what we have made of the world, but at God, who is three-in-one. And he writes that because God is Trinity, otherness is necessary to unity. Too often, we fall into the trap of acting as if unity requires uniformity, but the truth is that we can be united to others only if they differ from us, because if they don't, they are us. It is precisely this work of reaching out to those who are different that Jesus did when he took on human flesh, reaching out of his godhead into our humanity, so that we could make of him a bridge and find our way back to God and to one another.
That's a lot of theology to lay on you on a Sunday morning (when many of you are still in a turkey coma), but the thing is, it matters. It matters because our world, our country, and our culture are becoming a battleground between those who wish to bring about a reign of the pure, and those who wish to embrace the other. ISIS, Al Queda, the racists, the people who want to expel immigrants and keep out refugees, the people who wish to make Christianity the law of our land, what are they seeking if not a culture in which people look like they do, dress like they do, and conform to their values in all ways? And we -- we who cling to a different hope, we who believe that all are God's children, that each person deserves a fair chance to make a good life, that peoples who differ from one another and disagree with one another can nevertheless learn from one another and live together in peace -- we have to realize that this inclusive outcome is not inevitable. The future is in God's hands, but we have a duty to witness to the love of God, which is extended not because of who we are, but in spite of it: the love that is offered to each and every human being, messed up and broken and confused as we are, because what matters in the end is not who we are, but who God is.
And so, beloved, this is my prayer for you at the turning of the year: "may the Lord make you increase and abound in love for one another and for all... that you may be blameless before our God and Father at the coming of the Lord Jesus with all his saints." (I Thess 3:12-13) Amen.
[1] You may be wondering how one erases the marks of circumcision; I have no idea!