06.16.19
Staying Afloat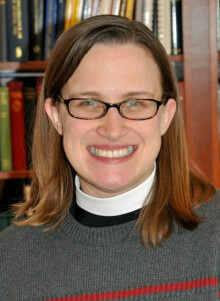 Series: Pentecost
Speaker: The Rev'd Emily Griffin
Say you've had a tough week. The waters are rising faster than you can keep up. It could be work that's overwhelming, a bad diagnosis, a family crisis or just life in our news cycle that makes you feel like you're reaching flood stage. How can our readings for today help? At first it seems like we're sinking in a sea of abstraction. Wisdom, hope, truth…these can sound more like political slogans than places to stand. With stories, we can sometimes find a foothold. Here, though, we have to work harder to make connections with life on the ground. At least I do.
Don't get me wrong – it's fascinating to think about a feminine presence at the dawn of creation as we're given here in Proverbs, to have Wisdom as a "she" on Trinity Sunday amidst all these "he's", to sense the fullness of what it means to be created in the image of God. But that's reaching pretty far back to find cause for hope. What about the present, what's here and now? Well, Paul speaks in the present tense in our reading from Romans – but in such a seemingly easy way about the productivity of suffering that it's hard to know what he's talking about. And then Jesus, in John's Gospel anyway, I love him but he can bury the lead so thoroughly – we can barely glimpse the Spirit amidst all that swirling repetition. What can we actually hold onto here – what might help us to stay afloat?
Let's start with wisdom. My Jewish Study Bible defines it as "knowledge translated into action." That means wisdom is less about mastering floods of information; it's more about riding the waves so they don't drown or paralyze us. To take the water image a little further, wisdom is kind of like the river guide in a raft – the one who knows the flow well enough to keep us in it, who can tell us when we need to rest and when it really is time to paddle hard. Wisdom is what helps us to set direction and move together to get there.
But it's not all about knowing the terrain in advance. Wisdom also helps us to handle new situations that we've neither predicted nor prepared for. We can't measure it by our ability to write a paper or take a test (I know – here in DC – also known as "Hollywood for Nerds," that's a tough pill to swallow.) Wisdom isn't about intellectual feats of strength; it has to do with what we learn from our elders and from our own experience – and how that comes out in the works of our hands, in the ways we treat each other, in our capacity to respond with calm and grace when anger and judgment are so much easier.
So where do we find her – wisdom, that is? According to our first reading, wisdom calls out to us. She raises her voice not just on the heights, but at the crossroads. In other words, wisdom isn't found just on mountaintops or monasteries or on mission trips, for that matter; she lives where we do. And we're told her cry is to "all that live." Wisdom is not the property of any one nation or religion or century. It doesn't reside within the walls of the church alone; it's not found within Scripture alone. Wisdom speaks in our Monday to Saturday world - sometimes in the voices of people who've never heard church talk. Wisdom may have been with our Creator back in the beginning, but she certainly didn't stay there. Wisdom is available to us here and now. For once, the issue is not access. It's not that wisdom isn't speaking; it's that so many other voices are speaking too – more loudly and, apparently, more persuasively.
So where does our reading from Romans fit into all this, with all its specialized God-talk? Is there any way that wisdom grounded in experience can actually lead to hope? Paul's reflections here don't replace the insights given in Proverbs so much as they come from a different stream. Wisdom is not the exclusive property of the church or the Bible, but that doesn't mean we can't learn valuable things here. In Paul's view, the experience of the risen Christ in our lives changes everything. The flow of the river will never be the same, so we need new words to articulate that. Our God-given wisdom is deepened, in his view, when we let ourselves be part of both of these streams of tradition – when we let the words and images, the rituals and practices flow over us and become ours.
With time, we begin to make more sense of Paul's words. Of course, we know that suffering isn't always a means to some discernible end. Suffering doesn't automatically produce endurance, much less character or hope, but we do have a better shot at all of the above when we're surrounded by others who're willing to share their experiences of Jesus' love and stay with us. Over time, as we practice this Christ-shaped life in community, as we give and receive grace, as we find the new life that only emerges after death – all of these things gradually give shape to our hope. They ground it in something far greater than wishful thinking or optimism. It's this Christ-shaped hope that helps us to know who to hold onto when there is no place to stand, when all we can do is go with the flow.
It might be nice if we had an instruction manual for "what would Jesus do" in every possible situation, if we could craft a Christ-shaped life in 9 easy steps, but that's not what we're given. We have a limited set of stories, a few key sermons, and the example of his life. We don't see him get married or have kids; we never see him struggle with a long illness or grow old. We don't know exactly what he would do in our circumstances. That's part of why we have the Holy Spirit with us now – or what Jesus in today's Gospel calls "the Spirit of truth."
We're told that the Spirit will guide us into all the truth, and I for one find that deeply reassuring. First, it means that for all the wisdom available to us, we don't have all the truth now. We can't base every decision on today's horizon; that means there's reason for hope beyond what we can see. It also means there are things we won't be able to predict or prepare for, and that's not necessarily a failure on our part. Second, it means that we're not left to navigate the waters on our own. We have a guide, someone who knows the flow – who can help us find our way when the path we thought we were on is blocked, who can show us our choices when there is no one right way to go, who can talk us through those moments when we find ourselves out of the raft altogether. I'm not an expert on whitewater rafting by any means, but I do know that when we find ourselves out of the raft and in the water – the last thing we should do is force ourselves to stand. There may not be a place to stand for quite a while. Sometimes our best option is to stop thrashing and let ourselves float – until we're either hauled back in or someone who sees more than we do can point out a resting place.
In the silence that follows, I invite you to think about the waters you find yourself in today. What might it look like to go with the flow and let yourself be led for once? Might that somehow be the Spirit of wisdom, the Spirit of Jesus, the Spirit of truth trying to speak? In the Name of the One who knows where we're going even when we don't and who can be trusted to guide us there – Amen.