11.01.15
All Saints' Day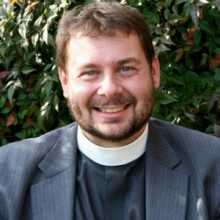 Series: Pentecost
Speaker: The Rev. Matthew Hanisian
"Jesus said to them, 'Unbind him, and let him go.'"
Each time I have read this passage from John's gospel this week a different verse or phrase has jumped out. Which is frustrating when trying to figure out what to preach about. But, scripture can be like that.
The one sentence that has resurfaced more than the others, however, is the last sentence: "Jesus said to them, "Unbind him, and let him go." And when a verse catches one's ear like that several times, one should pay attention….because scripture can be like THAT sometimes too.
Jesus performs perhaps his greatest miracle in this passage. Raising Lazarus from the dead is a fairly well-known story—I mean, it isn't every day that someone is raised from the dead. In fact, Jesus was the last one to be raised from the dead and that was over 2,000 years ago…and the story of Jesus is the greatest story ever told. So, no wonder the raising of Lazarus from the dead ALSO sticks out a bit.
Now, today we are celebrating the feast of All Saint's. This is one of the six major feast days of the church year. The other five are: Easter Day, Christmas Day, Epiphany, Pentecost and Trinity Sunday. All Saint's Day celebrates the lives of ALL of the saints—those known and unknown—who have been reunited with God in heaven through the death and resurrection of Jesus Christ.
Soooo the raising of Lazarus is a FANTASTIC story for today, don't you think? I can see there are doubts. Well, let's unpack this a bit and see if our minds can be changed.
If you take the story of Lazarus that we have this morning, and you look for the commonality between that story and the definition I just gave of All Saint's Day (celebrates the lives of ALL of the saints—those known and unknown—who have been reunited with God in heaven through the death and resurrection of Jesus Christ) there are two intersections—two common points.
Those two common points are: Jesus and death.
Let's dig in. All Saint's Day celebrates the reunion of the saints with God in heaven, right?. How is that accomplished? Through the DEATH and resurrection of JESUS.
In the LAZARUS story, how is God glorified and the point made about Jesus being the son of God? Through JESUS defeating DEATH and raising his friend Lazarus who had been dead—D-E-A-D, dead—for four days— The King James Version of the bible puts it oh-so poetically about how long Lazarus has been dead—Martha says, "Lord, by this time he stinketh: for he hath been dead four days." Through defeating death and raising Lazarus from death and giving him life afresh, Jesus shows the almighty power and heart-starting love of God.
Without JESUS Lazarus doesn't get raised from the dead. In fact, a couple of verses earlier in John's gospel, Jesus actually gets news three or four days earlier that his friend is about to die and ON PURPOSE Jesus waits to go to Lazarus. You see, without Lazarus dying, Jesus does not get to perform this miracle.
He brings Lazarus back to life so that God may be glorified, AND so that the crowd of people witnessing this miracle might BELIEVE…and that believing in Jesus and the eternal life that he brings that WE ALSO….might have life eternal. Near the end of John's gospel the author confesses why it is that he has written these things down, "But these are written so that you may come to believe that Jesus is the Messiah, the Son of God, and that through believing you may have life in his name." John 20:31
So the two common points in both the gospel passage and our celebration of All Saint's Day are Jesus and Death.
We don't GET the saints being reunited with God in heaven unless JESUS DIES. More importantly to us here today, WE don't get raised from the dead and get to have life eternal without Jesus…and our own death.
I will also note that these two common points of Jesus and Death are two topics that in our world, in our society are almost taboo. If someone came up to you on the street and said, "Hey, let me talk to you about Jesus," you would probably be a bit uncomfortable. Substitute "death" now for "Jesus" in the same scenario. You'd probably be reaching for your phone to dial 911.
As CHRISTIANS we don't have to fear death. As CHRISTIANS we no longer have to be terrified of death. Why? JESUS! Death is not the end for us—the end for us is what those saints who have gone before us are experiencing now: being reunited with the God who created them, knew them, and loves them anyway…for all eternity. Now THAT'S some Good News!
Want some more Good News? Today, we are going to make three more Christians. Madeline, Eleanor and Caroline are going to be baptized today. Today, the Holy Spirit with parents and godparents and us gathered…we are going to give them the gift of eternal life so that THEY don't have to be afraid of death, or even of Jesus.
That brings me back to the phrase that caught my ear from the gospel story this morning. When Jesus commands the people gathered around the tomb, "Unbind him and let him go." In that moment when Jesus commands the crowd to unbind Lazarus, he is also unbinding them—AND US TODAY—from our fear, from the certainty of death being our end, even from our unbelief.
Part of what we are doing this morning in baptizing Madeline, Caroline, and Eleanor is that we are unbinding them. We are unbinding them from the fear of the finality of their death. We are unbinding them from ever being alone—because we are binding them to one another and to us their Christian family. AND we are making promises to them—the same promises that were made at OUR baptisms by those who were gathered on that day when WE were given that SAME gift of eternal life. The promise that carries the most weight in my mind is when the celebrant asks the congregation: "Will you who witness these vows do all in your power to support these persons in their life in Christ?" WE WILL WITH GOD'S HELP.
That means that when Eleanor, or Caroline, or Madeline finds herself stuck and bound up by any of the myriad ways that we as humans can bind ourselves up—we're pretty darn good at that—we have a responsibility to each of them to help unbind her and let her go. We now have a responsibility to these three little girls--and guess what--we have that same responsibility to one another…to each of us here today. And we have that responsibility to and for ourselves. Each of us will need help unbinding ourselves, just as Lazarus whose hands, feet and face were tied up. We get tied up too.
When we see our brother and sister in Christ bound to something that separates them from the love of God, we are to help UNbind that person. We are bound together by the love of God. We need to help that person become unbound, so that he or she can be freed and be let go. And when we do THAT, we are living more fully into our baptismal covenant. Through our baptism we are bound together in love as Christians. And when, with God's help, we unbind someone….we are helping to give that gift of new life.
And "Jesus said to them, 'Unbind him and let him go.'"
In the name of the Father who IS Love,
In the name of Jesus who unbinds us and gives us eternal life,
And in the name of the Holy Spirit who binds us all together in love,
Amen.