Vestry News & Meeting Minutes
Vestry meetings are usually held on the 3rd Wednesday of the month at 6:30 pm in Room 301 of Satterlee Hall, and are open to all. The Senior Warden provides a summary of each month's meeting.
Vestry News, October 2019
by Senior Warden Ken Patterson
Glenn Davis opened the October 16 Vestry meeting with a meditation invoking one of the themes of The Rev. Steve Carlsen's "one church, two languages" presentation from last weekend: interesting and glorious things can happen when people get comfortable with being somewhat uncomfortable. After all, God is with us wherever we go, and St. Alban's aspires to be a place where we feel safe even when outside our comfort zone.
St. Alban's remains financially sound and heading toward a balanced budget for the year. Pledge income is on track. The endowment will exceed $5 million this week, a milestone made possible by the addition of a generous bequest of the Rev. Loren Mead. Average attendance for September was up 14% from September 2018.

The Vestry approved a number of much-needed building repairs using money set aside for that purpose. Work should begin later this year on all the following:
water-infiltration remediation for the basements of Nourse Hall and Satterlee Hall
improvements and repairs to the Parish offices
installation of a new ramp to the Rectory
repairs to a bathroom and the screened in porch of the Rectory
a refresh of Trenbath and the office corridor including painting, floor refinishing and other cosmetic improvements
While everything possible will be done to minimize disruption, St. Albanites should prepare for a period of construction that will include considerable excavation of dirt and landscaping around Nourse and Satterlee.

In his report-out on Youth and Children's formation, Glenn Davis emphasized the continued need for youth leaders. Please consider volunteering to serve your parish in this important area. Remember that three to four adults are lined up for each class, so one does not need to prepare or present a lesson each Sunday, and we are open to folks observing for a month or so before actually teaching. While all are welcome to help, we could especially use a couple more men!
Josepha Musabyemariya Nelson reported on the work of Global Missions, highlighting plans to expand our support to South and Central America; research is being done about possibly assisting the Episcopal Church in Puerto Rico. Josepha also highlighted the Holy Land Olive Oil Product sale fundraiser during Advent, and the fact that the September Mustard Seed raised at least $6700 for victims of Hurricane Dorian.

The annual stewardship campaign has kicked off. Please add your pledge to the $200,000 in pledges we have already received. So far, half of the households pledging have increased their pledge over last year by an average of 19 percent.
Vestry News, September 2019
by Senior Warden Ken Patterson
At the September 18 meeting, the Vestry was happy to welcome back Josepha Musabyemariya for her first meeting since being seriously injured in a post-church automobile accident earlier this year.

Walker Carter, one of the chairs of our upcoming pledge drive, began the meeting with his personal reflections on stewardship, later asking other Vestry members to speak about what motivates them to give to St. Alban's. Walker described the impact our church community had on his family during times of great personal loss, and shared a lovely collect on stewardship, an excerpt of which is: "Send your Holy Spirit to help us as we swim against the rising tides of materialism, envy, individualism and greed in our culture. When we are tempted to think of money as a private matter, remind us that you have asked for part of what we are given, to be returned to you as a symbol of our awareness that you give all we have." Be on the lookout for your stewardship letter, the arrival of which is imminent.

On the financial side, while pledge income took a 5% drop in August, as of the end of the month, year-to-date pledge income is 5% over budget and 10% over where we were at this time in 2018. The Reserve Fund and Endowment remain very healthy, but the Treasurer reminded the Vestry of the imminent need to absorb large expenditures related to the physical plant, e.g., water infiltration, refurbishment of Trenbath. Efforts to get final estimates for and prioritize these and other repairs are near completion, with likely Vestry action in October.
The Vestry approved the Nominating Committee, to be chaired by outgoing Vestry member Michele Bond, and charged them with identifying candidates for the Vestry positions held by Michele, Adrienne Allison, Rachel Colson and Jane Schubert, all of whose terms expire this year, as well as candidates for Junior Warden as Lucy Fraser Cage's term also ends this year. Parishioners should feel free to contact Michele with recommendations for candidates in the short-term, and the rest of the Nominating Committee will be made public after the non-Vestry members have agreed to serve.
Jane Schubert reported on the God's Work in the World's (GWIW) impressive slate of Christian social ministries. As St. Albanites consider their pledges for the coming year, keep in mind that our support for GWIW ministries aimed at education, feeding the hungry, global missions and transforming the lives of children have made a real difference locally and abroad, and when those contributions are combined with WSA's generous grants, St. Alban's spends more on outreach than any other church in the diocese. Speaking of WSA, the Op Shop is well on its way to another record-breaking year.
By way of update on our emergency preparedness work, a training by Cathedral security is scheduled for Sunday, September 22 at 12:30 for ushers, vergers and staff, and a forum open to all will follow later in the year.
I'd like to extend my personal gratitude to Tricia Pinkard for agreeing to serve as Parish Life chair over the next year, and to Michele Bond for serving as Tricia's Vestry partner in this important work until the new Vestry is elected. Also, hearty congratulations to Jim Quigley and all who contributed to making the Ministry Fair a great success.
Vestry News, August 2019
by Senior Warden Ken Patterson
The August Vestry meeting began with Leo Coco's meditation as part of our series of "what really matters" testimonies by members. He described the importance of community, and how he takes comfort gleaned from how closely connected we all are. Among his examples was when he learned, moments before a major surgery, that his surgeon's children had played with his own children years before, and that coincidence immediately calmed him as a sign that all would be okay.
Highlights of the reports to the Vestry include:
St. Alban's finances remain sound. June's pledge income was up 90% above June 2018, and year-to-date we have already received 2/3 of the projected pledge income for the year. The endowment is just shy of $5 million, and we made the first deposit in the Schwab account that allows a portion of capital available to meet expenses to gather more income. Looking forward financially, Walker Carter, Suzy Mink, Andrea Fraser-Reed and Doug Dykstra (and others) are well along in planning the 2020 Stewardship Campaign.
In special giving, the June Mustard Seed offering yielded over $4,000 for Hope and Resurrection School, and the Parish funded a generous purse for the Rev. Debbie Kirk on her departure. (Debbie asked us to extend her thanks to you all for this and the lovely reception.) Finally, as of the end of July, the Op Shop gross sales were up 20% over last year.
The Rev. Emily Griffin updated the Vestry on the Diocesan Plan, which she, Paul Brewster and Glenn Davis have helped develop as representatives of St. Alban's. Central to the Diocesan plan is this mission statement (still in draft): "The mission of the Episcopal Diocese of Washington is to draw people to Christ by equipping our faith communities, promoting spiritual growth, and striving for justice." The current draft of the "one-pager" on the Diocesan vision will be placed on the Vestry bulletin board in the Wade room. Vestry members will be contributing their thoughts on the draft; it was noted as problematical that the current plan omits any reference to the importance of ministry to children and youth, and there is no reference to the LGBTQ+ community in terms of either outreach opportunities to welcome more people into the church or as victims of social injustice.
Jim Quigley reported that the development of an incorporation plan for newcomers, focused on supporting their spiritual growth, is near complete. The Rector's report focused on reflections on the recent J2A pilgrimage to Greece, supplementing the blog pieces that can be found on Alban Life. Geoffrey also shared some thoughts from reading he has been doing on St. Paul this summer (Paul: A Biography, by N. T. Wright).
While I am sorry that this planning is necessary, I am pleased to report that your church leadership, with Emily Griffin on point, is taking steps to ready the parish in the event of an emergency situation arising while we are gathered together, whether in the form of a fire or natural disaster or an unspeakably frightening event such as an active shooter. Coordination with Cathedral Security continues as we formulate an organized approach to this issue. A number of steps are already contemplated, including: the development of updated schematics of the church with evacuation routes; the ordering of walkie-talkie devices to enable communication between areas of the church and the Sunday School as well as directly to Cathedral security; training this fall for ushers, vergers, staff, etc.; and, a forum for all those in the parish wishing to learn more about staying safe in these troubling times.
Finally, please be advised that despite great progress toward realizing high-speed Internet service for the church, there have been a number of email problems in the last week. If you have attempted via email to contact a member of the clergy or staff and have not heard back, please call that person directly.
Vestry News, May 2019
by Senior Warden Ken Patterson
Ted Swett began the May 22, 2019 Vestry meeting with a lovely personal reflection on faith, centered on what it means to honor the first, great commandment: that we love God. His story was inspired by the writing of a college friend who is in the throes of an illness that, absent a miracle or rapid advances in medicine, will likely soon take his life. This friend has chronicled his struggles with messages of finding love in each day. Ted's reflections cited a wonderful Peanuts cartoon that I thought worth sharing: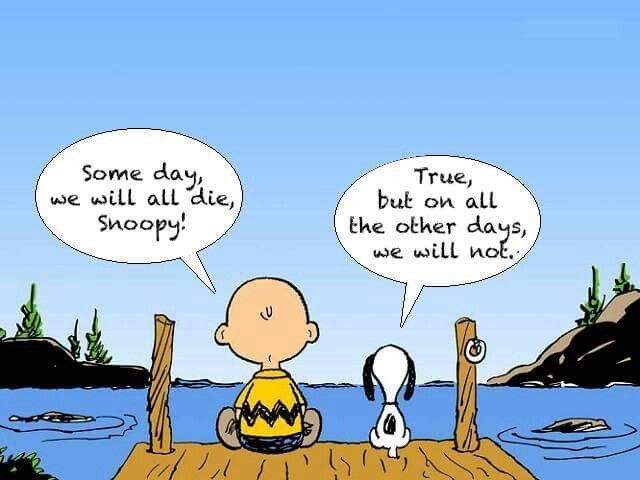 In financial matters, the Vestry approved a recommendation coming out of the Finance Committee that the Parish establish an operating liquidity account to take advantage of the fact that our "checking" account at various times holds money from a number of designated funds as well as regular cash flow that isn't needed for immediate access. We will transfer into this new account a significant amount of these funds that will bear interest at a higher rate; this action promises to yield annually the equivalent of 2+ average pledges. Thanks and congratulations to the Finance Committee!
The Junior Warden reported that contractor availability has caused delays on the church office renovations previously approved by the Vestry. The Vestry also approved at this week's meeting expenditures for repairs to the Rectory, including replacement of the accessibility ramp with a safer and more visually appealing one, repairs and painting of the screen porch, a new storm door and replacement of one of the toilets. The water infiltration problem affecting Satterlee and to a lesser extent Nourse Hall continues to be evaluated by the Building and Grounds Committee, drawing on the expertise of Marc Fetterman. Finally, I am happy to report that by the end of June the church should finally have high-speed internet service.

Considerable discussion by the Vestry centered around the May 11 meeting with parishioners who regularly attend the Spanish liturgy. The meeting was attended by the Bishop, the Diocesan Missioner for Spanish Congregations, Geoffrey, Emily, myself, and many members of the Vestry. Early in the meeting, the Bishop recounted the history of the San Albano service, which was begun by the Diocese but continued by St. Alban's after the Diocese decided not to put further resources into it. While the anticipatory sense of loss accompanying Debbie Kirk's departure continued to be aired at the May 11 meeting, there was also constructive dialogue about how to best realize the model of more fully incorporating the Spanish liturgy participants into the parish as a whole while preserving the unique aspects of that service. At this week's Vestry meeting, the Vestry furthered that discussion, expressing support for the formation of the committee envisioned at the May 11 meeting to help implement the new model. The committee is to be made up of Spanish-service regulars, English-service parishioners, and one or more Vestry members. The importance of the ideas from that committee being regularly communicated to the Vestry was stressed.

One theme that has emerged from various conversations with San Albano parishioners is the latter's desire to feel recognized for contributing to the overall good of the entire parish. Geoffrey continues to stress that we are trying something new with our approach to fuller incorporation of our Spanish-speaking members, and its success will involve commitment and attention by not only the church leadership but by the Spanish-speaking parishioners, those who are bilingual, and those who speak only English.
Vestry News, April 2019
by Senior Warden Ken Patterson
The April 10 Vestry meeting was thoughtfully begun with Vestry member Adrienne Allison's description of the role that faith has played in her life, and particularly in her career choices. These testimonies continue to assist us in getting to know one another better and to keep on eye on "what matters" as we act on behalf of St. Alban's.
Glenn Davis presented a thorough overview of our youth and children's ministries, including a reminder that the need and time to identify new leaders for all our young people's classes will soon be upon us.
St. Alban's financial health continues: pledge income for March was 21% over budget and 46% above last March; last night we received notice of our 300th 2019 pledge; and the endowment approaches $5 million. March attendance was up 5% from last year, and Robin Rudd reported an unprecedented level of contributions for memorial flowers for Easter with a significant number of those coming from new parishioners.
The Vestry was formally introduced to the Rev. Yoimel Gonzalez Hernandez and unanimously affirmed his call to be our new Associate Rector. His initial roles include leading our youth ministries and being pastorally available to our parishioners who speak only Spanish. Also by unanimous consent, we endorsed Sara Thorne as a candidate for ordination to the Diaconate.
In other business, up to $16,000 from the Reserve Fund was authorized for updates to existing offices and expansion into the mail room and current parlor to accommodate staff needs. The Rev. Emily Griffin also announced the receipt of a grant from the Tucker Foundation to outfit an additional Godly Play classroom.
Ruth Cline and Bob Witten were thanked for their participation in a Montgomery County police seminar on safety and security for houses of worship. Emily Griffin, Lucy Fraser Cage and I will be meeting with Cathedral security on this topic, and hope to combine all these learnings for a forum or other presentation to the parish at large.
The Vestry also received the report of the Governance Committee regarding the advisability of appointing a Parish Chancellor. The report made recommendations about the duties, appointment process and term for this position, as well as on issues such as avoiding conflicts of interest. We approved appointment of a Chancellor consistent with the report's recommendations, and Laura Ingersoll was unanimously selected to fill the position.
Begging the forgiveness of my Vestry colleagues, I am taking the liberty of reporting out from the April 10 executive session of the Vestry. These sessions are confidential, but I do not believe that disclosing the nature of the discussions would meet with objection from my colleagues. The recent announcement that the Rev. Debbie Kirk will be leaving St. Alban's has been met with understandable sorrow by members who attend our 11:15 Liturgy in Spanish. It has also been interpreted by some as an indication of diminished support for that part of our ministry. In addition to expressing praise and gratitude for Debbie's work and legacy at St. Alban's, Vestry members voiced continued and enthusiastic support for our Spanish-speaking members, as well as a desire to work with them to ensure that, under a new model where all our clergy share in the leadership of Spanish language worship, that those who attend this liturgy are honored and supported as full participants in the life of the whole parish, while retaining all that makes this part of our congregation distinctive.
Vestry News, March 2019
by Senior Warden Ken Patterson
Our March 20 meeting was kicked off by Junior Warden Lucy Fraser Cage, with reflections on her faith journey including the important role St. Alban's has played in her adult life, as part of the new Vestry tradition of our members sharing how we have "grown in faith."
Dudley Winthrop presented an overview of the Parish's financial situation. The 2019 pledge campaign represented a 5% increase over 2018, with 29 new pledging households. Pledge income for February 2019 was 2% over budget, and 17% above last February, and thus far in March pledge income is already $9,000 above last March. Our endowment Fund is at an all-time high, $4.8 million as of February's end. The Reserve Fund is above its normative balance.
Sales at the Opportunity Shop to date are up 11% over last year, and the WSA has approved $43,000 in grants to six organizations. Also, our average Sunday attendance (352) last month was higher than it has been at any point in the last decade.
Paul Brewster, Vestry liaison to the Worship and Newcomers' Committees, reported on those areas. From his perspective as a Verger, all things related to our worship are flowing smoothly, but noted that attention is being devoted to issues such as how to best seat our larger choir, lay readers and acolytes during services, and concerns that the 8:00 service can feel rushed as 9:00 a.m. attendees gather. (We appreciate anything our early arrivals to the 9:00 a.m. can do to visit quietly in the Narthex.). Paul also reported a successful acolyte training, including four new recruits. His presentation on the Newcomers' ministry generated a spirited discussion on things the Vestry could do to assist. The Junior Warden and I agreed to explore ways to enhance a related issue, how and when we advertise to the external community.
Emily Griffin, Paul Brewster and Glenn Davis will be representing St. Alban's in contributing to the Diocese's Strategic Planning Process at a March 30 session of the North DC Regional Leadership Team that Emily co-chairs. Our Vestry members agreed to complete the Unstuck Church Assessment tool to assist in this work.
Vestry News, February 2019
by Senior Warden Ken Patterson
The first gathering of the 2019 Vestry of St. Alban's was a delightful and inspiring retreat at the Claggett Center, where we discussed the parish on the "church life cycle" as contemplated in Tony Morgan's work on the "Unstuck Church." The consensus was that we find ourselves in an upswing period of strategic growth: financially healthy, increasing in attendance, and up to the task of continuing to do God's work in our community and the world in myriad ways!
Geoffrey invited us to share our own faith journeys at the retreat--how we each have approached the Christian mission of following Jesus and having a "life worth living"--which grew into a discussion on how we as a parish can best help others follow Jesus and enjoy lives of meaning, value, spiritual growth and generosity.
My first Vestry meeting as your Senior Warden was a jam-packed and productive one that began with a Eucharist in the Nave and installation of the new Wardens and Vestry members. At our business meeting, I was happy to kick off a new practice of sharing my testimony about growing in faith; we plan at upcoming Vestry meetings to have each Vestry member take a turn sharing a story of how they have grown in their faith or tackled some theological dilemma, or a life crisis with God at their side.
The business of the evening included appointing the following persons for new one-year terms: Hollis McLoughlin as Treasurer; Ted Swett as Secretary; and, Corinna Gilmore and Woodfen McLean as Youth Representatives to the Vestry. We also confirmed that Barbara Manard, Ted Swett and Heather Sondel will continue as Diocesan Delegates until their respective elected terms end. Amy Vandersluis continues as our alternate Diocesan delegate. The position of Parish Chancellor, recently vacated by Mary Kostel who is now the Chancellor to the Presiding Bishop, was not appointed last night; rather, the Vestry referred to the Governance Committee the task of developing a description of the role of the Chancellor and making a recommendation as to how the Chancellor is selected.
Junior Warden Lucy Fraser Cage updated us on efforts to evaluate and address water-infiltration issues in the basement floors of Satterlee and Nourse Halls. There were two highlights of the Vestry meeting. First was a presentation by Josepha Musabyemariya and Adrienne Allison, Vestry leads on our Global Missions work, on the state of that ministry, followed by a discussion of ways to make that great work more known and understood by parishioners. Second, I am pleased to announce that the Vestry selected Rachel Colson to fill the current vacancy on the Vestry for a one-year term, and on Thursday she graciously accepted. Please join me in welcoming Rachel, who you recall was on the January ballot, to your Vestry!
The next meeting of the Vestry will be on March 20.
Vestry News, January 23, 2019
by Senior Warden Laura Ingersoll
The Vestry unanimously approved a balanced Operating Budget for 2019, based upon the nearly $1.3 million in pledges made to date (thank you, dear fellow parishioners!) and other income sources including $79,822 in unspent funds carried forward from 2018. The budget funds our increasingly robust music program and anticipates hiring a youth director for the 2019-2020 program year. It also accounts for ongoing planned maintenance and repair projects, and our communications infrastructure upgrade. We increased our outreach budget (not including OpShop and other "pass-through" receipts/disbursements) to $111,516 to match our slightly increased annual Diocesan contribution – continuing to move each item toward our aspirational goal of a 10% tithe of the Operating Budget. The Operating Budget, plus over $200,000 in pass-throughs (including WSA funds and designated Endowment Funds), tops $2 million.
Director of Music Jeremy Filsell discussed a report prepared by Schantz Organ Company, based on a recent inspection and assessment of our organ, which recently received a comprehensive overhaul. Our current organ was installed in 1998 to replace a much smaller 1928 instrument, and is deemed to be somewhat too large for our space and sub-optimally sited, leading to performance and maintenance challenges. While no near-term change is recommended, the Vestry will keep these factors in mind for the future.
Vestry members ending their terms of service gave heartfelt reflections on their Vestry experiences, and the end of the Vestry term was marked with chocolate cake!
The first meeting of the new Vestry will be on February 20.
Vestry News, December 19, 2018
by Senior Warden Laura Ingersoll
The Vestry's main business was a "first look" at the preliminary draft 2019 budget, based on a currently-anticipated pledge income jump of 7.5% above 2018 but less than our aspirational 10% increase. By the time the Vestry gets the final balanced budget for enactment in mid-January, we will be working with the actual results of our annual pledge campaign. To enable us to plan, we encourage all parishioners who haven't already done so to please make their anticipated giving commitment for 2019! The final budget will be presented at the Annual Meeting on January 27.
We heard and discussed Vestry Member reports on the parish children's program (by Lara McCoy Roslof) and youth program (by Tomás Montgomery), and on planned giving (by Julie Clements Smith). Junior Warden Lucy Fraser Cage highlighted recent progress in completing the flagstone walkway work, siting the new high-speed internet capacity line (to run under Cathedral grounds), building out new office space to enable Director of Finance Doug Dykstra to be co-located with the clergy and other staff, and addressing water infiltration problems that have long plagued all three of our buildings.
Associate Rector Jim Quigley spoke movingly about his recent experience traveling with Bishop Mariann and other clergy to bear witness and to worship at the border between El Paso and Juarez.
The next regular Vestry meeting will be on January 23.
Vestry News, November 28, 2018
by Senior Warden Laura Ingersoll
The Vestry accepted an annual outside auditors' report that found our financials to be in fine shape. We allocated two substantial recent bequests (a $200,000 installment of the Griest bequest, and approximately $53,000 from Chris Larsen) to the Endowment, except for 20% which will go to the Reserve Fund to address significant water infiltration remediation issues in our three buildings. We established the John LeMoyne Ellicott and Beatrice Berle Meyerson Fund for General Purposes within the St. Alban's Endowment Fund, and gratefully assigned to it $50,000 in gifts received for that purpose.
Pursuant to the new bylaws, the Vestry appointed Ted Swett to continue Vestry service, filling out the two-year term vacated by Lucy Fraser Cage when she was appointed Junior Warden. We accepted the slate of candidates for election in January – Senior Warden: Paul Brewster, Ken Patterson; Junior Warden (one year): Lucy Fraser Cage, Bob Witten; Vestry (4 seats): Paul Brewster, Lucy Fraser Cage, Rachel Colson, Barbara Bolling Manard, Pamela Melby, Josepha Musabyemariya, Ken Patterson, Dudley Winthrop – and approved balloting procedures for publication online to the Parish. All Vestry members, wardens, officers, and diocesan delegates having made their 2019 pledges, we adjourned to conduct a phonathon to encourage parishioners who have not yet pledged to do so.
The next regular Vestry meeting will be on December 19.
Vestry News, October 17, 2018
by Senior Warden Laura Ingersoll
Having had three opportunities to consider, discuss, and amend them, and following notice to and comment by parishioners, the Vestry unanimously approved the proposed 2018 parish bylaws to be presented to the parish for adoption at the October 28 Special Meeting. (The proposed bylaws can be found here.)
Vestry Member Tom Gustafson reported on the Adult Formation program, which centers on the weekly Parish Forum. The Vestry took note that the Forum is not a series of ad hoc presentations to "inform" parishioners, but a very carefully thought-through program that aims to "form" us by engaging us in exploring aspects of our cherished traditions of faith, reason, and tradition. Rector Geoffrey Hoare expressed confidence that anyone working through a two-year cycle of Forum programs will have undergone a significant Adult Formation. The Vestry expressed appreciation for Ed Roslof, Associate Rector Jim Quigley, and those who assist them in the program.
The next regular Vestry meeting will be on November 28.
Vestry News, September 19, 2018
by Senior Warden Laura Ingersoll
The Vestry appointed a Nominating and Elections Committee to recruit candidates for election in January, and heard Vestry Member reports on Newcomers (Glenn Davis), Personnel (Tom Gustafson), and the upcoming Annual Appeal (Walker Carter). The Vestry approved the proposed new bylaws' dissemination to the parish, for comment. We authorized expenditures from the Reserve Fund to repair crumbling flagstone walkways and the Church building air conditioner, and to complete the audiovisual upgrade in Nourse Hall. And we received with gratitude an initial distribution of $450,000 from the estate of longtime parishioners Guinevere L. Griest and her sister C. Jeanne Griest; 20% was assigned to the Reserve Fund, and the balance to the Endowment Fund.
The next regular Vestry meeting will be on October 17.
Vestry News, August 15, 2018
by Senior Warden Laura Ingersoll
The Vestry warmly welcomed and became acquainted with our new Music Director, Jeremy Filsell. We celebrated the joyful news that the Lilly Endowment has awarded a grant to our Associate Rector Jim Quigley, to support his creative and adventurous three-month sabbatical in 2019.
The Vestry authorized payment from the Reserve Fund of the entire remaining balance (approximately $69,000) due to the Diocese for the no-interest loan we received in 2016 to cover severance payments for our former Rector. We continued discussion of the proposed new bylaws, revised to conform to new diocesan requirements and to correct minor anomalies, which will be published to the Parish for comment before being offered in final form for adoption at a special meeting of the Parish on October 28. Chancellor Mary Kostel reported on developments at the recent triennial General Convention.
The next regularly scheduled Vestry meeting is September 19.
Vestry News, July 18, 2018
by Senior Warden Laura Ingersoll
With regret, the Vestry accepted the resignation of Diane Adams as Junior Warden, expressing heartfelt appreciation for her service and gratitude that she will continue to live and worship among the St. Alban's community. The Vestry elected Vestry Member Lucy Fraser to serve as Junior Warden until the January 28, 2019, Annual Meeting.


As a Vestry Member serving on the Buildings and Grounds Committee, and head of the Garden Guild – and with long experience in real estate, property management, and corporate management, and an MBA in Finance and Real Estate – Lucy is particularly well suited to quickly and effectively step into Diane's shoes. Diane in fact proposed Lucy for the position, and heartily endorses her.
The main business was an introduction to the proposed new bylaws, revised to conform to new diocesan requirements, presented by Laura Ingersoll, with Jane Schubert and Glenn Davis, on behalf of the full Governance Committee. The proposed new bylaws will later be discussed in depth by the Vestry and then published to the Parish for comment before being offered in final form for adoption at a special meeting of the Parish in October.
The next regularly scheduled Vestry meeting is August 15.
Summaries of previous Vestry meetings and meeting minutes are available in the
archive
.
Click on the links below to read minutes from past Vestry and church meetings.
2019
2018