Vergers
Vergers are lay ministers who assist the clergy in the conduct of public worship, especially in marshaling processions.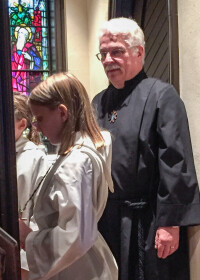 Vergers assist in the conduct of worship services by ensuring that all the material and personnel resources needed for a service are present and ready. They coordinate many liturgical details, and work with the rector to ensure that any special service needs are met.
The Vergers Guild of the Episcopal Church has information on the history and role of vergers.
At St. Alban's, training is provided.
For more information, contact Paul Brewster.