News Archive
Missed something on the latest news page? Here's an archive of St. Alban's happenings.
PREPARING FOR HOLY WEEK
March 29, 2020
Given that we're still not able to gather together physically, we have had to make numerous changes to our Holy Week services this year. Many of you who have made service during Holy Week part of your spiritual practice – whether by singing, acolyting, setting the altar, arranging flowers, serving as lay readers, or helping people to and from their pews – won't be able to do so this year. For that, we are deeply sorry. There is no substitute for the community gathered in person in prayer. We know that.
But we will still do what is most important as we follow Jesus on the way of the cross through death to new life this upcoming Holy Week (April 5-12). We will say our prayers. We will hear Scripture and meditate on its meaning for our lives. We will listen to sacred music and draw closer to the holy.
We will post virtual worship services online each day of Holy Week at 8 a.m., starting with Palm Sunday. (For those who will miss getting up early on Easter morning, we will post our modified Vigil at 6 a.m.!)
More details to come in next week's email.
CORONAVIRUS PANDEMIC RESPONSE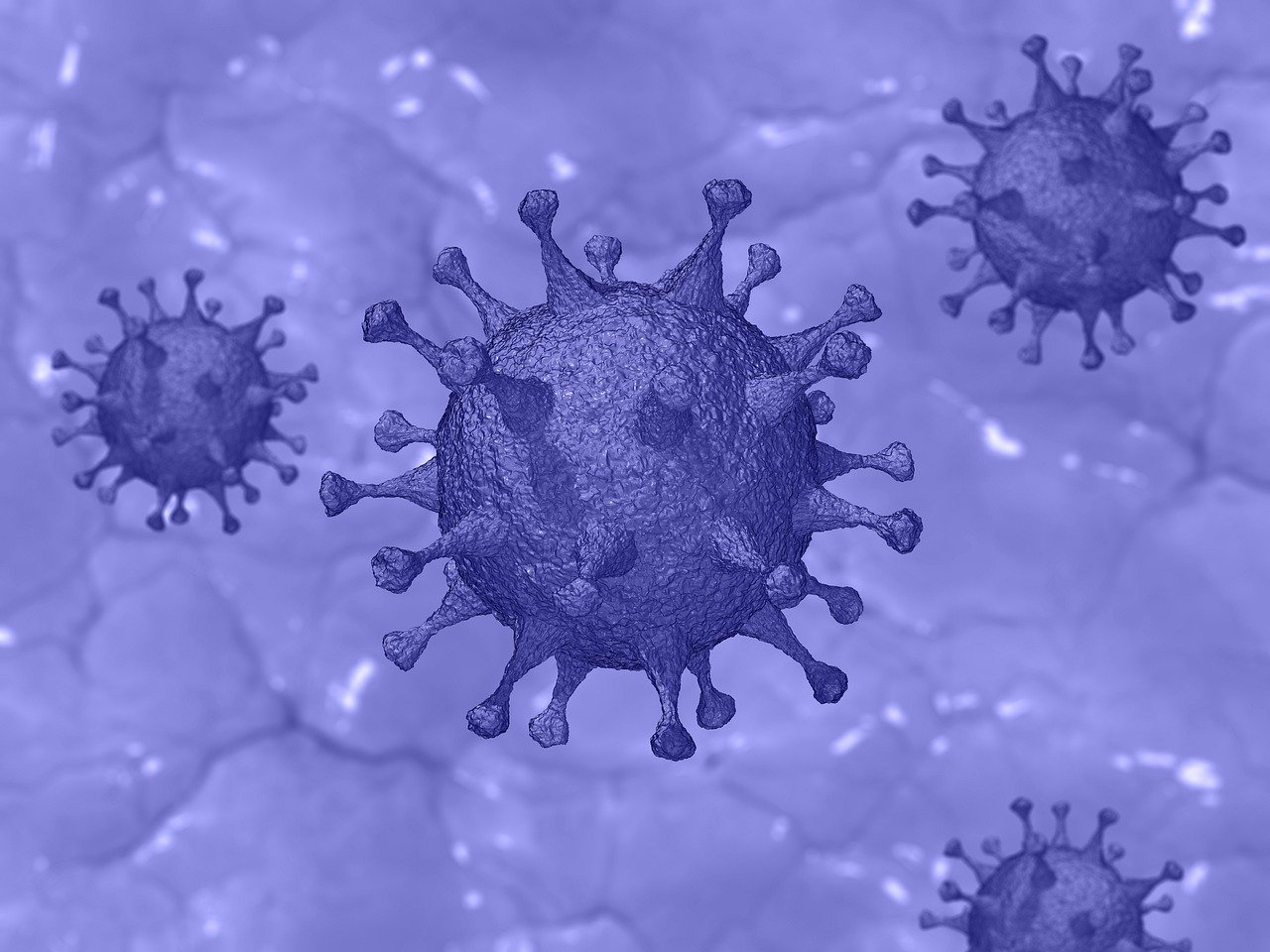 March 22, 2020
We are slowly adjusting to life in the age of coronavirus. Our vestry has met via Zoom, as have enquirers' classes, GIFT and other groups. We are slowly becoming more adept at using technology, but we live aware that it can all come to a halt when one or more of your clergy and staff have to self-quarantine.

For this week we have added music to our English liturgy posted on the website and will be adding a platform--our YouTube channel--that might work better for those of you without strong WiFi connections. We are thinking ahead as to what we can offer for Holy Week, Easter and beyond. As you know, per the Bishop's instructions we are now closed until at least May 16 unless something changes.
We are looking at financial models for ensuring our continued ability to operate going forward, making sure that our giving continues and that our people are paid.
We encourage you to support organizations in which we have been engaged but cannot serve as volunteers. They welcome financial support and in-kind donations during this challenging in-between time:
As we all adjust to these extraordinary days, please do let us know of any needs you have which your parish community can meet. We have a team of healthy volunteers ready, able and willing to help.
HOLY LAND PILGRIMAGE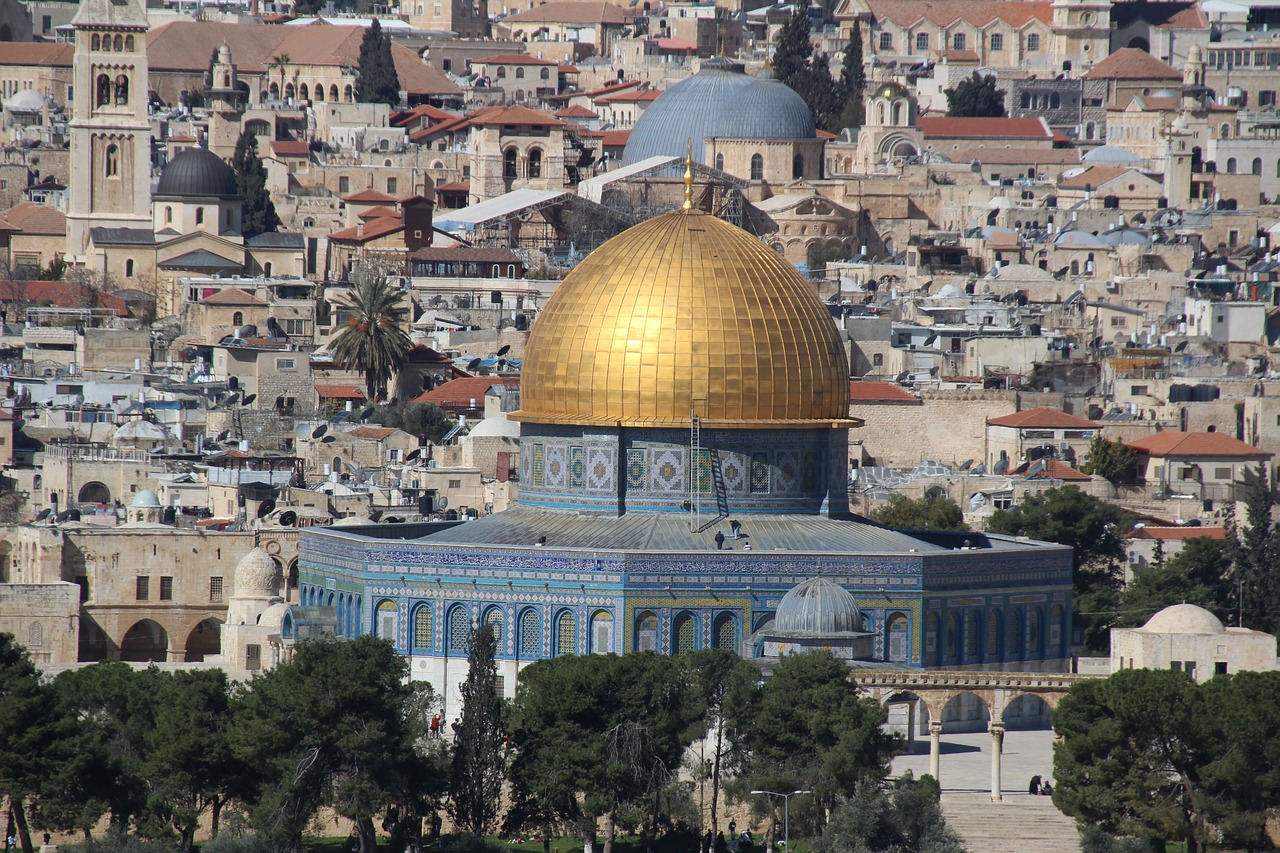 It looks as if we will have the minimum 20 pilgrims necessary to make our journey to the Holy Land May 21 - June 1, 2020. The Rev'd Jim Quigley and the Rev'd Luis Leon will lead the trip.
Several of us will also participate in a pre-pilgrimage to Jordan, departing the U.S. on May 18th and visiting Petra, St. Savior's School in Zarka and the Holy Land Institute for the Deaf in Salt.
We can accommodate up to 35 pilgrims for the main pilgrimage and the deadline for registration with a $500.00 deposit is Thursday, January 30th. Non-members of St. Alban's are welcome.If you are interested in learning more contact the Rev'd Jim Quigley.
BILINGUAL EUCHARIST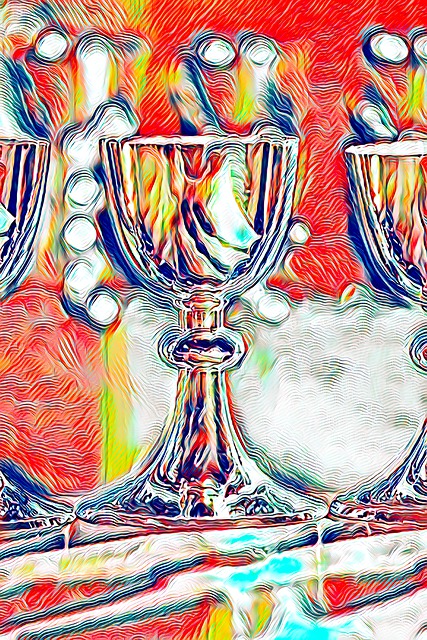 Our entire St. Alban's community is invited to worship together on January 26 following our annual meeting. What better way to demonstrate our essential unity across differences as the body of Christ?
We will pray and sing in both English and Spanish. Don't worry – the bulletin will be in both languages, and we are not going to say everything twice.
Join us after we conclude the business of the parish by worshiping as one parish in two languages.
PLEDGE CAMPAIGN UPDATE
by Walker Carter & Suzy Mink, 2020 Stewardship Chairs.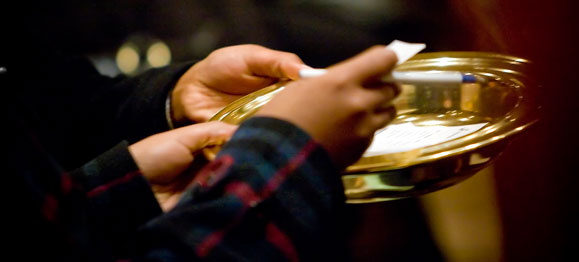 Our heartfelt thanks to all of you who have made a financial commitment to St. Alban's for the New Year. Each and every pledge is vitally important to our parish life. We're pleased to report that the 2020 pledge campaign crossed a significant milestone this week: We've topped last year's campaign! Dollars pledged for 2020 stand at $1,325,340, which is 2% more than last year. This is very good news. Thank you so much for your generosity!
But there is still work to be done. We've heard from 274 households so far but we need to hear from 30 more to match the 304 pledges from last year. If you haven't yet pledged, please consider doing so today. There are many ways to pledge: Pledge forms are available on the pledge table in Nourse Hall; you can pledge online on the church's website or you can or call Doug Dykstra, our Director of Finance. Also, if you've already pledged and are considering increasing your pledge, please let us know. So far, of those households who were able to increase their giving, the average increase is an astonishing 18%! We're very excited about 2020 at St. Alban's and hope you are too. Please make your pledge today.
2020 pledge envelopes are available for pick-up in Nourse Hall. As you know, on the first Sunday of each January pledge envelopes are available to those households that have made a pledge and requested envelopes.
CHRISTMAS BLESSINGS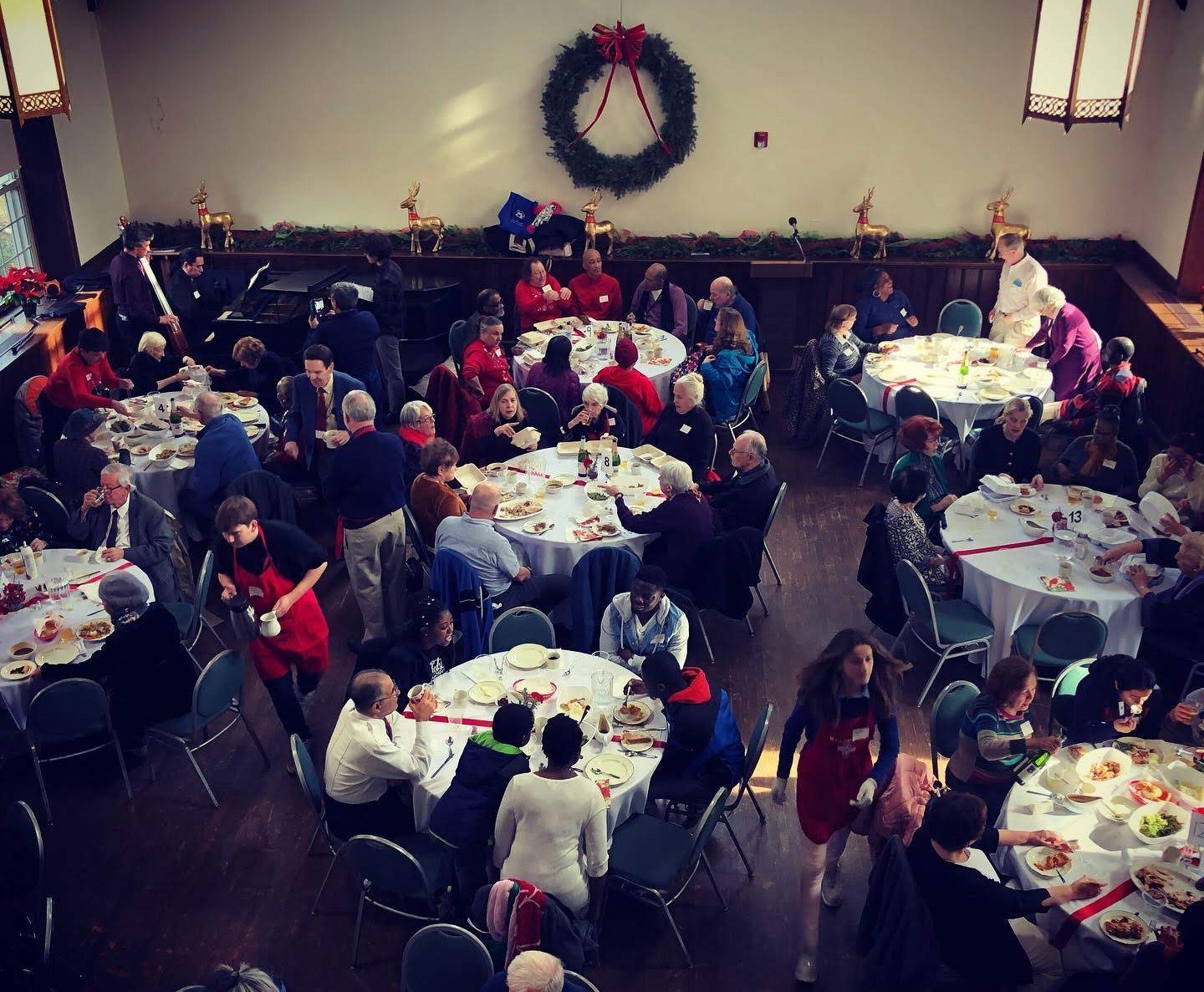 Our annual celebration and community dinner was full of joy and beauty, from the faces of our guests and our many volunteers to the gorgeous flowers and uplifting music and inspiring preaching that filled the sanctuary. Thank you, thank you to all who played a part, and especially to dinner organizers Tricia Pinkard, Suzy Mink and Phoebe Jane Winthrop and to our flower guild.
You may have heard the story of one guest who, struggling with deep sadness on Christmas Day thought that walking by the Cathedral would lift some of his gloom. As he walked down Wisconsin Avenue, he saw the sign for our dinner, saying 'everyone is welcome." He thought a moment, knew he was an "everyone," so he took the risk and walked through our doors. You should have seen his delight and joy in finding a warm, inviting and delicious place to be on Christmas Day.
A selection of photos is online here. If you have any additional photos to share, please send them to Deborah Potter and she'll make sure they are posted.
PONDERING MARY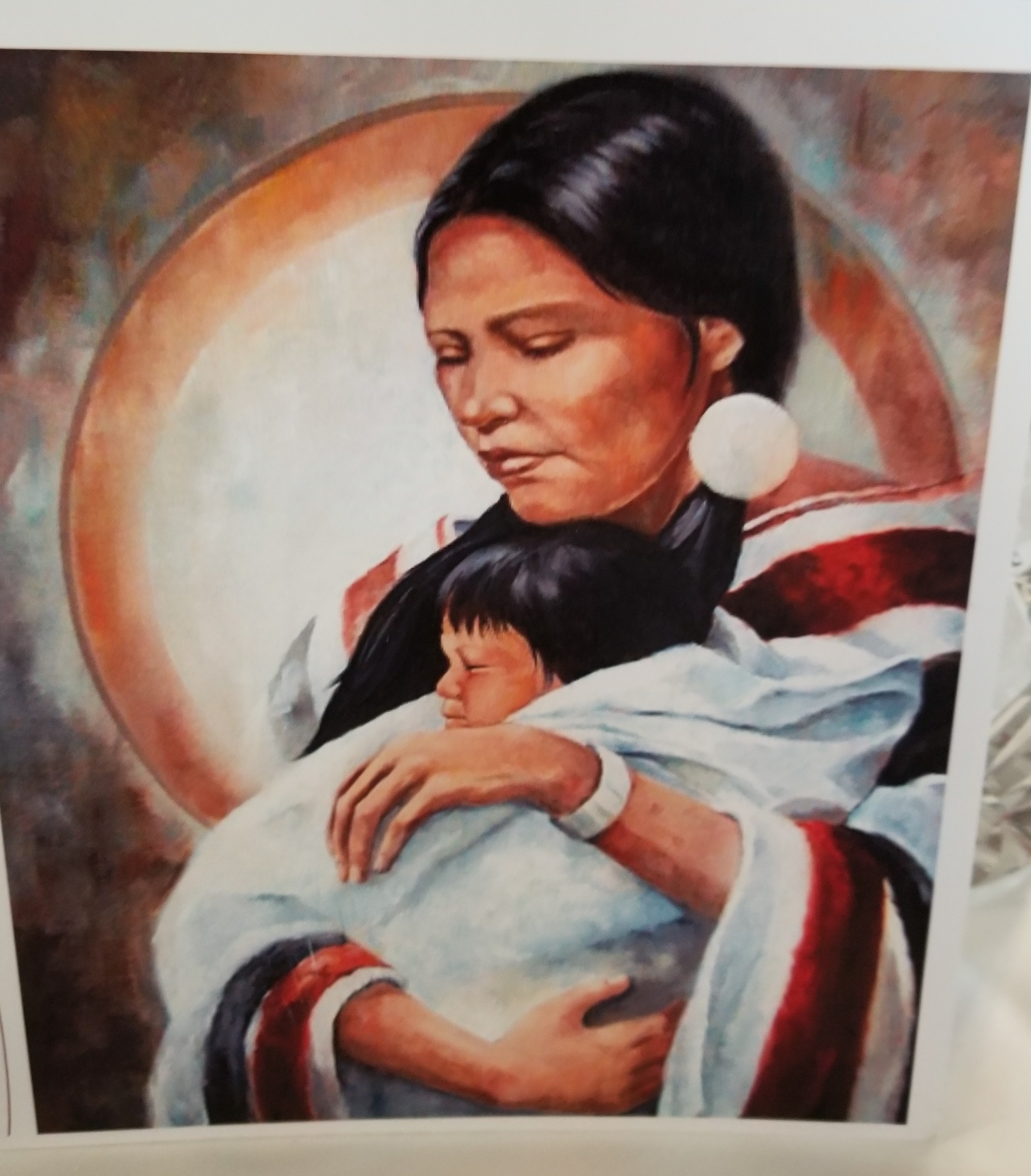 Our Advent forum series, "Waiting with Mary," brought English and Spanish-speaking parishioners together for a wonderful potluck lunch. Parishioners brought a favorite image of Mary and shared why it is meaningful to them. The images included pictures and statues from various home countries represented in our parish as well as from classical art. We've posted photos in this gallery.
Many thanks to Karina Rodriguez and the Rev'd Emily Griffin for coordinating the event.
Recordings of the forum series, which looks at Mary in the Gospels, in music and in art, are posted here as they become available.
GENEROUS GIFTS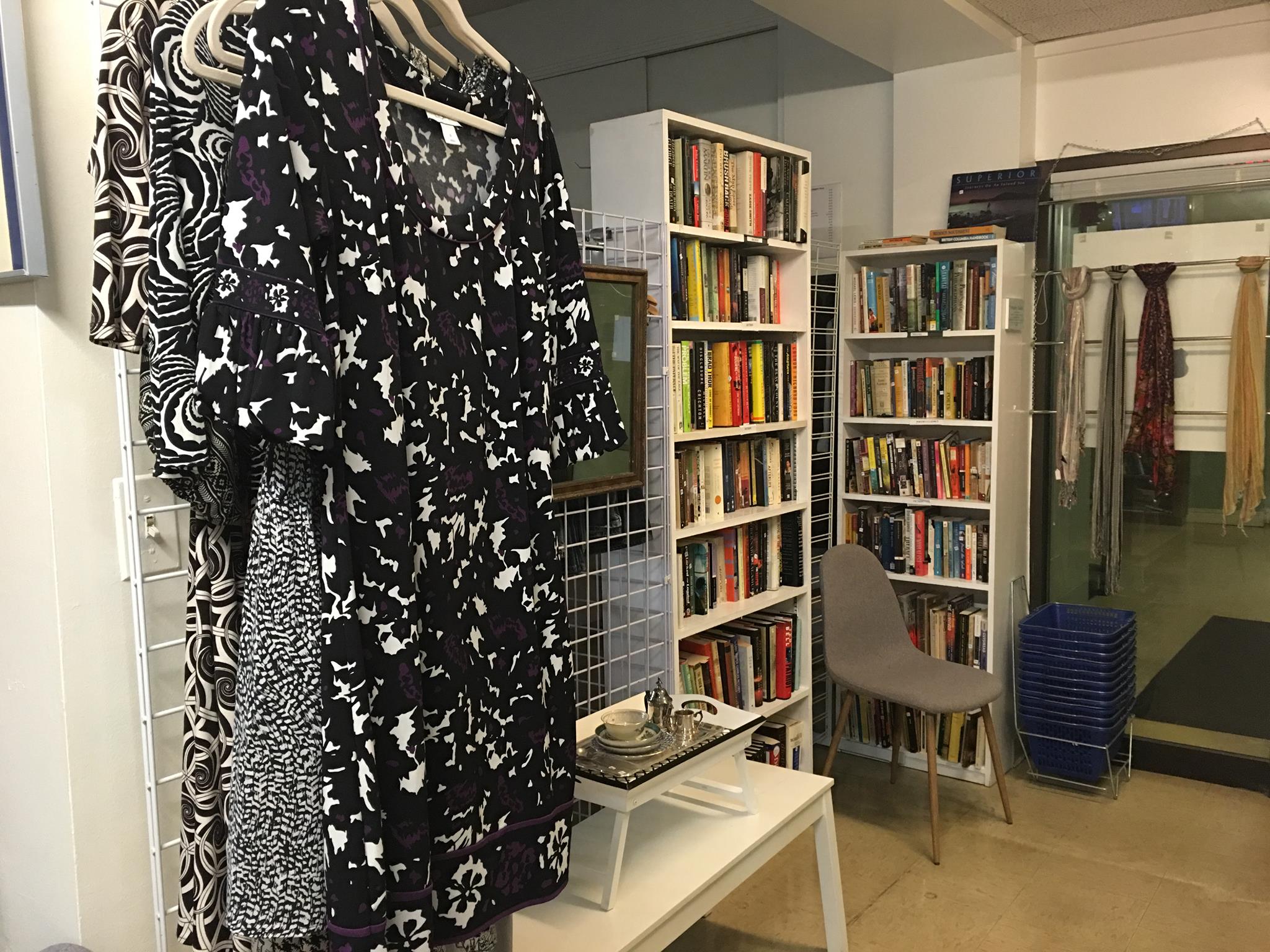 Did you volunteer at the Op Shop or buy something there or bring in donations this year? Look at the good you did!
In 2019, WSA awarded $209,200 from Op Shop proceeds to the following 35 agencies: A Wider Circle, Calvary Women's Services, Charlie's Place at St. Margaret's Episcopal Church, Cornerstone Community, Downtown Cluster of Congregations, Downtown Cluster's Geriatric Day Care Program, Farmers and Hunters Feeding the Hungry, Five Talents USA, For Love of Children, Friendship Place (Aim Hire), Hope and a Home, Hope House, Housing Up, Hyacinth's Place, Iona Senior Services (Active Wellness Program), Joseph's House, Jubilee Jobs, Loaves and Fishes at St. Stephen and the Incarnation, Mary House, Miriam's Kitchen, New Endeavors by Women, Nomis Youth Network, Pregnancy Aid Centers, Project Knitwell, Samaritan Ministry of Greater Washington, Seabury Resources for Aging (Age In Place), St. Philip's Childhood Development Center, Suited for Change, The Family Place, The Lorton Art Program, The Welcome Table at The Church of the Epiphany, Thrive DC, Torture Abolition and Survivors Support Coalition International, Transition Assistance Program at Chevy Chase Presbyterian Church, and Voices for a Second Chance.
Thank you for your continued support of our Op Shop.
THANKSGIVING THANKSGIVINGS
from Tricia Pinkard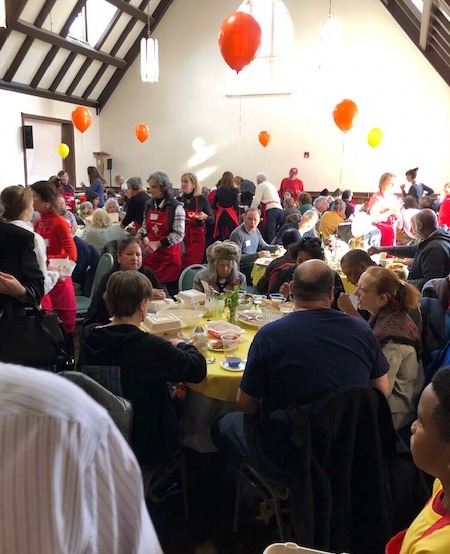 The annual Thanksgiving dinner was hosted by St. Alban's this year and it was a huge success. We had 50 to -75 more people than past years for a total of 240 or so diners (so I've been told). We had blessings in Spanish, Hebrew and English by the priests and rabbi. And our guests came from a wide range in our community: from homeless people to Muslim refugees, rich to poor, Latino to Anglo, elderly to young.
Even though the bigger numbers meant we ran out of turkey at the end, it also meant we strengthened the ties in our community among disparate populations. It was wonderful to see it all in action, and I feel lucky to have spent the day with all of these folks. My day was made when a homeless man gave me a hug and told me he felt spoiled by the warm meal and hospitality, as he walked out the door with leftovers. Success... at least for a day!
Your offerings of time, food, love and prayer made it all possible. This day was a gift to many and I thank you for being a part of it all.
2020 CANDIDATES FOR ELECTION
On a November 25 conference call, the Vestry finalized the slate of candidates for election on January 26, 2020, as developed by the nominating committee. They are (in the random order in which they will appear on the ballot):
For Junior Warden (one, for a 3-year term): Ted Swett, Carol Aschenbrener

For Vestry (four, for 3-year terms): Megan King, Karina Rodriguez, Rachel Colson, Anton Vanterpool II, Lisa Garnett, John Thorne IV, Carol Aschenbrener
Note that one of the Warden candidates is also standing, simultaneously, for election to the Vestry. We have instituted this practice – of offering Warden candidates the opportunity to also stand for election to the Vestry – in order to avoid losing altogether the possibility that a Warden candidate who is not elected to that office may have no other chance to serve in elected lay leadership. It will work this way: a winning Warden candidate will be dropped off the Vestry Member list, and any votes he/she receives for Vestry Member will be disregarded. The remaining Vestry Member candidates will be ranked by votes received, and elected accordingly.
PLEDGE UPDATE
from Walker Carter and Suzy Mink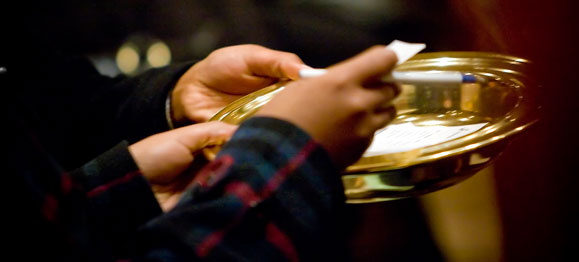 Thanks to all of you who have renewed your pledge for 2020. We have made good progress toward ensuring that we can fund the critical missions of this parish that benefit those within and outside our walls. More than half of you have increased giving levels from prior years, and we are grateful for your commitment to St. Alban's.

That said, we are moving rapidly into our planning cycle for 2020, and we are looking to establish as much certainty as we can with respect to the resources that will sustain this parish. If you have yet to make your pledge, please take a moment to reflect on the important work of St. Alban's and what it means to your own life and in the lives of others.

For those of you who are new to St. Alban's, please consider making a pledge, and if you have any questions on practicing generosity, please contact any member of the clergy or me, and I would be happy to share with you how critical the annual appeal is to ensuring that our parish continues to thrive. As a reminder you can make your pledge online through the parish website. You can also call Doug Dykstra or fill in a pledge card (available on Sunday in the narthex) and mail it to the parish office (St. Alban's Church, 3001 Wisconsin Avenue, NW, Washington, DC 20016).
REST IN PEACE, DICK PARKINS
Longtime St. Alban's parishioner Richard (Dick) Parkins died this week. He was 83 and had been suffering from cancer. Dick was a leader in our global ministries and helped to connect St. Alban's with Hope and Resurrection School in South Sudan. He was the former director of U.S. Office of Refugee Resettlement and of Episcopal Migration Ministries.
"Richard was all that is best about our church," said Russell Randle, a member of The Episcopal Church's Task Force on Dialogue with South Sudanese Anglican Diaspora. "He was articulate, joyful, persistent and wise, a gracious colleague, a steadfast friend and an example to me and many others of what it means to grow into the full stature of Christ."
The Episcopal News Service posted this lovely remembrance.
A memorial service will be held at St. Alban's on Saturday, September 21, at 11:00 a.m. with a reception to follow.
WELCOME OUR NEW CHORISTER PROGRAM DIRECTOR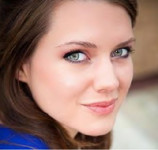 Hannah Baslee has been singing and teaching professionally in the DC area since 2015. She is originally from Texas where she earned her Master of Music in Vocal performance from the University of Texas at El Paso. She now sings regularly for Washington National Cathedral and the National Shrine, in addition to her freelance solo and chorus work and private teaching.
Hannah sang in the Schola Cantorum here at St. Alban's for the past year and will now be spearheading the Chorister Program and occasionally leading music in Children's Chapel. Hannah will be here on August 18th to greet our younger congregants and their families. Please greet her warmly.
On Thursday August 29, Hannah and music director Matthew Steynor held an open house for the 2019-2020 choristers. If you missed it, it's not too late to sign up for choristers. Click here to register or contact Hannah for more information.
WELCOME, YOIMEL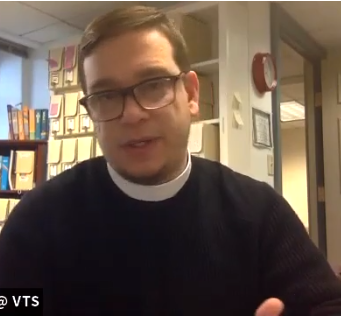 Our Vestry has unanimously affirmed the call of Yoimel Gonzalez Hernandez to serve his first appointment, often styled as a 'curacy', with us at St. Alban's. Yoimel is a native of Cuba, where he was in youth ministry in the Presbyterian Church. He will be ordained a Priest of this Diocese on June 15 after completing his studies at Virginia Theological Seminary. He is sponsored by St. Stephen and the Incarnation and doing his field work at St. Patrick's, DC.

Yoimel (pronounced 'Joimel') will begin his ministry with us on August 1, 2019. His primary role among us will be leading our youth ministries, in addition to being pastorally available to those of our parishioners who speak only Spanish. We have developed a plan for his first three years in which he will be introduced to all aspects of parish ministry, toward the end of which he will develop some additional areas of ministry such as working with our growing group of young adults. One quarter of his time for at least the next two years will be taken and reimbursed by our Diocese, who need him to be involved in developing materials and working in the Deacon's School.

So far Yoimel, in addition to being present at our recent Vestry meeting, has met with interview teams of Ken Patterson, Lucy Fraser, Ted Swett, Tomas Montgomery, Veronica Quiguango and Lauri Fitz-Pegado. He has also met with the J2A youth twice and some of the parents once, although not in an 'interview' situation. His extensive list of references, both here and in Cuba, are universally positive. One of his earliest tasks will be to join the J2A pilgrimage to Greece this summer.
CONGRATULATIONS, JO TURNER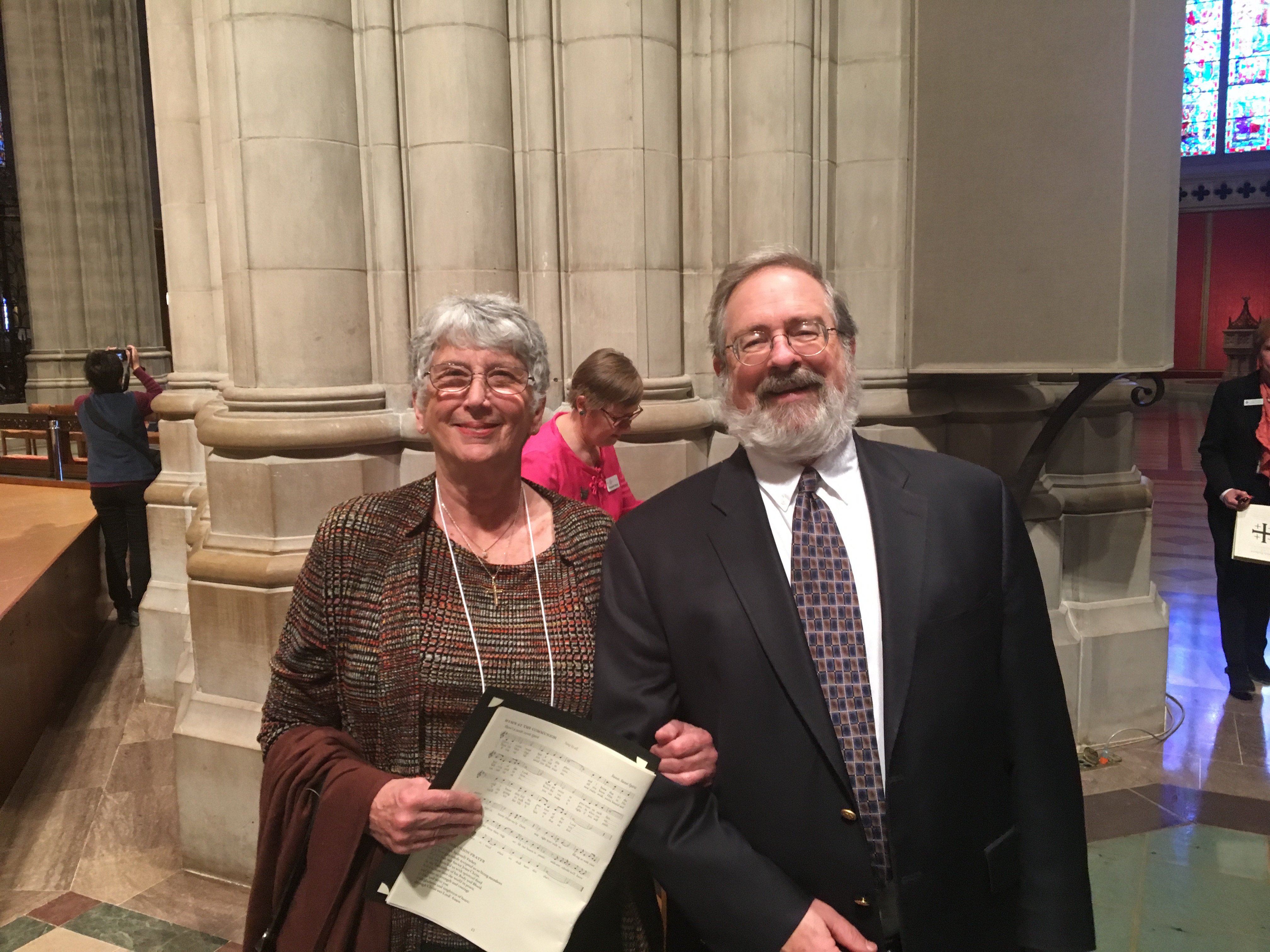 Seabury's annual celebration of service at the National Cathedral honored our own Jo Turner as "an older adult who has made a significant impact through service and leadership." Jo's citation notes her 25 years of active service at St. Alban's and her life of "compassion and care-giving." The full text along with information about other honorees is here.
Congratulations, Jo!
FAREWELL, DEBBIE
by the Rev'd Geoffrey Hoare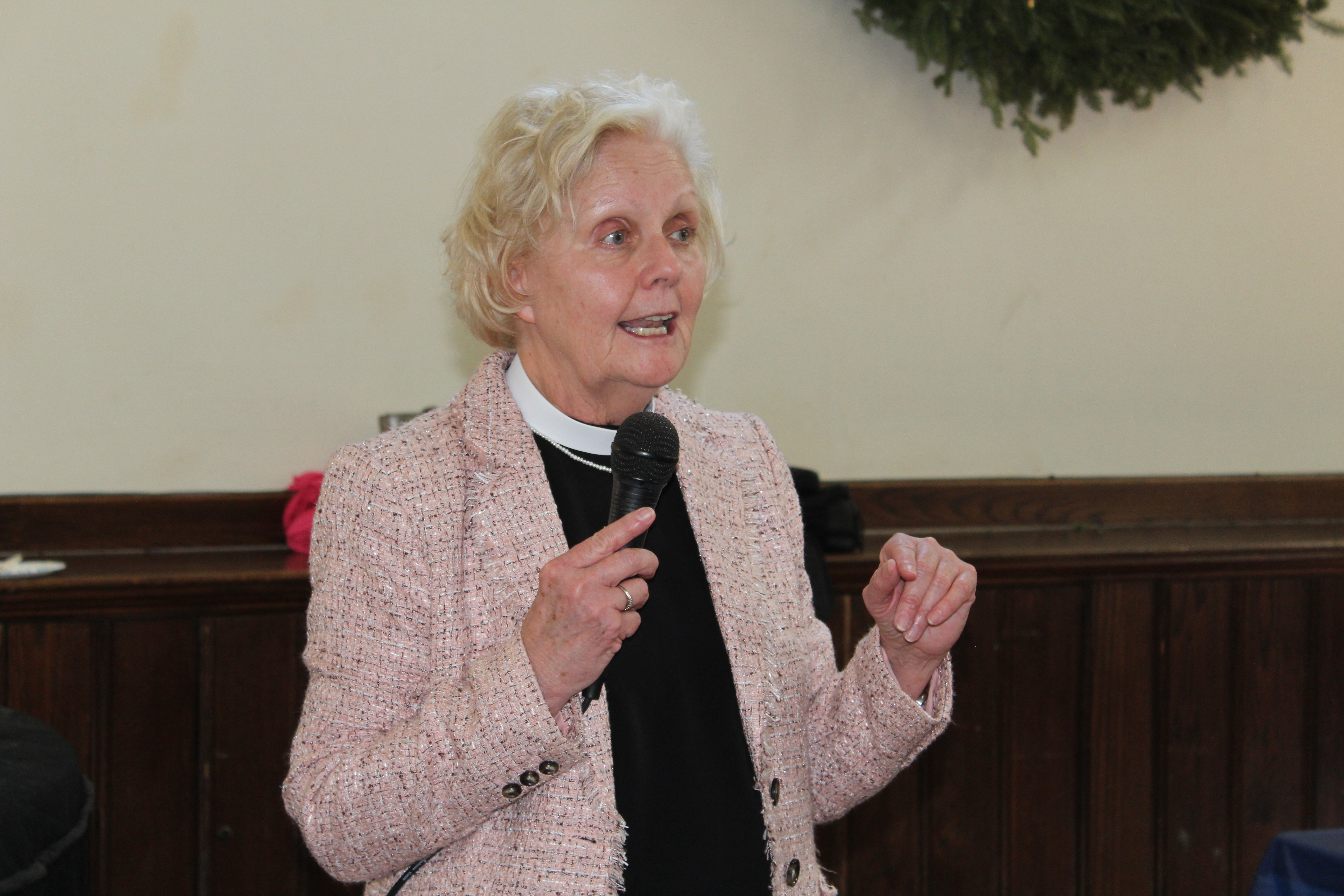 It is with decidedly mixed feelings that I have shared with the attendees of our 11:15 Spanish Language Liturgy that Debbie Kirk will be leaving us this summer. There are two parts to this. First, as most of you know, we were able to fund Debbie's position with us by donating half her time to CASA de Maryland and paying for it as part of our Global Mission budget, which was not sustainable in the long term. Second, I have been in conversation about how to find or create a sustainable model for this congregation going forward, given that 'separate is vulnerable.' We will be restructuring clergy roles and changing staffing to create such a model.

Debbie has been an important part of our common life in the whole parish in the past two years and a significant leader among our Spanish speakers for much longer - serving first as seminarian and then as primary pastor for the San Albano community. She has offered leadership development and been with us in times of joy and sorrow, offering her significant pastoral skills and giving tirelessly of herself for the growth of the community. We hope to be able to announce that Debbie has found a new ministry opportunity before she steps down this summer, and that we can enjoy a wonderful celebration of her ministry, both past and future.

Among her many accomplishments, she has embraced talking less about 'the San Albano community' as a separate group and more about the Spanish liturgy of St. Alban's Parish and the community being fully part of one parish. This seemingly small thing is actually significant, and we will be exploring what that means as our distinctive but accessible-to-all liturgy is served by all the clergy of the parish who will also offer pastoral care as we do for all Anglo and other parishioners.

There will be further conversation about that in the weeks to come, but for now I ask that we turn our attention to celebrating our time with Debbie and the gifts she has both shared and brought forth in us.
WHERE'S JIM?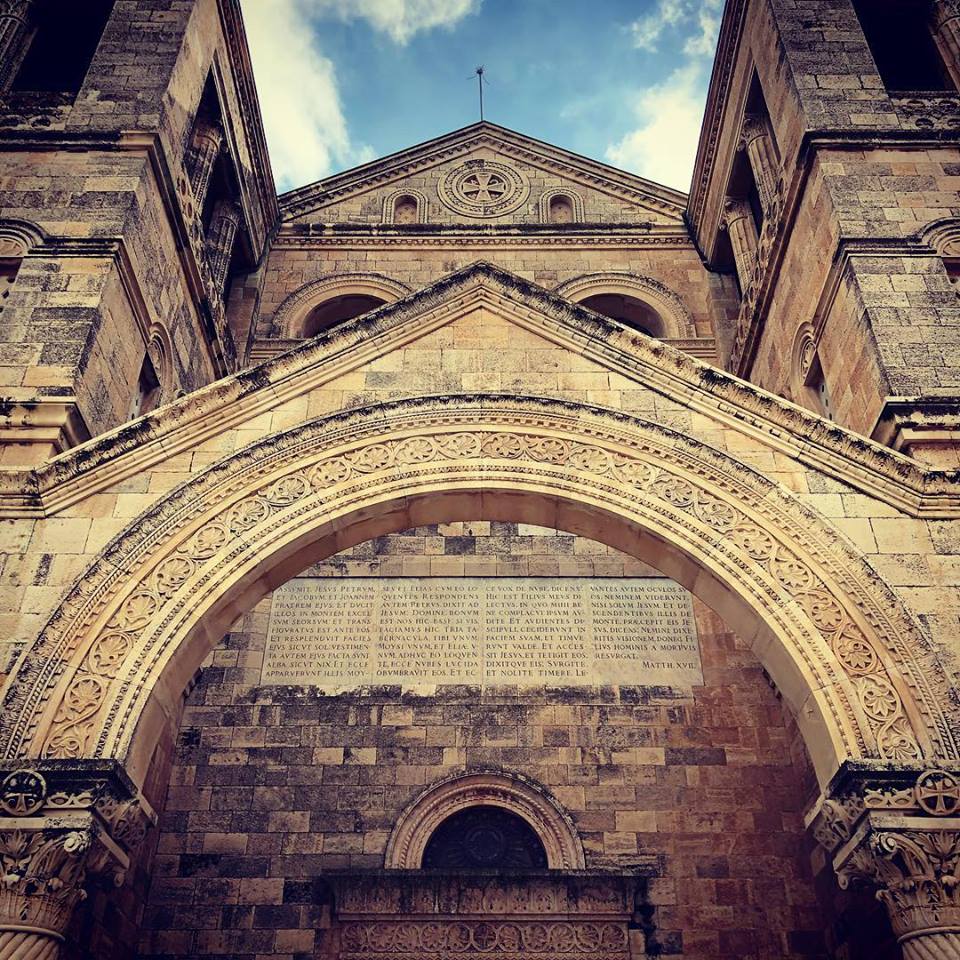 Our associate rector Jim Quigley is on sabbatical until the end of May. He's spending time in the Holy Land and blogging about his journey, the people he's meeting and the places he's seen. He's also sharing beautiful photos on Facebook, like this one of the Church of the Transfiguration.
You can celebrate Jim's return on Sunday, June 2. Contact Deborah Potter to contribute to the reception. And hear all about his experiences at a forum on Sunday, June 9.
NEWS FROM HOPE AND RESURRECTION SCHOOL
One of the first women graduates of Hope and Resurrection School, which St. Alban's supports, is now the school's administrator. Deborah Awut Magok is featured in this interview marking International Women's Day.
MATTHEW STEYNOR TO BE MUSIC DIRECTOR
Announcement from Geoffrey Hoare:
I am delighted to announce that I have invited Matthew Steynor to join us at St. Alban's to lead our music program. He has accepted with enthusiasm, as you will see from his note to us below. Matthew has served since 2007 as the Director of Music for
Trinity Episcopal Cathedral
in Miami, Florida. While there he started and sustained an Evensong Chorale and a successful community choir of boys. He has accompanied and led music for liturgies in English and Spanish for the Cathedral in addition to major Diocesan events and services. Matthew has also led choir tours and overseen a significant concert series in Southeast Florida. His early training was as a Senior Organ Scholar at Queens' College, Cambridge and then at Great St. Mary's, the University Church in Cambridge. He subsequently served at Christ Church Cathedral in Nassau, Bahamas and St. Thomas' Parish in Coral Gables, Florida. (I recommend searching his name on
YouTube
where you will find some examples of his playing and conducting while at Queens'.) He is excited not only by the quality of our adult choirs but also by the potential of our Choral Scholar and Chorister programs.
Matthew struck the group advising me (Laura Ingersoll, Kate McNamara, Chuck Burg, Doug Dykstra and the clergy) as a particularly good fit for us among an extremely strong field of candidates. His references are stellar as is his reputation in the Diocese of Southeast Florida. I believe he has the gifts to lead us to great things in the next season of our parish life.
Matthew will begin with us on May 15, 2019. I hope you will mark your calendars and plan to join us to welcome him on that day.
He writes:" Greetings and ¡Saludos! from Miami, Florida, where I have lived and made music for the last fifteen years. I am tremendously excited to be joining your dynamic Rector and team at St Alban's in mid-May, and to be continuing the wonderful musical tradition that has been part of this parish for many years. It is a distinct pleasure to be succeeding Jeremy, having been an admirer of his playing since I was a teenager. The St Alban's choir is super and, as I witnessed when I visited in November, can sing anything! It will be especially thrilling to be part of a thriving church where both adults and children make great music since in my current situation they are thirty miles apart. I look forward to meeting you all and to serving God and the St Alban's congregation for many years to come."
2019 NEW LAY LEADERS ELECTED
The results are in from the annual meeting. The following were elected:

Senior Warden (three-year term)
Ken Patterson

Junior Warden (one-year term)
Lucy Fraser Cage

Vestry Members (three-year terms)
Paul Brewster
Barbara Manard
Josepha Musabyemariya
Dudley Winthrop
We are thankful for all who stood for election.
Parish elections were held on Sunday, January 27, 2019 – the day of our annual meeting. Qualified voters will cast ballots that morning; if you will be away, you can obtain an absentee ballots from the parish office. Note that this year, three of the four Warden candidates are also standing, simultaneously, for election to the Vestry. Read more about the election process and get to know the candidates by reading about them in English or Spanish and by viewing their statements from the special forum on Sunday, January 13. (Three candidates who were unable to attend the forum are recording their comments on January 15.)
Videos of each candidate's comments as available are below in the random order in which they will appear on the ballot. You can expand the video to full screen by clicking the square symbol in the controls.
For Senior Warden (one, for a 3-year term):
Paul Brewster

Ken Patterson
For Junior Warden (one, to complete the final year of a 3-year term):
Lucy Fraser Cage


Bob Witten
For Vestry (four, for 3-year terms):
Rachel Colson
Barbara Bolling Manard


Ken Patterson (see above)
Josepha Musabyemariya
Dudley Winthrop
Lucy Fraser Cage (see above)
Pamela Melby
Paul Brewster (see above)
Balloting procedures approved by the Vestry can be found here.
2018 CHRISTMAS THANKS
To our community Christmas dinner helpers: Thank you to all who planned, shopped, cooked, decorated, set up, welcomed, hosted, "kitchened," served and, best of all angels, cleaned up. We served upwards of 150 meals and sent people home with over 50 clamshells of leftovers. While all is still fresh in memory, we would appreciate your feedback: what worked; what didn't; what we needed more, or less, of; and any comments received or observations made – yours or others'. Email Phoebe Jane. We've posted more photos here. Click any image to start a slide show, and enjoy!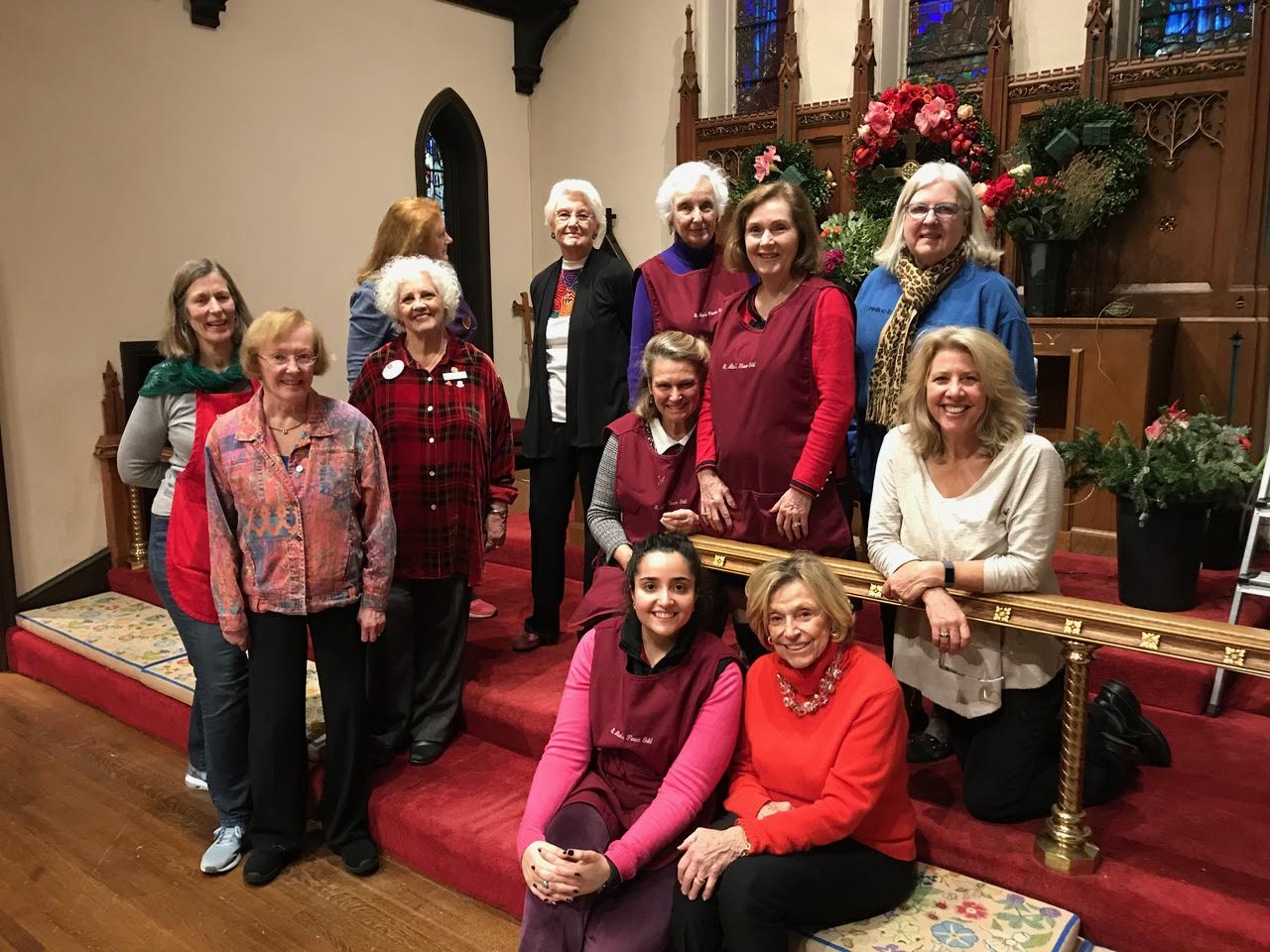 Thanks, as well, to our amazing flower guild for making sure St. Alban's looked its best inside and out during the Christmas season. Flowers on the altar, the font, the pulpit and lectern, and at St. John's chapel were gorgeous. Roping and bows throughout the sanctuary, wreaths on all of our red doors--all of it came together and lasted right up to Epiphany. Did you know you can see the flower guild at work and many of its arrangements in this photo gallery? If you're interested in joining the guild, contact Katie Wilson.
TUBMAN HOLIDAY SHOW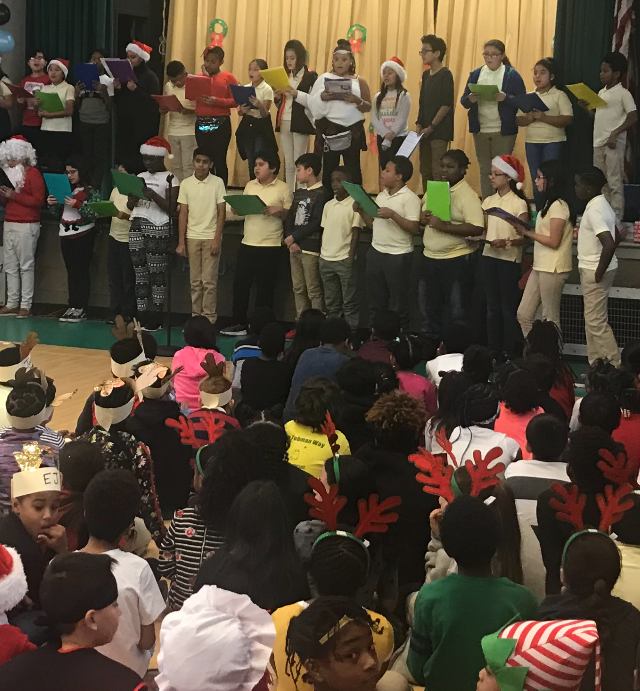 St. Alban's members who volunteer at Harriet Tubman Elementary School got a treat in December when the children performed their annual holiday show. Joy to the world!
Located just three miles from St. Alban's, Tubman serves children from three homeless shelters and two housing projects.
Learn more about our partnership with the school and contact Tom Jansen if you'd like to get involved.
EVENSONG @ ST. ALBAN'S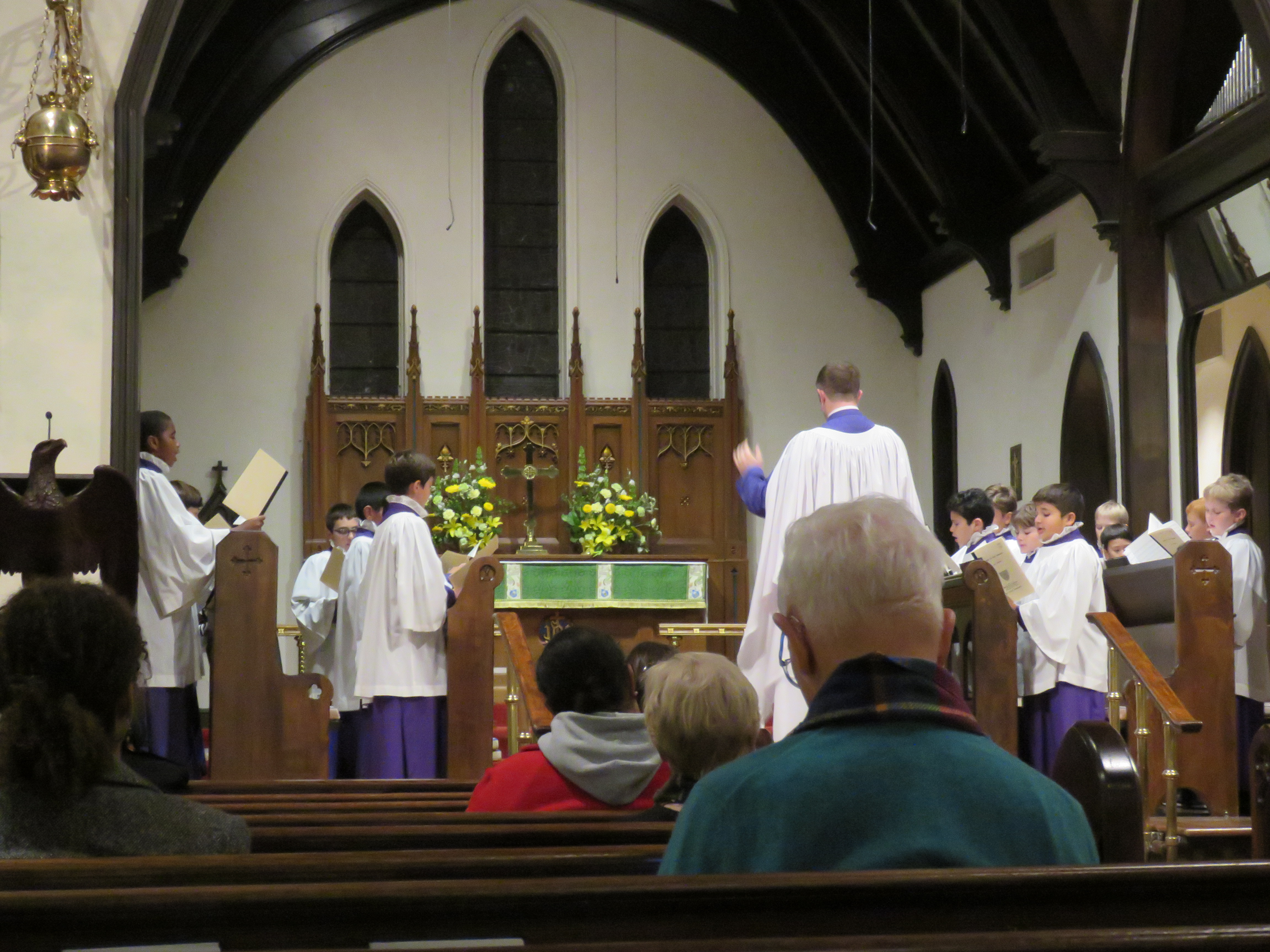 St. Alban's hosted the Washington National Cathedral's weekly Choral Evensong, on Tuesday, November 14. The service featured the sublime voices of the Cathedral's Boys Choir under the direction of Brian Glosh (a St. Alban's parishioner). Our Rector Geoffrey Hoare was the officiant. Choral evensong is an enduring spiritual element of the Anglican tradition, and offers respite, contemplation and inspiration in the midst of our busy modern lives.
ROWAN WILLIAMS VISITS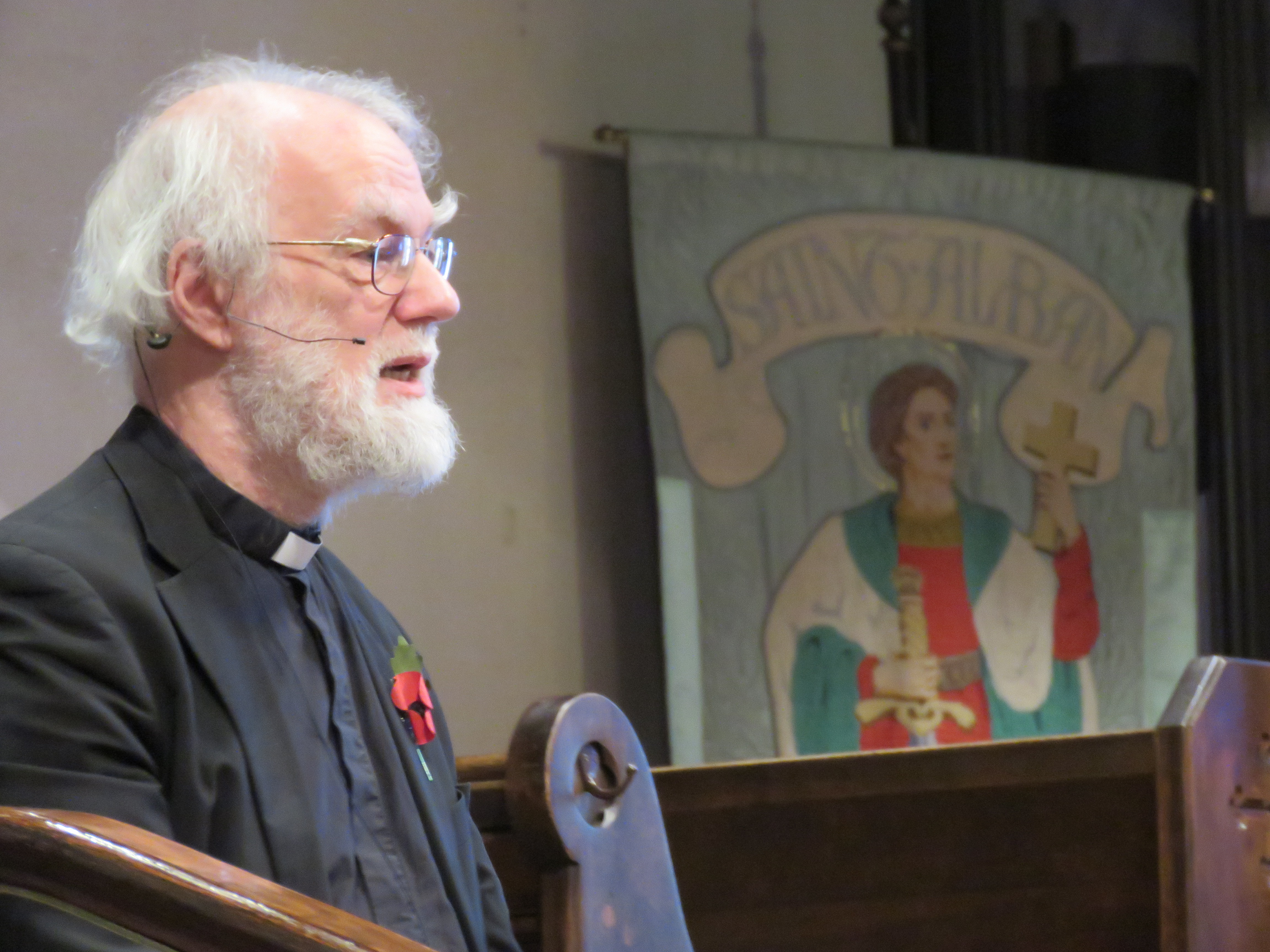 On a crisp autumn morning, November 8, over a hundred people hungry for faith-understanding gathered at St. Alban's to hear former Archbishop of Canterbury Rowan Williams speak about Christian believing and discipleship and then address thought-provoking audience questions. Parishioners have been reading two of Bishop Williams' recent books, Being Christian and Being Disciples – slim volumes aimed at helping us work out the essentials of our faith. Since serving for a decade as primate of the Anglican Communion (2002-2012), Williams has been Master of Magdalene College at Cambridge University (alma mater of our Rector, Geoffrey Hoare), and continues to be a leader in the contemporary church's progressive thinking, ecumenism, and interfaith reconciliation work. Listen here:
BYLAWS APPROVED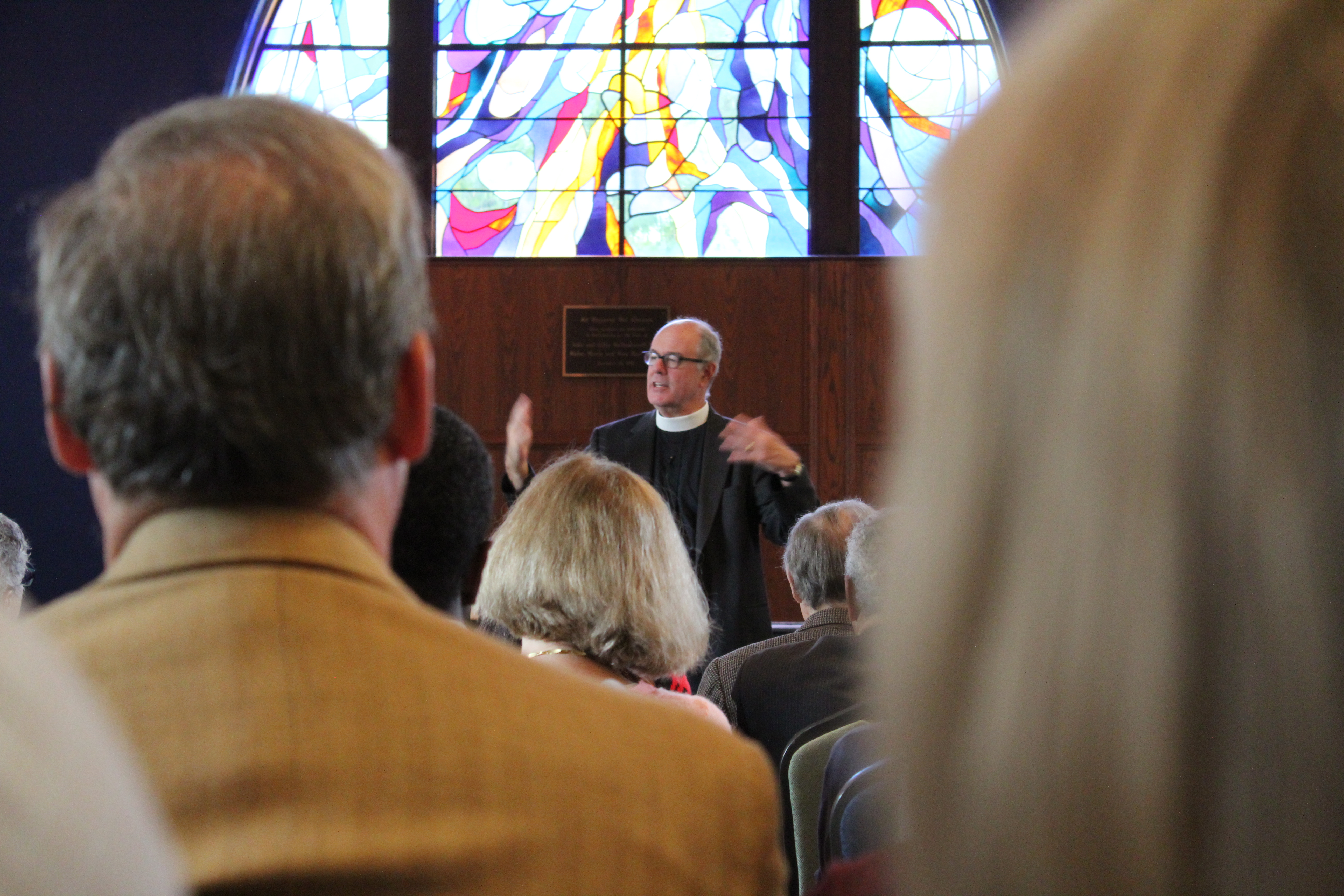 By a unanimous voice vote, members of St. Alban's approved the revised parish bylaws that conform to new diocesan requirements. The new bylaws can be found
here.
At the meeting on Sunday, October 28, Geoffrey shared some of his hopes for the parish going forward, commenting on music, children and youth ministries, and collaboration with the Cathedral.
WHAT HAPPENED TO "WATER INTO WINE?"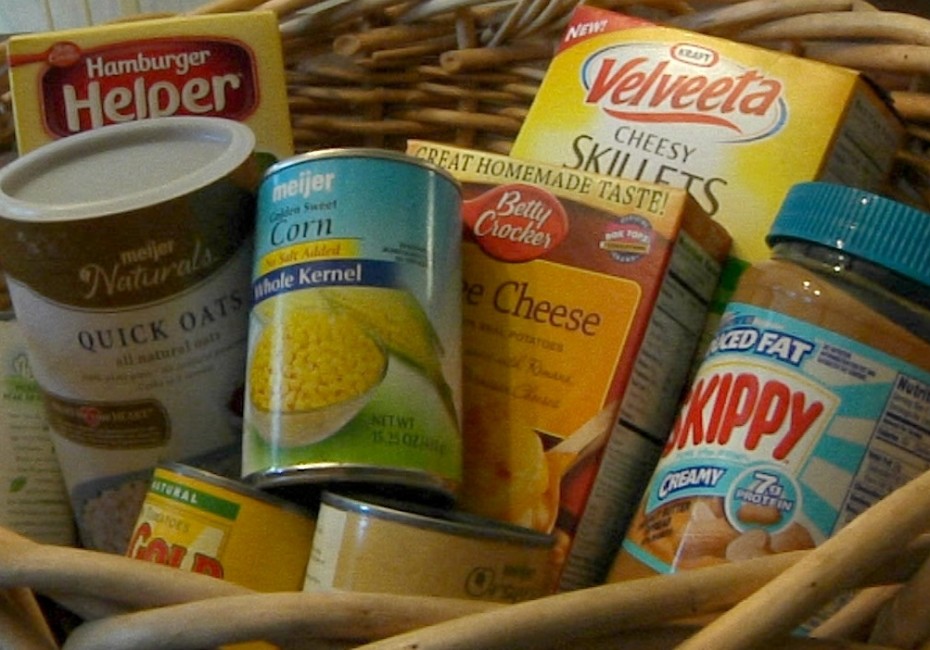 Parishioners who are used to putting non-perishable food or items collected for our Water-into-Wine initiatives into the brown bins near St. John's Chapel in the Nave may have discovered that the bins are no longer there. While we will still occasionally ask for donations for Water-into-Wine initiatives we will no longer be using the bins. When collections are announced, drop-off locations will be provided. In the meantime, if you have been placing non-perishable food donations in the bins, thank you! From now on, please put them in the wicker basket located in the Narthex.
THANK YOU, HEATHER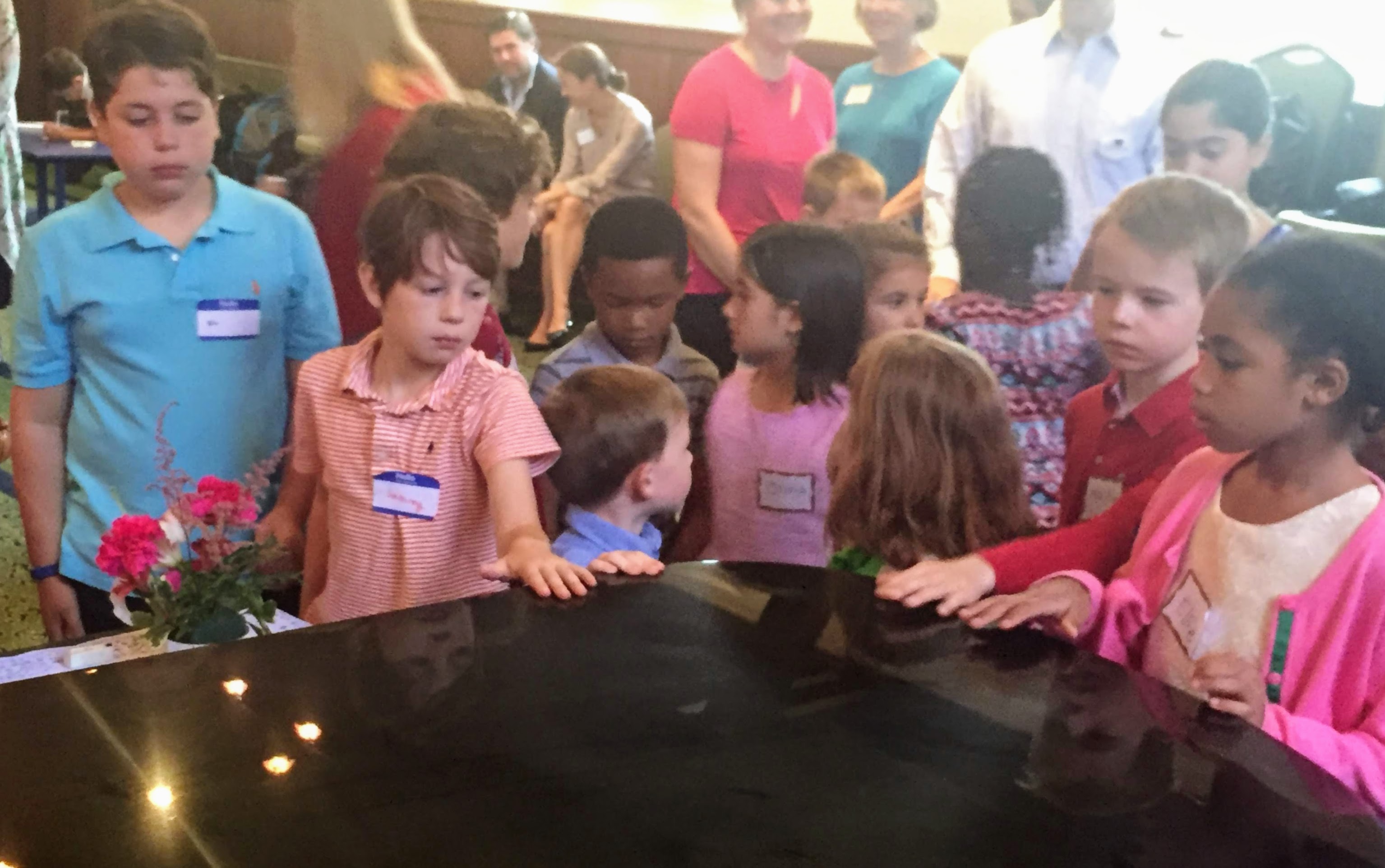 Children's Chapel has a new grand piano, a generous gift from St. Alban's member Heather Hunt, who died in September. Heather was a long-time music leader in Children's Chapel, a much-loved and cheerful presence in the lives of our youngest parishioners. Phoebe Jane played Heather's piano for the first time on Sunday, October 7, and it sounds amazing. In memory of Heather, the children came forward to touch her piano and thank her for her gift.
CELEBRATION SUNDAY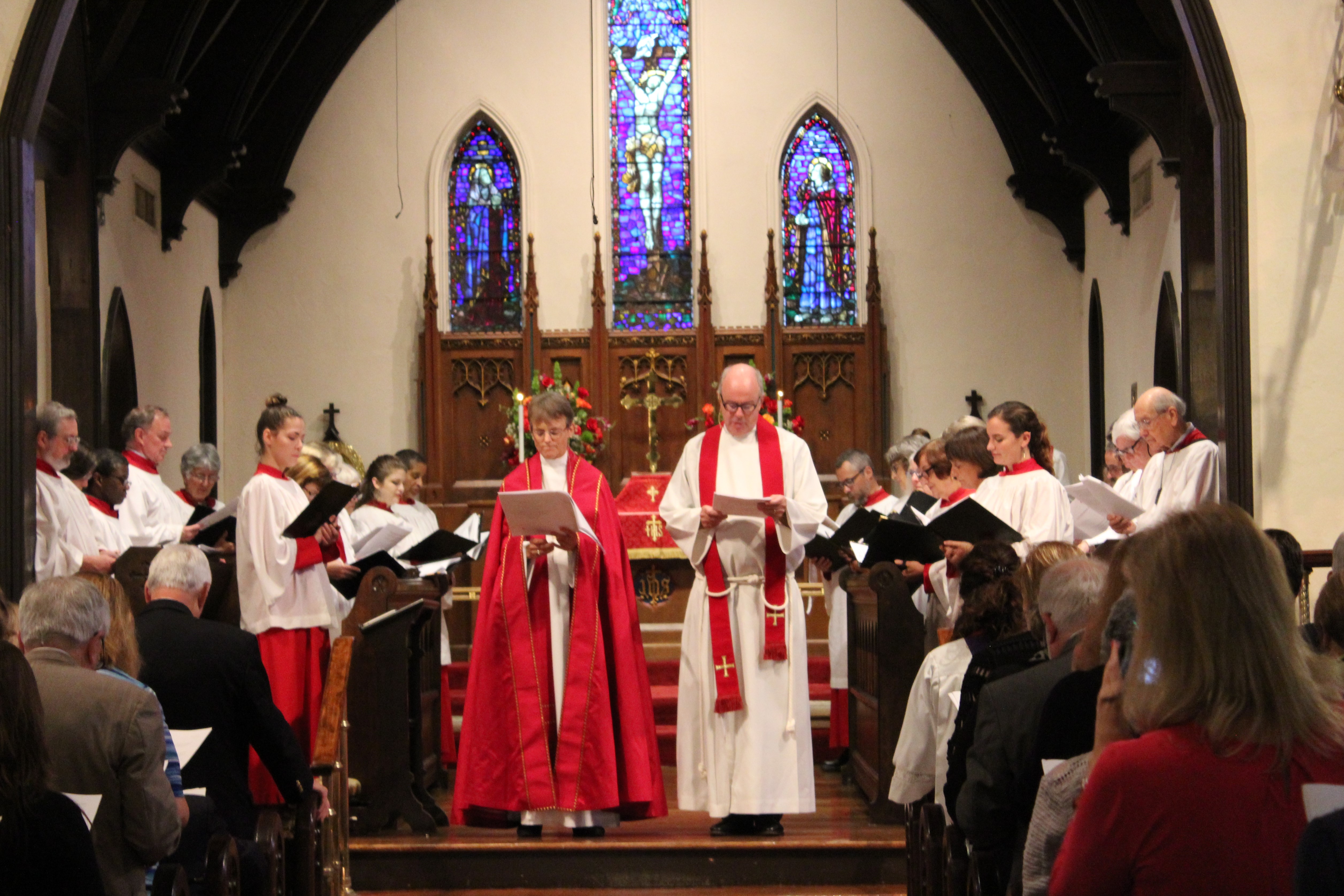 It's official! Geoffrey was formally installed as our rector on Sunday, September 16, at a glorious afternoon service. Bishop Mariann commended the Vestry's choice and affirmed the call, asking the congregation, "Are you, the people of St. Alban's, ready to continue in your ministry, with Geoffrey as your rector?" The people responded with a loud, "We are."
The service, which also celebrated all the ministries of St. Alban's, was followed by a festive reception. Thanks to Susan Morris, who organized the party, and to all who helped to set up, contributed food and drink, served, and cleaned up.
THANKS BE TO JO
Sunday, September 9, was proclaimed "Jo Turner Sunday" at St. Alban's as we thanked Jo for her three years of service (without pay) as our pastoral care coordinator. Many at St. Alban's benefited greatly from the prayers, visits and home-delivered meals Jo helped to coordinate during her time on staff.
The Faith Talk blog that Jo has written for several years is taking a break. After some restful discernment, Faith Talk will resume on a less frequent schedule (she thinks).
YOUTH GROUP NEWS
Our J2A class (9th and 10th grades) began the program year this fall by preparing and serving supper to their parents and teachers. It was a fun, enjoyable evening. This year the curriculum moves toward more decision making and responsibility. The evening involved their being given the ingredients for a vegetarian spaghetti supper and no other instruction. They set the tables, divided the tasks, said grace, served and joined in the meal and then cleaned up afterwards. The evening concluded with a brief time of reflection as to how things went, what they might have done differently and what they did well. One particularly pleasing moment was when they were asked how things might have been different if they had done this exercise with their friends? Their response: "We are friends."
CLERGY RENEWAL
Jim Quigley will be on sabbatical in 2019 supported by a grant from the Lilly Endowment. Jim has started a blog for reflecting on the journey he plans to take. He's learning about blogging along the way, so if you are interested in reading what he calls "my ramblings" you can find and follow him here.
WELCOME, JEREMY
Our new director of music, Jeremy Filsell, has arrived at St. Alban's. His first Sunday was August 19. Jeremy is a composer and professor of organ at Peabody Conservatory who was previously music director at Epiphany Episcopal Church in DC. Jeremy will direct the St. Alban's Choir and the professional ensemble, which he has renamed Schola Cantorum. Learn more about Jeremy here and and contact him with any questions.
Our new music associate, Rebecca Kellerman, will work with children and youth age 7 through 12th grade using the Royal School of Church Music's highly respected VOICE for LIFE program. All children in the area are welcome to join, so please spread the word. Register here or contact if you have questions about the choristers.
THANK YOU FOR SUPPORTING IMMIGRANTS
The July Mustard Seed offering raised $1,478.72 for the Diocesan Immigrant Relief Fund. This fund will help families with economic support and legal fees if someone in our diocesan community is detained. Thank you for your concern and generosity. If you are so inclined, the fund remains open for donations.
2018 YOUTH MISSION TRIP
Seven St. Albanites spent a week in Kentucky in June, repairing homes and getting to know some of the people of Estill County. If that area sounds familiar, it's because the county is named for the Estill family; native son Bob was our Rector at one time.
The trip was our first to that area but it won't be our last. St. Alban's has a new partnership with St. Timothy's Episcopal Outreach Center and will send another team there in 2019.
Read more about the trip and what the participants say they learned on the Alban Life blog.
CONGRATULATIONS, GORDON AVERY
Celebrating the service of a longtime St. Albanite, Seabury Resources for Aging honored our own Gordon Avery at its annual "Celebration of Service" event at the National Cathedral. Each year, Seabury recognizes the contributions of older adults for extraordinary service in their church and the broader community. Dr. Avery's years as a vestry member, junior and senior warden, choir member, lay reader, and musician at our Washington Home Sunday services are extraordinary indeed. A neonatologist, his many years at Children's Hospital resulted in countless healthy babies. Lunch in Satterlee Hall followed the festive service at the Cathedral. Congratulate Gordon when you see him!
LIGHTING ALERT
To accommodate parishioners who need more light to comfortably see/read in the sanctuary, some experimentation is underway. Technology is evolving and changing, and we, with the help of an electrician, are testing new LED light bulbs in the sanctuary fixtures to find the combination that is compatible with our current dimmer system and will provide us with the best light. As we experiment, you may notice a mix of intensity and color in the lighting. Please bear with us as we work toward a successful solution. Change is afoot - for efficiency and added illumination. Questions? Talk to Director of Operations
Charles Porter
or Junior Warden
Diane Adams
.
WELCOME, RENEE
Renée Patrick has joined our staff as Parish and Youth Ministry Administrator. Renée comes to us with five years of experience in Episcopal Church administration. She was born and raised in Neptune, NJ (a mere 14 blocks from the beach). After completing her Bachelor's in Business at Stockton State College, Renée relocated to the D.C. Metro area to continue her career. In her spare time Renée enjoys traveling, the beach, and amusement rides. She and her husband Ernest live in Columbia, MD, along with their two children and two dogs.
Renée will take on most of communications at St. Alban's and will manage the church office, in addition to providing administrative support to the rector for our youth program.

With Renée joining the staff, Charles Porter has become our Director of Operations and will focus more of his time and energy on our property and facilities.
MUSIC NEWS
Justin Boyer, who has been our music director for two years, will be leaving St. Alban's this summer. Rector Geoffrey Hoare announced the change in a letter to the parish. "Justin has led our music with grace,
good humor, exquisite keyboard skills, and wonderful compositions through a challenging period," Geoffrey wrote, "and I hope you will join me in expressing appreciation to him over the next few months." Our new music director, Jeremy Filsell, arrives in mid-August. In addition to serving as organist and leading our choirs, he will launch a music program for children and youth beginning this fall.
YOUTH MISSION TRIP
This summer (2018), St. Alban's youth will have a new destination for their mission trip. They'll be working with the people of Irvine, Kentucky through St. Timothy's Episcopal Outreach Center. Youth who are rising 9th graders and above, and any interested adults, will depart from the St Alban's Day Picnic on June 24 and return the following Saturday, June 30. The cost per participant is $225.00. Scholarship assistance is available on request. Contact Rev'd Geoffrey for more information.
2018 GALA SUCCESS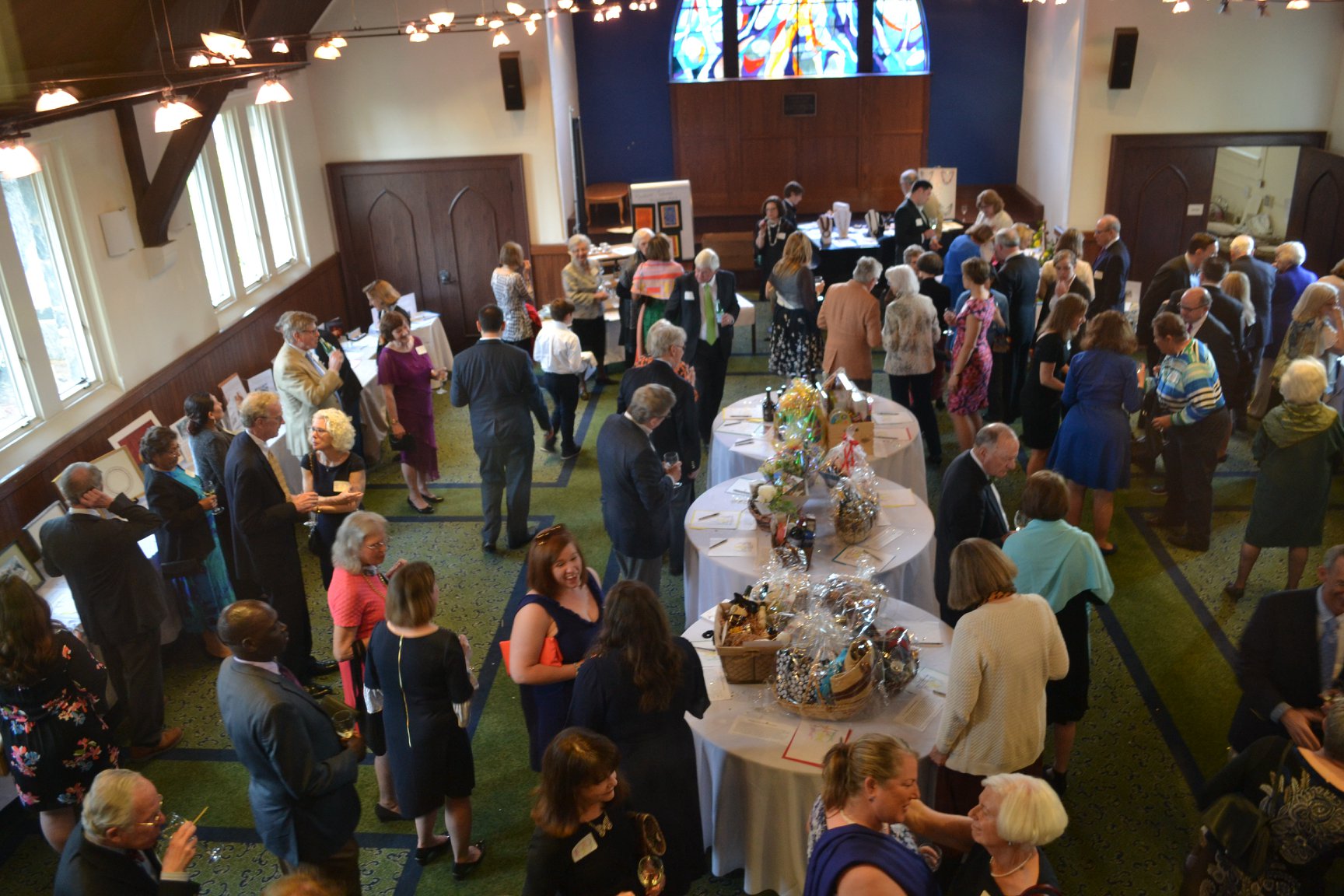 St. Alban's has done it again! The 2018 Gala auction set a new fundraising record, according to preliminary results. The proceeds go to three beneficiaries: Harriet Tubman School, Hope and Resurrection School (South Sudan) and Saviour's School (Jordan).
Special thanks to auction organizers Dudley Winthrop and Abby Davis, to Ken Patterson for his stellar work at the live auction, and to Emily DiBari for transforming Trenbath.
Read more in the latest Alban Life.
LENTEN READING 2018
Similar to last year, we are offering six options for Lenten reading to be taken up either by individuals or reading groups. This year's selections (Click on the titles to learn more) include:

Suggested for Groups
Exclusion and Embrace

(300 pp) by Miroslav Volf. This won't be a walk through the park but a compelling read, especially as Miroslav will be our guest on Friday and Saturday, March 16 &17.
Evicted: Poverty and Profit in the American City

(300+ pp) by Matthew Desmond. Beginning in April,

Evicted

will be the focus of an immersive exhibit at the National Building Museum and readers will be invited to tour the show and meet with the show's curator, Sarah Levitt. The

Evicted

website includes a faith-based study guide.
Letters and Papers from Prison

( 417 pp.) by Dietrich Bonhoeffer. As a companion to

Letters and Papers, readers may also be interested in Martin E. Marty's

Letters and Papers from Prison: A Biography. In it Marty traces the history of the book, how it came to being and how it was interpreted or appropriated in different ways by groups such as Evangelicals, liberal Protestants, Catholics and Socialists.
Suggested for Individuals:
Hanging by a Thread

(72 pp.) by Samuel Wells.
Why Suffering

(50 pp) by Ian Markham.
For both Individuals and Groups:
The Good Book Club:

Reading the Gospel of Luke and Acts through Lent and Easter.
How do the Reading Groups work?
The way the reading groups work is determined by the readers themselves. After choosing the book you'd like to read, e-mail The Rev'd. Jim Quigley indicating the book you are reading/group you'd like to join. Ideal sizes for the reading groups are a 3-6 members. One or more participants from each group will act as the facilitator for their group and members can decide together how they'd like their group to work.
Books will be available for sale at church during Sunday services beginning today and during church office hours for the remainder of Lent.
CHILD CARE UPDATE
We have successfully re-staffed our nursery and expanded our hours to include both the 9:00 a.m. service as well as the forum and program hour. Our new caregivers are Maria Arias and Ruth Rodriguez. Maria works for St. Charles Early Education Center in Arlington and has worked with the Teddy Bear Camp that is held here each summer. Ruth is a parishioner and who attends our Spanish service and is an anchor of that community. Please help us welcome them in their new roles. Our nursery is open from 9:00 to 11:05 a.m. for children up to age 3. Questions? Contact the Rev'd Emily Griffin.
THANKS FROM ST. SAVIOUR'S
John Lent, acting executive director of The American Friends of the Episcopal Diocese of Jerusalem, spoke at a Sunday forum in February and sent word that St. Alban's is making a difference in the lives of children and their families at Saviour's school in Jordan, through scholarships for students from families that struggle financially, the purchase of modern Braille machines and general support of the school. "You are changing the opportunities and life trajectories for children in Zarqa," he wrote.
Lent also sent a letter from one of the teachers at St. Saviour's, who also expressed deep thanks for the Braille machine provided by St. Alban's.
ANNUAL MEETING HIGHLIGHTS
by Laura Ingersoll, Senior Warden
At the 2018 Annual Meeting on January 28, Geoffrey Hoare reported on the state of the parish, noting that after a vigorous "scrub" of the parish rolls we have 1,316 baptized members (including children) who have expressed a commitment to St. Alban's. He observed that only 450 are "confirmed members" and encouraged those who are not to join an Enquirers' Class in preparation for confirmation or, if confirmed in another denomination, reception into the Episcopal Church. Geoffrey spoke of his vision for the parish's near future, including the music and children/youth programs and the San Albano community.
Laura Ingersoll presented the Wardens' Report, noting particularly that a first priority of the new Vestry would be discernment – together with Geoffrey and Bishop Mariann Budde – of a potential call to Geoffrey to serve as our Rector. She invited parishioners to convey to Vestry members their views on the matter. Treasurer Hollis McLoughlin reported on the solid state of the parish financial system, the strong performance of pledges for 2018 and our investments, and the balanced budget recently passed by the Vestry. These written annual reports are available on the parish website. Parishioner Paul Brewster, a Diocesan Council member, reported on the previous day's Diocesan Convention, noting that its main features were diversity and unity. He joyfully announced that the Convention elected our parishioner Anton Vanterpool to serve on the Diocesan Standing Committee.
Geoffrey and Laura both expressed deep appreciation to the out-going elected leaders, and to the parishioners who had stood for election this year. Election results were announced the next day: Junior Warden: Diane Adams; Vestry: Walker Carter, Leo Coco, Glenn Davis, and Lucy Fraser (three-year terms), and Lara McCoy Roslof (one-year term); Diocesan Delegates: Barbara Manard and Heather Sondel; Amie Vandersluis (alternate).
Click here to read the Annual Reports.
There will be a called meeting of the new Vestry on February 7 at 7:15 p.m. for the purpose of meeting with Bishop Marianne regarding discernment of a potential Rector call to Geoffrey; it is expected that the meeting will largely be in Executive Session. The Vestry's first regular meeting will be on February 28.
NEW STEPHEN MINISTERS
Margie Delaney, Mary Beth Evans, Mercy Lightsey, Carol Aschenbrener, and Marcy Fisher have completed extensive training and are ready to serve. Our Stephen Ministers offer confidential one-on-one support to parishioners in life transitions such as illness, bereavement, divorce, unemployment, aging, relocation, caregiver stress and challenges within families. They are caring people of mature faith who can listen, pray and provide encouragement. Also commissioned as a Stephen Leader today is Ann Nix, joining Jo Turner in that role. Ann completed leadership training last summer. If you or someone you know might benefit from the care of a Stephen Minister, contact Jo.
CHRISTMAS THANKS
Children's pageant. Candlelit services. Community dinner. St. Alban's celebrated Christmas 2017 with great joy. Some 200 neighbors joined us at noon on Christmas day to enjoy a delicious feast of roast turkey, mashed potatoes and other vegetables and—always a crowd favorite--many homemade pies. The guests include elderly or homeless neighbors, celebrating together as a community of friends. Dozens of St Alban's parishioners, members of the Washington Hebrew Congregation, and some local residents volunteered their time and talents to make this a bountiful, joyful occasion. Sincere thanks to each of you. Watch for a story about our Christmas season celebrations in the next issue of Alban Life. Subscribe to receive blog updates by email.
ADVENT RETREAT
A large contingent of St. Albanites (19!) gathered at Memorial House in Rehoboth Beach on December 1 for the annual Advent retreat. The weekend, spent largely in silence, was centered around meditations on T.S. Eliot's Four Quartets, led by The Rev'd Geoffrey Hoare. The retreat was nourishing and centering, providing respite from the daily barrage of news and the press of our individual agendas--a chance to worship, reflect and prepare for the coming of Christ. If you've never attended, consider going next year. Read more about it on our new blog, Alban Life.
COMBINED CHOIRS FOR ALL SAINTS SUNDAY
St. Alban's choirs sang excerpts from Gabriel Fauré's Requiem at the 9:00 and 11:15 services on November 5, marking All Saints Day. It was glorious. We'll be posting more videos soon on our YouTube channel. Please subscribe!
BISHOP BUDDE VISITATION
Bishop Mariann Edgar Budde of the Diocese of Washington made her annual visit to St. Alban's in October. She preached about prayer, and then led a forum and discussion about spiritual traditions and change in the church.
NOMINATIONS ARE OPEN
The nominating committee is accepting suggestions for candidates for junior warden, five vestry slots and one diocesan delegate position. The members of the committee are:
Rich Turner (outgoing junior warden) – Chair
Eliot Edgar (outgoing diocesan delegate)
Ivan Fermin (outgoing vestry member)
Kristie Hassett (outgoing vestry member)
Hollis McLoughin (parishioner & current parish treasurer)
Kate McNamara (parishioner)
Ken Patterson (outgoing vestry member)
Virginia Schofield (parishioner)
A slate of at least two qualified and willing candidates for each open position will be presented to the Vestry on November 15 for acceptance. Voting occurs at St. Alban's annual meeting in January.
SOUTH SUDAN STUDENTS SEND THANKS
St. Alban's scholarship students at Hope and Resurrection School in South Sudan have sent thank-you notes to the parish. Deborah Athiei Malith (pictured) writes, "for the support you gave me (I) am glad and I pray that the Lord will help you in whatever you are doing, so that you help others who are in need."
Mary Aweil Maker says, "I . . . appreciate you for the tremendous work you are doing, particularly for the big finger of generosity you have lifted to me."
Both girls add that their parents are grateful for the financial aid provided their daughters. Click here to see their letters.
St. Alban's also pays the salary of assistant headmaster Dovico Kyabanawandi, who sent this thank you video by way of Hope for Humanity, the nonprofit that launched the school.
SECRETS OF ST. ALBAN'S ORGAN
Organ builder Michael Hart spoke at the fall OWLs luncheon and described the challenges of designing and installing the instrument we're lucky enough to listen to every Sunday. Did you know the organ is suspended from the roof of the church? And that it weighs about as much as two Honda Accords?
Learn more "secrets" of our unique instrument after Lacey Gude's introduction:
FIRST WEDNESDAYS ARE BACK
The Altar Guild hosted the first First Wednesday dinner of the fall, providing delicious food for one and all. These gatherings give us a chance to relax in fellowship with parishioners of all ages. A free-will offering is gratefully accepted. Mark your calendar to join us for an upcoming First Wednesday in Satterlee Hall.
WELCOME THE NEWLY BAPTIZED
The 9:00 a.m. service on Sunday, September 24, was a festival of baptisms as we welcomed six new brothers and sisters in Christ. Rev'd Geoffrey and Rev'd Emily took turns as the families and godparents of three infants and three young children being baptized gathered around the font.
We've added a gallery of wonderful photos (thanks to photographer extraordinaire John Thorne).
ST. ALBAN'S GETS AROUND
Our new St. Alban's t-shirts are popping up all over thanks to summer travel. For those not following us on Instagram, you can see collected photos in a new gallery.
If you're out and about in your St. Alban's t, send a photo to Deborah Potter and she'll add you to the gallery. No names are mentioned in these posts but we do like to know the location.
This photo was taken at Animal Adventure Park in Harpursville, NY, on a visit to April the giraffe who held the internet enthralled all during Lent.
NEWS ABOUT THE REV'D DEBBIE KIRK

You might have heard by now that we have secured the pastoral leadership for our Spanish liturgy community of San Albano for the next two years. We have been able to do this by funding the previously unfunded 'leg' of our vision for Global Mission. You might know that we have undertaken to support work in relationship with schools in Africa and the Middle East (continuing our commitment to transforming the lives of children). The third part of that vision was to work with people from Mexico, Central American and South America but to do that in the greater DC area. The Rev'd Debbie Kirk, now Associate Rector, will spend half her time effecting our Global Mission in this area by working at, in, and through
CASA de Maryland
. This is an outstanding organization with opportunities for many of us (Spanish-speaking and not) to engage the work. Debbie has already begun that work and will be reporting regularly and inviting us to work with her.
This creative decision was driven by both a practical challenge (how to provide pastoral and liturgical leadership for San Albano) and ministry opportunity (the third leg of our vision for Global Mission) and is done with support of the leadership of God's Work in the World and our Wardens and Vestry.
Please congratulate Debbie as she begins this new phase of her ministry among us.

Sincerely,
Geoffrey
PROPERTY UPDATE
A contractor has installed a French drain in the raised flowerbed on the Wisconsin Ave. side of Nourse Hall to try to eliminate the water that has been seeping through the wall and damaging the plaster inside. On a related note – doesn't that flowerbed (as well as others around the church and Satterlee Hall) look wonderful! Many thanks to Lucy Fraser and all of the volunteers who continue to offer their time and TLC to beautify our grounds.
A major cleaning and refurbishment is underway on our organ. The builders, DiGenaro-Hart, are removing, cleaning, and repairing all of the thousands of pipes, replacing some of the electronic and mechanical controls, and moving some pieces around to provide more flexibility in range and tone for Justin's inspired performances. But don't worry – the work is being done in phases and we have been assured that we will always have sufficient organ for services. The work is scheduled to finish by the end of August so the organ will be ready in all its glory for the beginning of the program year.
SOME SENDS THANKS
So Others Might Eat has sent a letter thanking St. Alban's for our 33 years of service to this ministry. Many of us provide casseroles and fresh fruit to SOME one Sunday each month and it all adds up. "We could not address the hunger crisis in our city without your support," the letter says. "The lunch we receive monthly from Saint Alban's for the men, women and children who come to SOME enabled us to provide 230,741 meals in our dining room and 51,645 meals in our housing programs last year."
Special thanks to Marty and Faye Kerns, the coordinators of this ministry!
ASP MISSION TRIP
St. Alban's sent a team of 13--eight youth and five adults--on the annual mission trip to work with the Appalachia Service Project in June, 2017. We traveled as a group with other churches in the Diocese of Washington to St. Paul in Southwest Virginia, and worked on a variety of projects. At a forum on July 16, our missioners shared a video about their trip.
GLOBAL MISSION REPORT
St. Alban's works with people in need around the world and with people from around the world who face problems in our community. These efforts are coordinated by the Global Mission Committee, which has just issued its annual report. Their work focused on helping our partner schools in Jordan and South Sudan, assisting refugees and immigrants here at home, and maintaining interfaith contacts and dialogue.
ANNUAL MEETING & ELECTIONS
The annual meeting was held on Sunday, June 4, in Nourse Hall. A quorum was present. No votes were taken. The Rev'd Geoffrey Hoare, Priest-in-Charge, reported on the state of the parish and discussed challenges and opportunities on the horizon. Read more.
Our new Vestry members, elected to three-year terms, are Jane Schubert, Michele Bond, Emily DiBari and Adrienne Allison. Our new Diocesan Delegate is Ted Swett. The Vestry expresses gratitude to these parishioners and to all who stood for election.
WE'RE SOCIAL AT ST. ALBAN'S
St. Alban's loves sharing and we're doing it in lots of new ways. You can now find us on Instagram and YouTube. We have an active, public Facebook page, where you can find out what's happening at St. Alban's. There's also a Facebook group you can join to have conversations with fellow parishioners. Sermons are available on our website and mobile site, and as a podcast on iTunes, Stitcher, GooglePlay or wherever you get your podcasts. Please follow or subscribe to all of our channels so you'll know when new content is posted.
2017 CANDIDATES FOR ELECTION
Parish Bylaws require two candidates to be nominated for each opening. Qualified voters unable to vote in person on June 4, 2017, may request an absentee ballot from the Parish Office at any time after May 5 and must return it before June 4. Click on a name below for a video of that person's comments from the May 21 candidate forum. (Note: Videos open in a pop-up window.)
Candidates for Vestry (four to be elected to a 3-year term)
Adrienne Allison
Michele Bond
Emily DiBari
Lucy Fraser
Jane Schubert
Heather Sondel
Anton Vanterpool
Brett West

Candidates for Diocesan Delegate (one to be elected to a 2-year term)
Candidate statements are available here and hard copies will be available at Sunday services.
The nominating committee is very grateful to all the candidates who have agreed to stand and, if elected, to serve in leadership positions at St. Alban's.
STRAWBERRY SUNDAY
Our first ever Strawberry Sunday on Memorial Day weekend 2017 was a huge hit. Thanks to all the volunteer berry slicers, whipped cream bringers, pie bakers and ice cream scoopers.
The weather couldn't have been better, so we all gathered on the columbarium patio. What a great way to celebrate our first-of-the-season 10 a.m. service.

Strawberry Sunday may just have to become an annual event!
THANKS, GARDEN GUILD
Thanks to all the volunteers who came out on Saturday, May 20, to help weed and add new plantings to the many gardens around our church buildings. Everything looks beautiful. If you weren't able to join us, here's a video glimpse of what you missed.
GALA SUCCESS
Our annual gala and auction dedicated to our Transforming the Lives of Children initiative was a smashing success. We raised more than last year for our three beneficiaries: Harriet Tubman School, Hope and Resurrection School (South Sudan) and St. Saviour's School (Jordan). Here are the details on how the money was used. Photos from the evening are posted here.
Thanks to everyone who attended, donated and bid on 2017 auction items, assisted with set-up, tending bar, serving and clean-up, and special thanks to the organizers: Julie Clements-Smith, Abby Davis, Dudley Winthrop, the auction guru, and Donna Palmer, who made the raffle possible.
ORGAN REPAIRS
Don't be surprised if you see organ pipes in unexpected places over the summer of 2017. It has been nearly 20 years since St. Alban's organ was rebuilt and installed into its current location. A major cleaning and refurbishment is beginning this month on this marvelous musical asset (the replacement value is north of $1M). DiGenaro-Hart, the builders of this latest incarnation, will be removing, cleaning, and repairing all of the thousands of pipes, replacing some of the electronic and mechanical controls, and moving some pieces around to provide more flexibility in range and tone for Justin's inspired performances. But don't worry – the work will be done in phases and we have been assured we will always have sufficient organ for services of any type. The work is scheduled to finish by the end of August so the organ will be ready in all its glory for the beginning of the program year. Questions? Just ask Junior Warden Rich Turner or interim music director Justin Boyer.
SPECTACULAR SHROVE TUESDAY
Thanks to our Rite 13 youth and leaders for a fantastic feast on Shrove Tuesday 2017. Trenbath was packed with parishioners and guests, including about 40 students from Paul Public Charter School in DC, who found out about our annual celebration on the church website. The crowd enjoyed three kinds of pancakes--plain, blueberry and chocolate chip--plus sausages and fruit salad. There were beads, masks and other traditional Mardi Gras decorations aplenty. More photos of the event are online here.
WELCOME OUR NEW PRIEST-IN-CHARGE
St. Alban's welcomed the Rev'd Geoffrey Hoare with an Evensong service and reception on February 26, 2017. Under the priest-in-charge model, he and the Vestry have agreed to a three-year commitment. At about the halfway point – in 18 months – we will mutually discern whether he should become our rector. Read more about Geoffrey here. More photos of the event are online here.
MUSIC ADVISORY GROUP REPORT
A Music Advisory Group, formed during the interim period and tasked with seeking a comprehensive understanding of the music at St. Alban's, presented their final report to the Vestry on February 15. The report may be viewed here.
A CHRISTMAS TO CELEBRATE 2016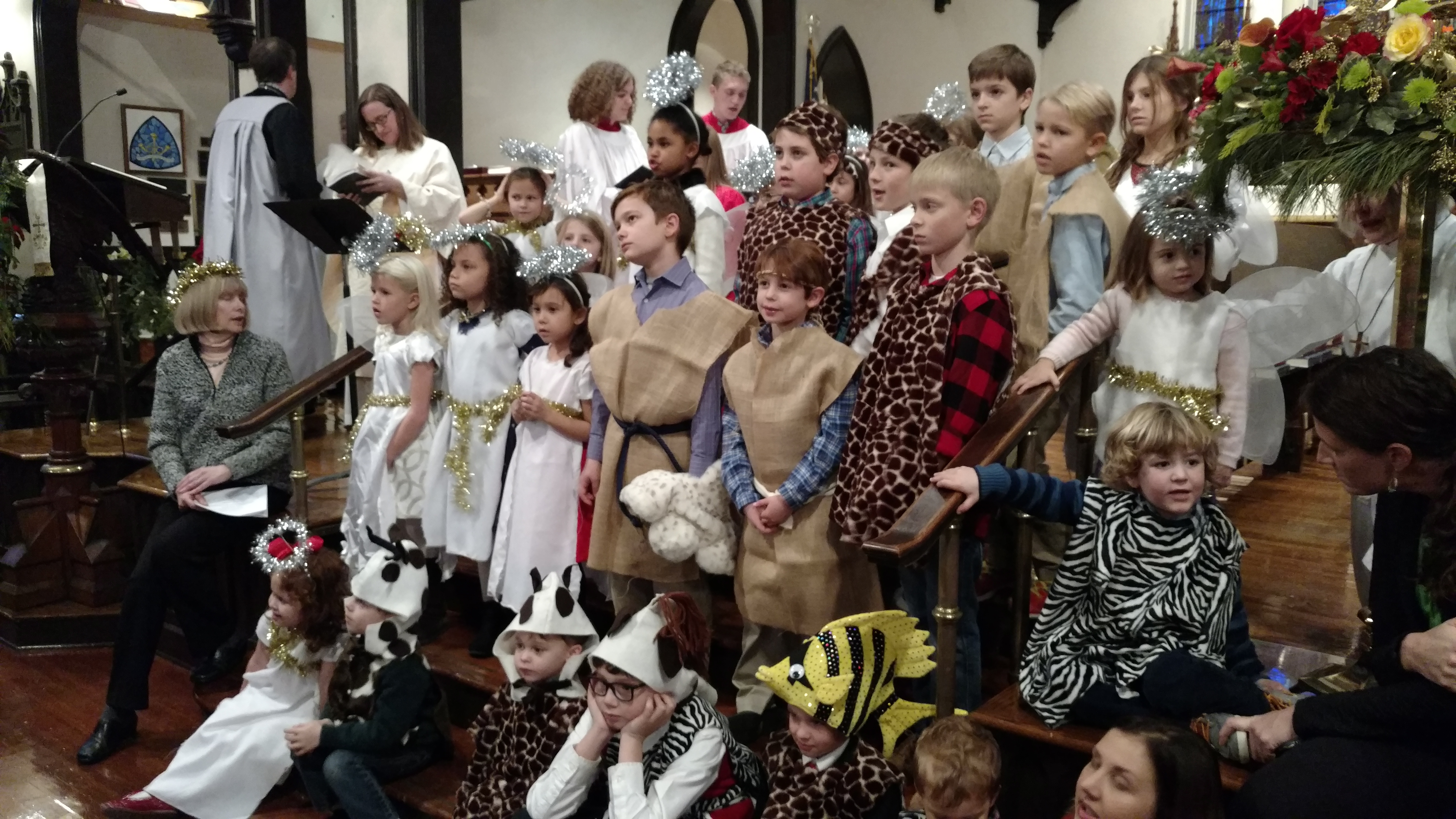 St. Alban's sanctuary was packed on Christmas Eve, especially for the 4 p.m. service featuring the children's pageant. This year's program, The World Sings Noel, was produced by Amie Vandersluis, with the help of angels, shepherds and friendly beasts of all shapes and sizes. Special thanks to our narrators, Annie and Matthew! More photos are available here.
On Christmas Day, Satterlee Hall was filled with joy as we served a delectable dinner to our neighbors. More than 175 guests, friends and parishioners feasted on turkey with all the trimmings and pies galore. An impromptu chorus joined our guest pianist in song. Santa came too! Many thanks to all who helped, including the Mattheis, who organized, and kitchen captain Phoebe Jane Winthrop. It was fabulous all around! View more photos here.
OP SHOP SETS A RECORD IN 2016
Congratulations to all who pitched in to help our Opportunity Shop set a sales record in 2016. The shop raised $298,000 for charitable donations. Thanks to Op Shop manager Laura Ferrara and the many volunteers who accept and price donations, staff the shop floor and ring up the sales. Thanks to the many members of St. Alban's who donate amazing clothes, housewares, books and other goods to make the Op Shop THE place to shop in Northwest DC. And thanks to everyone who shopped at the Op Shop in 2016. Come on back as often as you like. They're open Tuesday through Saturday!
2016 CANDIDATES FOR ELECTION
The Vestry and Nominating Committee are pleased to announce the candidates for our 2016 parish elections, which will take place on Sunday, June 5. The polls will be open from 7:45 a.m. until 11:30 a.m.; the Annual Meeting will follow at 11:30 am. We will be electing more Vestry members than usual: due to two resignations, we will elect four people to serve full terms of three years each; one person to a two-year term; and one person to a one-year term.

Click on the English or Español/Spanish links below to read more about the candidates. Click on the Video links to view their remarks from the candidate forums.
Senior Warden Candidates English Español/Spanish
Laura Ingersoll Video
Sandy Kolb Video
Vestry Candidates English Español/Spanish
Adrienne Allison Video
Walker Carter Video
Julie Clements-Smith Video
Stephanie Curcuru Video
Andrea Farr Video
Tom Gustafson Video
Kristie Hassett Video
Alexandra Johns Video
Tomas Montgomery Video
Mary Lou Savage Video
Mark Shima Video
Ted Swett Video
Anton Vanterpool Video
Sharon Whitehouse Video
Diocesan Delegate Candidates English Español/Spanish
Lindsay West
Leo Coco Video
We are deeply grateful for all who have agreed to stand for election. Your love for and dedication to this parish make us shine, and we are richly blessed by your participation and leadership.