Lent at St. Alban's
Most Americans (74%) give up one thing more than any other in the liturgical season of Lent… observing Lent itself! This year we are pleased to offer opportunities for all ages that we hope can become part of our collective Lenten discipline.
Sunday Forums in Lent*
Led by Priest-in-Charge the Rev'd Geoffrey Hoare, this five-part series will introduce us to Geoffrey's liturgical theology regarding worship in general and Eucharist in particular. This series is an opportunity both for him to listen to us and also for him to share some of the central pillars of his own thought regarding the purpose of worship in the Church.
March 5: What is Worship?
March 12: Scripture and Sermon
March 19: Response to the Gospel
March 26: Around the Table--The Practice of Generosity
April 2: Around the Table--Nourished for Service
Lenten Reading Groups
Our reading picks for Lent this year include four texts. The books will be available for purchase at church, and we hope that many will choose to join a discussion group on the book of their choice. To sign up for a discussion group contact the Rev. Jim Quigley, or sign up in the Narthex on Sunday, February 26; Ash Wednesday (March 1); and Sunday, March 5. Our selections:
Christ on Trial: How the Gospel Unsettles our Judgment, by Rowan Williams (141 pages)
The former Archbishop of Canterbury looks in depth at the trial of Jesus, using it to teach readers how to face the challenges of life in trying times. Throughout the book, Williams draws not only from the Bible but also from fiction, drama, and current events, pointing up ways in which society today continues to put Christ on trial.
I Am With You, by Kathryn Greene-McCreight. (224 pages)
Episcopal priest and theologian Greene-McCreight examines the biblical portrayal of God's presence among us as light in darkness. Close readings of Scripture are woven into a framework patterned on the seven monastic hours of prayer and the seven days of creation.
The Shape of Living: Spiritual Directions for Everyday Life, by David F. Ford (224 pages).
Ford asks how Christians can practice their faith in what he believes is a hostile environment. We live in a "culture of distraction," he writes, where we are constantly overwhelmed by experiences of love and pain, grief and joy and a fear of the future or dread of the past. As he recounts his own spiritual journey, Ford uses examples from scripture and wisdom.
Free of Charge: Giving and Forgiving in a Culture Stripped of Grace, by Miroslav Volf (247 pages).
We are at our human best when we give and forgive. But we live in a world in which it makes little sense to do either one. In our increasingly graceless culture, where can we find the motivation to give? And how do we learn to forgive when forgiving seems counterintuitive or even futile? A deeply personal yet profoundly thoughtful book, Free of Charge explores these questions – and the further questions to which they give rise – in light of God's generosity and Christ's sacrifice for us.
Lenten Practices for Individuals or Families
Sometimes we need help incorporating the practices of prayer, fasting and alms-giving into our daily routines. Here are a couple of options for doing just that:
Take Out – Take Home Lent Boxes
Each box will contain different objects and questions for reflection, as well as cards with specific suggestions for prayer, fasting (i.e. giving different things up for a short time rather than just one thing for the whole season), and giving.
Lenten Practices Calendar for Families by Traci Smith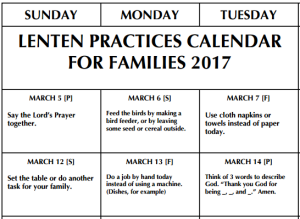 Each day you're given one simple practice to try – whether it's a new way to pray, a specific thing to fast from, a behavior to change, or a suggestion for giving. Click here to print your calendar.
Lent Madness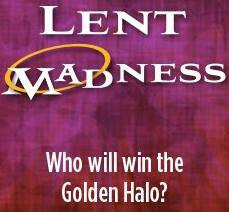 Patterned on March Madness, this is a lighthearted way to learn about the Episcopal Church's calendar of saints and to consider what a holy life might really look like. The format: 32 saints are placed in a tournament-like single elimination bracket. Each pairing is open for 24 hours, and people vote for their preferred saint. Here's the 2017 bracket. Who will win the coveted Golden Halo?
Daily Devotions
For daily devotions, copies of the 2017 Lenten Devotions from Episcopal Relief and Development are available in the Narthex of the church.
Lent in Our City
Stations of the Cross
An exhibition across Washington, D.C. in 14 iconic destinations
A pilgrimage for art lovers
March 1 - April 16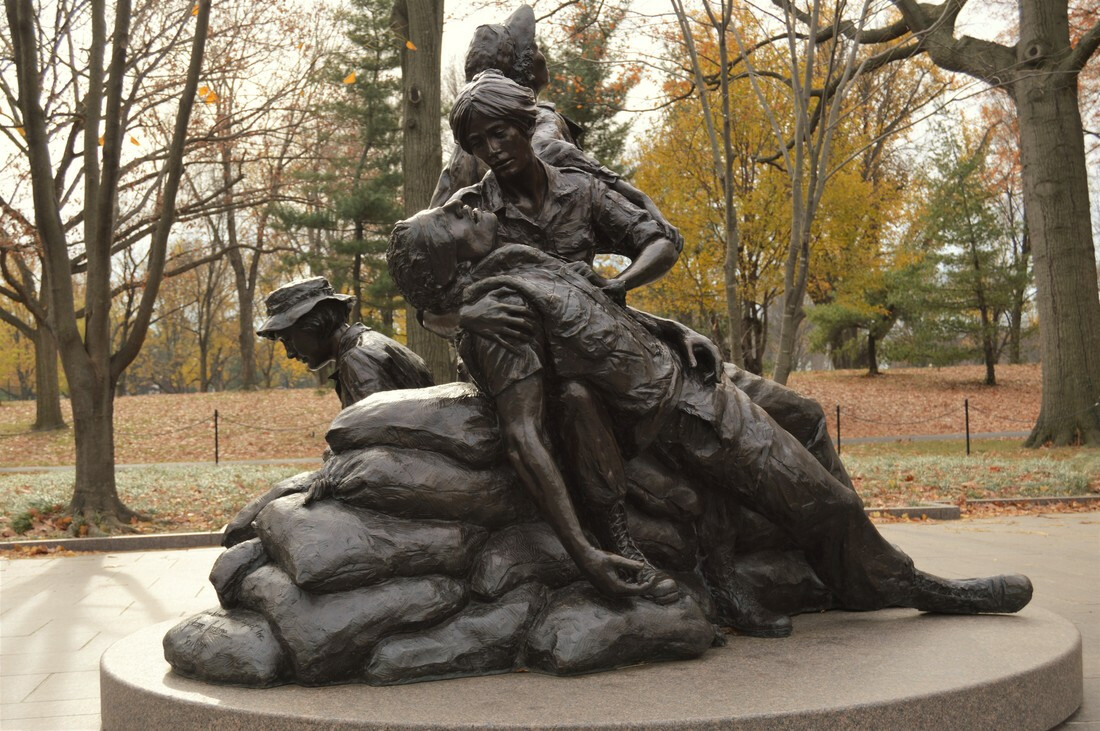 This unique exhibition—held in 14 locations across Washington, D.C. — will use works of art to tell the story of the Passion in a new way, for people of different faiths. The Stations weave through religious as well as secular spaces. In this pilgrimage for art lovers, viewers will travel across the District, from the United Methodist Building adjacent to the Supreme Court, to the National Cathedral. Instead of easy answers, the Stations aim to provoke the passions: artistically, spiritually, and politically. Learn more.
In addition to the opportunity to visit these 14 locations throughout Lent, the exhibition also features a series of special events.
Lenten Centering Prayer: Mini-Retreat
March 4, 2017, 8:30 a.m. to 12:15 p.m.
St Columba's Church Room 212 4201 Albermarle St. NW (near the Tenley Metro)
As Lent begins, Contemplative Outreach of Maryland and Washington invites you to a half day retreat of prayer and contemplation. All are welcome, whether you have practiced Centering Prayer for awhile or are new to the practice. Good will offering of $20 suggested. Registration is not required. For more information, contact Suzi Kindervatter.
For a printable brochure of all Lenten offerings, click here.