Geoffrey Hoare Bio
Learn more about our Rector.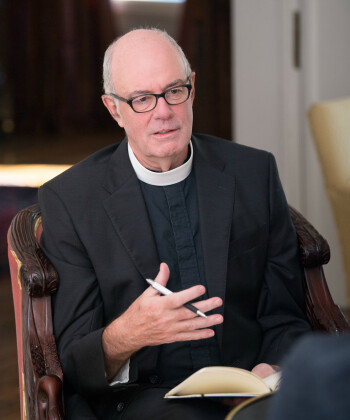 Geoffrey Michael St. John Hoare is the Rector of St. Alban's Episcopal Church in Washington, D.C.
Geoffrey has deep experience in parish ministry, having served for eighteen years as the Rector of All Saints Episcopal Church in Atlanta and for more than ten years as the Rector of St. Paul's Episcopal Church in Alexandria, Virginia. He started his ministry as Deacon and Priest at Christ Church in Raleigh, North Carolina. Immediately prior to coming to St. Alban's in 2017, he served as Interim Rector of the Church of the Epiphany in downtown Washington DC
Geoffrey is devoted to broad engagement with the community, both locally and globally. He has participated in many of the social justice offerings at St. Alban's, most notably leading the youth of the parish into relationship with the homeless in the nation's capital and with those in impoverished Appalachia. He has served on the advisory board for Sojourners capital campaign.
Geoffrey is active in the wider church. He serves on the Dean's Advisory Council for the Yale Divinity School, The Advisory Board for the Anglican Studies Program at the Candler School of Theology at Emory University and has been a longtime board member of the Berkley Divinity School at Yale. He has formerly taught Preaching and Parish Ministry at both the Virginia Theological Seminary and at Candler. He represents St. Alban's in the Compass Rose Society of the Anglican Communion
A native of the United Kingdom, Geoffrey is a graduate of the University of North Carolina at Chapel Hill, where he was a Morehead-Cain Scholar. He read theology at Magdalene College, Cambridge and has a Master of Sacred Theology degree (STM) from the Yale Divinity School. He lives in Washington, DC with his wife Sage and their children Ruthie and Allyson. Two older children, Alexander and Joanna are in Washington and Atlanta, respectively. He enjoys cooking and golf, music and reading.