Flower Guild
Members of the St. Alban's Flower Guild make all flower arrangements in the church for the main Altar, St. John's Chapel, and Children's Chapel.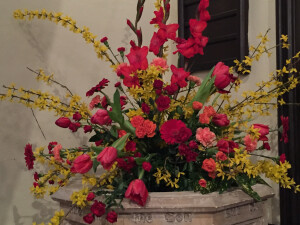 The Guild prepares the church for weekly services, decorates for the great festivals of Easter and Christmas, as well as weddings, funerals, baptisms, and memorials. Arrangements of natural, fresh flowers contribute to the beauty of worship and grace all members with the opportunity for fellowship and collaboration.

Any and all who are willing to contribute one Saturday morning a month to the team efforts. No experience necessary.
For more information about this ministry, please contact Katie Wilson