Acolytes
Acolytes assist with key elements of the worship service: processions, preparations for the Eucharist, and other duties during Holy Week and other feast days.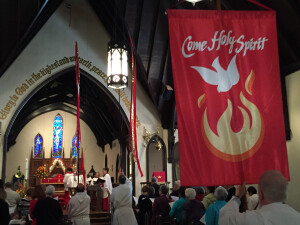 Acolytes carry the crosses, torches, and banner in processions, and assist at the altar. They bring beauty and meaning to the congregation's experience of the service.
For our youth, this is an excellent opportunity to learn responsibility and leadership. Youth acolytes typically serve at the 9:00 service on Sundays, and at other special services throughout the year. A training session is provided, usually held in the early fall.
Acolytes are essential to ensuring that St. Alban's worship services are experienced by the parish and visitors alike as a time of reverence, beauty, and a shared celebration of our faith.
All adults, and youth from 4th to 12th grade, are welcome to participate.
Questions about youth acolyting? Contact Stephanie Curcuru
Questions about adult acolyting? Contact Dudley Winthrop