A Joyful Proclamation: Geoffrey Hoare Is Our New Rector!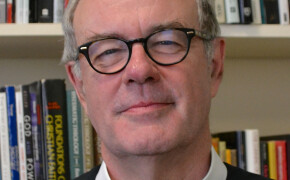 St. Alban's has a new Rector
In our meeting on March 21, 2018, the Vestry, without reservation, approved the following:

"The Vestry has prayerfully and thoughtfully considered the best interests of our Parish community at this point in our collective life, and we have reflected deeply on The Rev'd Geoffrey Hoare's ministry to the community as Priest-in-Charge during the past year. We have invited our fellow parishioners to give us their views on whether we should call him to serve as our Rector, and we have carefully listened to their voices, which have overwhelmingly supported such a call. Following a period of discussion and discernment, we have resolved to extend that call. We do this with joy and in faithful hope that together with Geoffrey, and under his guidance, the St. Alban's family can live fully into the promise of God's Kingdom on earth. Accordingly, the Vestry elects The Rev'd Geoffrey M. St. J. Hoare to serve as our Rector, pursuant to the terms of a Letter of Agreement to be finalized by the Wardens and approved by the Vestry and our Bishop."

The Vestry is immensely grateful to all in our Parish who have helped us in this discernment. Everyone's views have been considered, and will continue to inform us as we serve you in partnership with our new Rector.

A Liturgy for the Celebration of a New Ministry – at which our Bishop will formally induct Geoffrey as our Rector – is tentatively scheduled for Saturday, June 23, which is the weekend of the Feast of St. Alban.

Faithfully,
Laura Ingersoll
Senior Warden