Who Knew?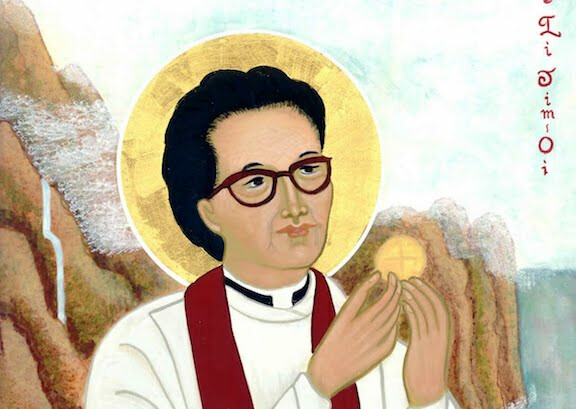 Okay, some of you probably knew, but I didn't: today the Church celebrates the ordination of Florence Li Tim-Oi, the first woman priest in the Anglican Communion—in 1944. Yes, 1944.
As a young woman in Hong Kong, Florence felt a call to study at seminary. With a lot of financial help from people who witnessed her strong faith, she completed her theological studies in Canton. She was made a deacon in 1941 and then quickly assigned to the Portuguese colony of Macao to help with the chaotic influx of refugees from war-torn China. The Bishop of Hong Kong later ordained her to the priesthood so that she might bring the sacrament of Holy Communion to her Macao flock.
After the war, and responding to intense controversy about her priestly status (imagine that!), she surrendered her license but not her Holy Orders. After surviving years of Maoist persecution, she eventually reclaimed her full priesthood in China. Before her death in 1992 in Toronto, she was awarded a Doctor of Divinity from Union Theological Seminary.
Since this was almost 30 years before the Church formally agreed to ordain women, some might argue that Dr. Tim-Oi's story is just an aberration, and that the Church used her out of expediency to meet its own goals. Maybe so. But that's not the point. A young woman responded to a call from God with such passion that it carried her into uncharted and dangerous waters. Because of her steadfast faith, thousands received priestly care during troubled times. She knew who God wanted her to be, what God wanted her to do … and she did it.
I find Florence's story quite moving, especially during this season of Epiphany when we are called to hear God's word and to do something about it. It's so easy to get stuck in the listening part, I easily fall into that comfortable spot. What does doing God's work mean to you? How do we talk about this together? How do we support each other in the doing?
God of every time and place, we thank you for Florence Li Tim-Oi and her witness. Thank you for loving us despite our ease at listening too comfortably to your word. Stir us now to get on our feet and go forward with the purpose you give us each day. Keep us moving ahead in faith. Amen.
(Biographical information gleaned from "It Takes One Woman," the website of the Li Tim-Oi Foundation, www.ittakesonewoman.org.)