The Mess Before the Glory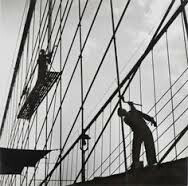 There's a frisson of excitement in the air in our church this Fall, a sound of hammers and a scent of turpentine. We are moving our church school students into lovely new rooms, and a team of painters are working madly to prepare the space in time.
Painting seems like a simple thing, but it always astonishes me how messy things need to get before they look good again. Two days before the former occupants of those rooms moved out, you'd have seen a cheerful, bright preschool. But the day after, there was dirt and dust, discarded furniture, things attached to the walls that we did not need. And so, in the process of getting the rooms ready, a team of volunteers went up there and removed things -- and that work spilled paint, left holes in the walls, made things look a whole lot worse than they ever had before. And yet, it was necessary. It was part of the transformation.
Changing our lives is like that, too. Yesterday, Jo Turner wrote about thin places, the places where we find that holiness breaks into our lives. (In my own experience, there are also "thin people," people who consistently bring grace to my soul.) I need those places and those people; I seek them out like one seeking water. But if holiness really does break in, often there's a mess to follow.
Sometimes -- some precious times -- all that follows is love and grace and mercy. More often,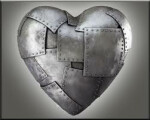 we need to make space for that love in our lives and in our hearts, or, rather, God does. And so what follows is deconstruction: taking apart, but by bit, the hard edges of our hearts: the cynicism, the self-protective behaviors, the scar tissue left by previous disappointments.
And this can hurt. It can hurt because we are being expanded; we are being made large in love. A few years ago, one of my god-children used to wake in the middle of the night, whimpering. It turned out that he was experiencing growing pains; he was getting taller so quickly that his bones actually ached. (I had always thought that "growing pains" was a metaphor, but then, I'm small.) When we respond to the touch of grace, we, too can hurt; it takes courage to dare, to risk, to take off the old armor, piece by piece; to reach for a freedom and a wholeness we have never known.
But that's what it means to learn to love.
Today, the walls of our schoolrooms are smooth again, and they radiate a cheerful and comforting blue. Crisp white trim is being added, and furniture is waiting to be brought in. Looking at it all, you'd see the very picture of order, calm, and cheer. You'd never know what that space looked like two weeks ago, and you don't need to.
But here's the thing: pretty much every person you know who is a "thin space" -- every person you know who lives with extraordinary generosity and an open heart -- has been through that kind of transformation. The beauty in our lives most often comes from living through pain with great love. Our Savior Christ did not turn away from that exchange; he made his glory shine from the Cross, so that we, too, might shine.
Today, if you are walking through that struggle, keep walking. Put one foot in front of the other and keep walking. But first, fix your eyes on love, which is our first, best, last horizon. And if you are not in that place of painful transformation, if you are with people you love, if your life is in the sun, think back on those times you have struggled. Think back on them and own them. Give thanks for the person you have become. Pray for the person you are yet to be. Pray for that person with eager expectation. Because you are in God's hands, and you're gonna be beautiful.