The Hidden Window
One of my favorite stained glass windows at St. Alban's is one that almost no one sees. Its hiddenness is not a measure of its worth. It's in the small room behind the organ – a room that is typically locked these days and is used mostly for sound equipment. The window shows the prophet Anna. This is not St. Anne, the mother of Mary – although we have a window for her too - but the elderly widow who was one of the first to recognize the infant Jesus for who he truly was.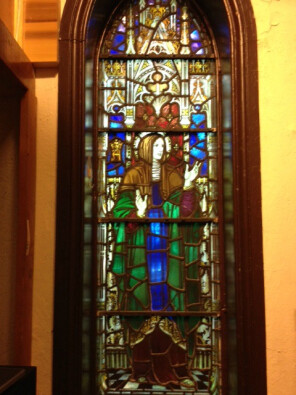 We don't know that much about Anna. She gets three verses in Luke 2, and that's it. We know she was Jewish, of the tribe of Asher. We know that she lived with her husband for seven years before becoming a widow and that "she was of a great age" (as the King James Version delightfully puts it) – 84 by the time we meet her. By that point, she was a fixture at the Temple in Jerusalem. She was there constantly, fasting and praying. When she saw the baby Jesus at his presentation, she "began to praise God and to speak about the child to all who were looking for the redemption of Jerusalem" (Luke 2:38). That's all we really know about her.
I'll admit that as a married, voluntarily childless woman who loves worship more than just about anything else, I've had a hard time finding similar figures in Scripture. Many women in the Bible are known either for their beauty or for their role as mothers. A few, like Deborah and Esther, play significant roles in the political lives of their people. Some, like Delilah and Jezebel, are more infamous than famous. As for Anna, we have no idea what she looked like or if she ever had children. She's one of only four female prophets mentioned by name in the entire Bible. Over the years, I've taken comfort in her example – in the depth of her devotion and her willingness to speak her faith out loud.
One of the great gifts of our faith is that we have lots of potential role models – many of whom surround us visually as we worship each week. I encourage you to look more closely at the stained glass windows the next time you're at St. Alban's – or to make a point of stopping here the next time you're in town. You'll encounter men and women, missionaries and musicians, soldiers and bishops, writers and fishermen. They help to remind us of the communion of saints, the cloud of witnesses that surround and uphold us, the giants on whose shoulders we stand.
Poke around the balcony. Look up into the rafters. Search out the quiet corners. And then, look at the flesh and blood people next to you in the pew or across the aisle. You might just find some hidden windows to the holy there too.
Peace,
Emily+