The "Daily" Cup?
You have no doubt noticed that delivery of "The Daily Cup" has been somewhat of an adventure since we moved to our new format. I have read your emails to me asking why you haven't received one every day or why you have received the same one more than once. Indeed, as Deborah wrote yesterday, Ron Hicks' final post came to you three days in a row last week! So, what in the world is going on?
First, let me assure you that the problem is on our end, not yours. When we moved the blog over to our website, the process of delivering it to you changed to an automated system, and we are still learning how to play by its rules. As a consequence, you have been subjected to a bit of inconsistency, which we are working to reduce. Please bear with us!
On a related note, I know that some of us like to comment on these posts, so let me remind you of how to do that. First, at the bottom of your "The Daily Cup" email, you will see this:

Click on it and you will be taken to the post on our web site. Scroll to the bottom of the post, and you will see this: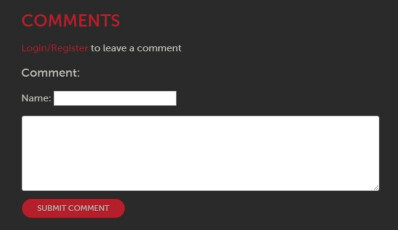 In spite of what it says, there is no need for you to login or register to make a comment. Simply type your name and your comment and press "Submit Comment."
Now, as we contemplate our imperfections (which, by the way, are God-given just like all the other parts of us), here's one of my favorite James Taylor songs, "The Secret of Life," to help us to keep a healthy perspective.
Now, hopefully, I posted this correctly so that you will get it at 8:00 a.m. on Thursday!
Peace,
Charles