The Call of Epiphany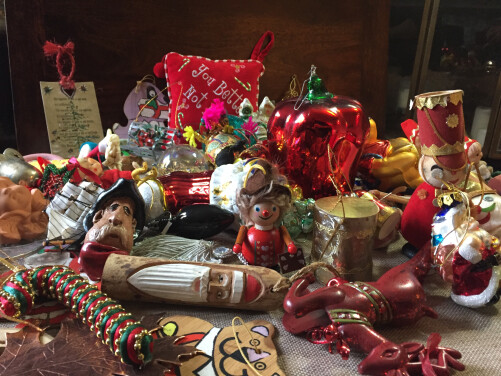 Yesterday afternoon I dismantled my Christmas tree. Yesterday morning I preached a sermon called "Keeping Covenant" at St. Alban's Church. It wasn't so much a sermon as an apologetic (as in a formal defense or justification for something) arguing the significance of the season of Epiphany in the church. I did so because it seemed to me as I was writing the sermon that Epiphany, the season between Christmas and Lent in the liturgical year, gets short shrift and suffers a bit from what a developmental psychologist might call Middle Child Syndrome. I worried that with the holidays now over we in the church relax a bit as we move toward Lent and Easter, leaving Epiphany out in the cold (literally!).
The lectionary texts from the New Testament for the Sundays of Epiphany this year begin with the Baptism of Jesus by John in the river Jordan, an event that includes the Spirit of God descending on Jesus as the skies open and a heavenly voice declaring, "This is my Son, the beloved, in whom I am well pleased." That's the moment that marks the beginning of Jesus' public ministry and a mission including healing, teaching, prophetic preaching and disciple calling. As noted in yesterday's sermon, over the next seven weeks of the season we'll hear some of the most radically demanding claims for ethical and social responsibility and authentic religiosity in texts from Isaiah, Micah, Deuteronomy and Leviticus in the Hebrew Scriptures and in The Sermon on the Mount from Matthew's gospel in the New Testament. There's both a corporate and an individual dimension to the calling of these texts but to me they stress the former; to the need for just social structures and for the church and synagogue (and mosque) to be radical proponents of the same. The season of Epiphany will end with the same heavenly declaration with which it began as Jesus, glowing like a light bulb, stands transfigured as the voice from heaven declares for a second time, "This is my son, the beloved, in whom I am well pleased, listen to him." It seems to me that these heavenly proclamations are like bookends that hold the season upright. Epiphany begins at the outset of Jesus' public ministry with the proclamation that he is God's beloved, then continues with a portrait of who he was and how he came to understand his mission (a mission derived from his reading of Holy Scripture - that being the scriptures of the Old Testament), and ends with something like this: "Now that you know why this Jesus is beloved to me, now that you know what he (and I) ask of you, can you listen to him?" Listen, in this case, meaning hear (shema, in Hebrew), or more accurately, obey.
It could be that I'm caught up in the social and ethical demands of the season (and of the bible) and how we understand that in relation to the work of the church because of what happened to me last Thursday. A woman came to the church for help and I listened to her explain that her father (in Africa) needed a medical procedure. Rose, I'll call her, makes a living as a caregiver and her most recent charge died a couple of months ago. Rose hasn't been able to find work since then and is living in the basement of a fellow caregiver until she can find a new charge to care for and get back on her feet. In order to pay for part of her father's medical care Rose went to TitleMax of Virginia, a lender that gladly accepts car titles in exchange for cash loans. Rose was given $3, 048.00 in cash for a fee of $2,587.58, payable in 11 monthly installments. That's an annual percentage rate of 132.0831 percent (Rose gave me a copy of the Motor Vehicle Title Loan Agreement and Federal Truth-in-Lending Disclosures). If Rose can't make the payments, or gets behind, TitleMax gets her car. You'd think there'd be a law. You'd think the state legislature in Virginia might have a soul, or a conscience, but apparently not.
As we pack up our ornaments and drag our dead trees to the curb, as followers of Jesus heading toward our season of self-repentance moving toward the forgiveness of Easter and the good news of the resurrection to eternal life, let's not forget the call of Epiphany.
Happy Monday,
Jim+