Thanking C.S. Lewis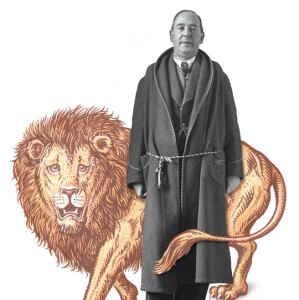 I believe in Christianity as I believe that the sun has risen: not only because I see it, but because by it I see everything else.
C.S. Lewis
Tomorrow is Thanksgiving and you are probably up to your neck in giblets or trying to finish up work so you can have a peaceful, thankful weekend. But today the Episcopal Church remembers C.S. Lewis among its Holy Women, Holy Men. He is worth taking the time to remember. And he is among the "cloud of witnesses" for which I give thanks.
Clive Staples Lewis (1898–1963) was one of the foremost writers of the last century, penning more than 30 books. A man of towering intellect, he was an Oxford fellow and then chair of Medieval and Renaissance Literature at Cambridge.
But what matters most to me is that he was a less than perfect man who struggled with interpersonal relationships and with religion—yet still wound up helping many of us establish an honest relationship with our Creator. Brought up in the Church of Ireland, Lewis put it aside after a miserable childhood. For years he professed no faith, then tried Celtic mysticism, eventually theism, and finally Christianity. This final conversion came about during long conversations with his colleagues, especially J.R.R. Tolkien.
His books reflect his journey and evolving faith, including Surprised by Joy, Mere Christianity, and A Grief Observed, the latter detailing his struggle with faith after the death of his wife. It has become a valuable resource for the grieving. But it is the Chronicles of Narnia that remain in my heart and the hearts of my children. These books, considered allegories, express our longing for goodness. They teach us that our difficult choices matter. They embrace fantasy and mystery, much like Tolkien's, and this concept of "holy mysteries" has both comforted and challenged me throughout my life.
So I give thanks this week for all writers and books that have been part of our Christian formation, especially C S. Lewis and his noble lion, Aslan. I give thanks for my children, who allowed me to see the Aslan in each of their lives and to find God. For my husband, who holds me to the faith when it wobbles. Thank you, God, for this community of believers, for each one who chooses to follow Jesus and serve a troubled but beautiful world. And thank you for a day to surround ourselves with the awareness of our many blessings.
I'm on Aslan's side even if there isn't any Aslan to lead it. I'm going to live as like a Narnian as I can even if there isn't any Narnia.
C.S. Lewis