Thank You
As a student at Virginia Theological Seminary I can remember waking at two o'clock in the morning with 5 papers due in less than two weeks, crying and asking myself "What in the world made me think I could do this?" The papers would get written and eventually returned with a passing grade but I didn't understand at the time that the content of those papers was far less important than everything that went along with having had to write them.
I can remember one summer, sitting day after day with the terminally ill nursing home residents that I was assigned to as a Clinical Pastoral Education student, trying to conjure helpful words or insights but feeling at a complete loss to do so, and learning a similar lesson. The learning wouldn't come as we students would find the right words to say but rather from the struggle of discovering that we didn't possess them.
I can also remember struggling with the challenge to overcome the vanity that every young postulant must overcome on their path to the priesthood as a seminarian at my field education site, The Church of the Epiphany in Washington, DC. I'm grateful for my fellow seminarian Eleanor Holland and for our mentor there, The Rev. Randolph Charles; grateful for for all that he and the flock that he felt called to serve - the homeless of downtown Washington - taught both of us.
After a first assignment as a new priest in the Diocese of Kentucky I regularly returned to the place that had become, because of those many transformational experiences, my spiritual home. I came back at every opportunity I could, attending yearly preaching conferences at the National Cathedral, one of them taught by the Rev. Francis Wade. In those first few years out of seminary I would apply for jobs as the rector at churches in the Diocese of Washington, not realizing how under-qualified I was!
All of this is a way of me sharing with the members of St. Alban's about what a profoundly emotional experience it was when during yesterdays church services, and totally by surprise, Emily Griffin and I were presented with gifts from the parish in recognition for our work as priests at St. Alban's parish. I wept during the service and continued to do so throughout the day. I wept during the Oscars when every time one of those little golden statues was awarded I felt like I had won one of my own. But mine had come from the church not from (with all due respect) La La Land.
For those who weren't in attendance at yesterday's services and for those who read these Daily Cups from afar, a new Altar Missal for St. Alban's was presented in recognition of Emily's work and a new Gospel Book for mine. As a lover of Holy Scripture and as one of my greatest privileges as a priest is to read the Gospel during church, to have my name inscribed in that book in particular is almost more than I can bear.
When pondering this post for today I struggled a bit with the fact that it might seem self-indulgent. But not writing it would be the equivalent of winning an Oscar and then sitting in my seat looking smug. I feel blessed more so than deserving. I am honored and I am humbled. I am profoundly grateful to the parishioners who served on my discernment committee at St. Francis in the Fields those many years ago, for the students who struggled along with me in seminary, for my many teachers and mentors in the faith, and for the people of St. Alban's. This feels like a sort of culmination and makes me think I ought to be careful crossing the street.
Thank you, people of St. Alban's, and know this: What you gave Emily and I yesterday was such a gift, and, while I won't speak for Emily, my hunch is it that these gifts will make each of us, in our own way, better priests.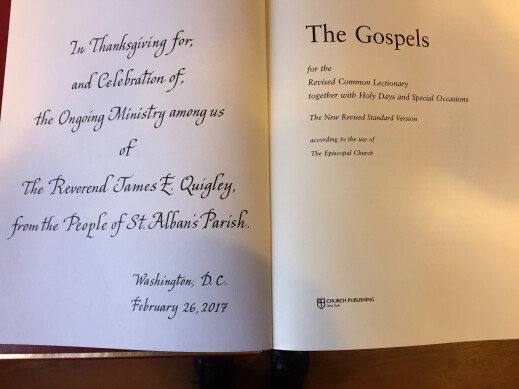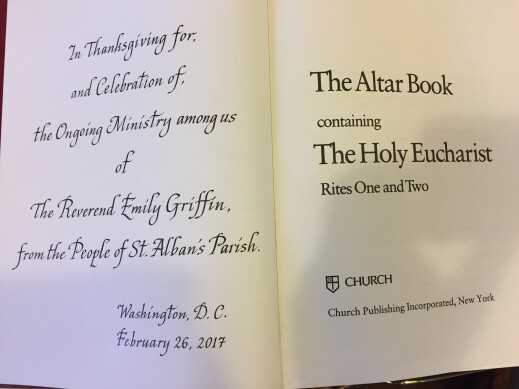 Happy Monday,
Jim+