Skunk Hour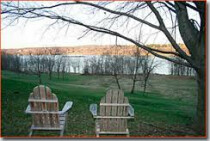 Two weeks ago, I was sitting on a bench in a field, watching the sun come up over the river. A thick mist rose from the water and made the field, the trees, the hills, the river itself vanish into a gray haze. Near the river, I saw three tree-stumps, which then began to move. The fog had been so thick that I had not been able to see that they were deer.
After a space, there was movement: a frisking and frolicking somewhere near my feet. I looked over and saw a skunk, dancing its way along the ground. It was small and delicate; its white stripe painted jauntily over thick black fur. It hopped and skipped and smelled the flowers.
I don't think I'd ever been that close to a skunk before. (It's not wise.) And so it had never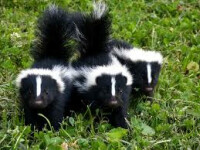 occurred to me that they might be joyful creatures. All we ever hear about is the stench: fear and reaction, and lingering soggy shame.
But my eyes were opened to the beauty that was there, beyond my fears, beyond my stereotypes, in the real and living beauty of God's world.
So much of our experience is like that, I think. It is so easy to take one thing, one event, and let it color your sense of a whole person or community. Sometimes, I guess, that's appropriate. I would never urge a person to be alone with someone who had assaulted him or her, or pretend that there was nothing sick in Weimar Germany. But most of time, taking that narrow view merely deprives us of much that is good.
The person who let you down still has a rest of their life. The community that is facing change may well grow in ways that are more beautiful and sustaining than it has ever been before. All we can do is trust and hope -- and work for the future we want, maybe even beside people who have failed us before. After all, each of us needs to be redeemed, and the hope we long for in our own lives is the same hope that nurtures others through their bitter, dark nights.
There is one Hope, and one Future. And when we get near it, the very thing we dread might surprise us by dancing.