Seeking Safety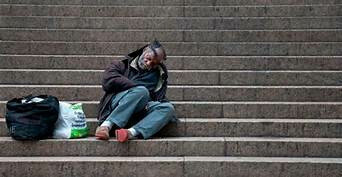 My husband and I just returned from San Francisco where we celebrated daughter Kathleen's (major) birthday. She has made a nice home in a rent-controlled apartment there. I've been concerned, however, since she told me that a mentally ill homeless man with a police record took up residence on her front steps.
We refer to him as Bob. In the movie "What About Bob," there was a character who harmlessly hounded his psychiatrist, and our family finds it easier to talk about this problem using a name. Bob is pretty messy, sometimes thoughtful, often quite confused, and occasionally irate and screaming. This last attribute necessitates frequent calls to the police. Legally, there is not much they can do but ask him to move along.
It began weighing on my daughter after several weeks, not knowing which Bob would be waiting for her when she walked home from her night shift. Her landlady seems responsive, trying to get a locked gate installed in front of the steps, but contractors have thus far been no-shows. So, my daughter and this 3,000-mile-distant mother continue to be on edge. Except … Kathleen also knows that making herself feel secure will have the opposite effect on Bob.
"He tells me that he likes my steps because the front light is always on, and he feels safe," she says. Many homeless people on the sidewalks are rolled and robbed of their meager possessions, and sometimes beaten. "He is sick," she says. "He is somebody's son or brother. I really hope that once the gate is up, he can find somewhere else where he can be safe."
I've been thinking about all the Bobs in the world. There are so many we physically or emotionally step around: those who must flee violence in their homes or homeland, those who don't look or act or sound like we expect them to, or those we label as unredeemable because of God knows what. I believe that most of them are just wanting to get through the night, and hopefully tomorrow, without being harmed. Then there are others who may have good reason to feel too vulnerable, knowing that the Bobs in their life may unexpectedly do harm. They, too, need safety.
We live in a time that feels so many kinds of unsafe, whether we have a Bob or not. I've become more aware of what causes me to lose my sense of security. What about you? Practicing mindfulness may keep us centered. Coming together for worship helps. Being with loving and joyful people helps a lot. We hold to God's promise that we are always held in God's hand, even when we cannot feel it. And we pray—for the Bobs, for those who may be in harm's way, and for ourselves.
Lord,
it is night.
The night is for stillness.
Let us be still in the presence of God.
It is night after a long day.
What has been done has been done;
what has not been done has not been done;
let it be.
The night is dark.
Let our fears of the darkness of the world and of our own lives
rest in you.
The night is quiet.
Let the quietness of your peace enfold us,
all dear to us,
and all who have no peace.
The night heralds the dawn.
Let us look expectantly to a new day,
new joys,
new possibilities.
In your name we pray. Amen.
Night Prayer, the New Zealand Prayer Book