Reformation From Within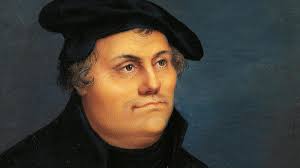 This Sunday, our Lutheran sisters and brothers as well as other Protestant churches will celebrate Reformation Sunday. The following Wednesday marks 500 years since Martin Luther posted his Ninety-Five Theses on the door of the Wittenberg Castle Church, detailing his challenges to the Roman Catholic dogma of the time and igniting the Protestant Reformation. Beginning Sunday November 5, St. Alban's forum time will focus on the Reformation and its complex and imperfect reformers, so do come.
Being raised a Lutheran and recalling three years of confirmation classes (yes! Take that, Episcopal slackers), this anniversary has been on my mind. My greatest takeaway from those classes, in addition to the memorization of Luther's Small Catechism, is the primacy not of authority but of faith. We are not forgiven and saved by a priest or pope, we cannot buy God's blessing with good works or generous giving. We cannot learn and build a relationship with God through what we are told. There is no holy checklist to complete or hierarchical tower to climb to earn God's love. It is a faithful longing to know God and to follow in Jesus' footsteps that opens the door to everything else.
Luther reminded us of Christ's radical path. Jesus was a reformer, a revolutionary, who showed us that our lives are in need reformation. He asked us to live not by judgment and rules, but through love and service. I believe we live in a continuing reformation because God is still speaking to us. Our job is to listen and act in faith.
As he met the judgment of Rome, Luther famously stated, "Here I stand. I can do no other." My Lutheran goddaughter's youth group is selling socks inscribed with "Here I Stand"; I wish I had a pair this week. I look forward to singing Luther's hymn "A Mighty Fortress Is Our God" on Sunday morning. I struggle with the militaristic language and don't warm up to the image of a fortress-God, but the message for me is one of God's unshakeable presence "above all earthly powers"—"God's truth abideth still."
It feels like reformation is what we're about here at St. Alban's. Let us live in God's grace and keep the faith as we learn, love, and grow in relationship to our God and each other.