Native Tongue
In a recent Daily Cup, I mentioned my struggles with how to process the infinite amount of information available to us today via the World Wide Web and my misguided attempts to try to learn it all. A byproduct of this knowledge chase has been an ever-decreasing ability to slow down - to stop the ever-churning wheels of thought in search of the next nugget of wisdom to add to my collection.
An unfortunate casualty of this has been my prayer life. Now, I have always struggled with prayer - and what form it takes. I have been a worship leader at church and read the Daily Office, and led a home church community in worship. I have meditated daily alone in the church and weekly with a Buddhist group. I have prayed while listening to music and in silence. Each of these worked for a time but, at some point, no longer seemed to be fulfilling or brought me closer to the God of my understanding.
For the last few years, the problem has been one of succumbing to the need to know at the expense of creating space and time for prayer. In my striving to miss nothing, I am missing something of much greater value, a God who yearns to grow closer to me.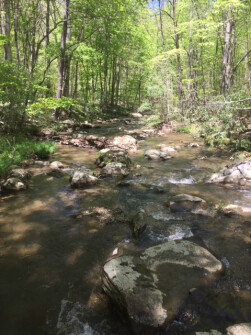 This was brought home to me during a recent visit to our newly-acquired vacation home in the mountains of West Virginia. Our property is surrounded by the sights and sounds of nature but most prominently by the stream that wraps around it. The inescapable sound of rushing water has been surprisingly mesmerizing to me. I have found myself sitting alone on the deck completely content with the input that I am receiving from this setting - the sunlight through the leaves, the occasional bird call, the unusual insect passing by, all undergirded by the music of a stream seemingly merrily making its way through the woods.
I am reminded of the daily emails that I receive from a website called whitebison.org, which seeks to provide healing resources to Native Americans struggling with addiction. They are filled with messages about Native American spirituality. I specifically thought of this one:
The Creator gave each culture a path to God. To the Indian people, he revealed that the Creator is in everything. Everything is alive with the Spirit of God. The water is alive. The trees are alive. The woods are alive. The mountains are alive. The wind is alive. The Great Spirit's breath is in everything and that's why it's alive. All of nature is our church, we eat with our families in church, we go to sleep in church.
The most striking sentence for me is this last prayer, "My Creator, let us leave people to worship You in the way You have taught them."
I believe, as this prayer suggests, that each of us has a connection with God that is ours, and ours alone. In moments of clarity, I remember that I am still in the process of learning how to make that connection. Thankfully, God already knows and is always ready to connect with me!
I leave you with a song by David Wilcox that is a great source of comfort to me: "Native Tongue."
Peace,
Charles