Love me tender, love me true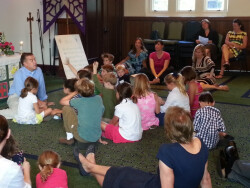 Last Sunday, I took a turn in our parish's Children's Chapel, where every Sunday we tell stories, sing songs, make funny gestures, pray together, and share the good news of God's love with children in ways that they can understand and enjoy. (To tell the truth, it seems to speak to grown-ups, too; there are a lot of people in our church who name Children's Chapel as their favorite way to worship.)
Usually, Children's Chapel is filled with children of many ages, but for some reason, last week we inclined heavily towards the two-and-under set. Near the end of our time, one of the older kids, Annie, who likes to help lead the chapel, took out a storybook and read to the children about Daniel in the lion's den. What happened was like magic: one by one, all the children gathered as close to Annie as they could, until the front of the chapel looked like a football scrum, kids piled on one another to get close to Annie.
What was that about? It wasn't the story; it was Annie. She loves small children, and they feel that love and adore her in return. I had to wonder: was that what was compelling about Jesus? Not his teaching, not his courage, but the tender love he had for each person, which led them to trust him, to believe him, to want to follow him.
We in the church tend to lead with the teachings. We wrestle with theology, with the right way to worship. We build programs to help the poor; we deliver food, collect clothing and blankets, offer free concerts to draw people in. All these are good things; they meet needs that are real and pressing. Very few hungry people would turn away a home-cooked meal. Very few cold ones would not be grateful for a blanket.
And yet, does what we offer meet the deepest needs of the human heart (our own needs or those of the people whom we try to assist)? How could we offer it in ways that demonstrated not just care, but love: love for each person as an individual, just as they are, one messed-up human being reaching out to another? Can we manage that level of vulnerability, to say, "Hey, it's OK, I've messed up too. Big time. I do not judge you. I do not condemn you. I love you as my sister or my brother, and I hope that we can make one another well."
The hardest thing about Christianity, I think, is that it's not about being good; it's about being real. Most of us want to be good. Most of us want to be admired. Most of us want to be "good Christians," although that means different things to different people. It takes courage -- real courage -- to be bad at something, to be bad at something important. To do that means you have taken a risk. To be a bad Christian, in its best sense, means that you have taken a risk for Jesus.
What is real? When I was newly-ordained, I was lucky enough to be claimed as a friend by a older man who was a man of great faith. A few weeks before his death, he came into my

office and asked me to try to help him find a Bible verse. I knew the verse, but I was puzzled that he asked for help to find it, given that he knew the Bible better than I. But I read it to him: "When you were younger, you used to fasten your own belt and to go wherever you wished. But when you grow old, you will stretch out your hands, and someone else will fasten your belt around you and take you where you do not wish to go." He looked at me and said, "I know what that feels like now. I do not wish to grow old." We sat together holding that truth: that this person of faith was afraid, afraid of losing himself.
It would have been so much easier for him not to have spoken those words. It would have been easier for him to have kept the facade, to have maintained the image of the courageous Christian leader. Instead, he gave me the gift of his trust, and when he died, I knew what he had been spared.
I think of that scene often, when I am troubled or unsure. It gives me great strength that a man I admired so greatly could admit his struggles; it gives me strength to acknowledge my own with honesty and candor, not only in the secrecy of my prayers, but in the company of the friends of my hand, and even with those who are not friends, but who have struggles of their own. It is a way of demonstrating love, of coming together as two human beings, just as we are, knowing that God is with us, as we are.
How can you love someone today?