Looking for the Right Thing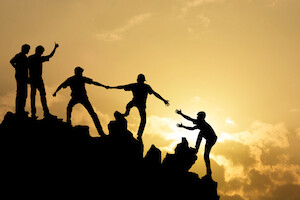 "Jesus came to his hometown, and his disciples followed him. On the Sabbath he began to teach in the synagogue, and many who heard him were astounded. They said, 'Where did this man get all this? What is this wisdom that has been given to him? What deeds of power are being done by his hands! Is not this the carpenter, the son of Mary and brother of James and Joses and Judas and Simon, and are not his sisters here with us?' And they took offense at him."
From Mark 6
The rector's sermon this past Sunday cited the gospel lesson above and a book by Rev. Rob Schenk, Costly Grace: An Evangelical Minister's Rediscovery of Faith, Hope, and Love. As happened to Jesus preaching and teaching in his hometown, Rev. Schenk has offended much of his community—fellow evangelicals—because he chooses to speak his truth and do what he believes is the right thing. After years of actively aligning himself with conservative evangelical causes, a change of heart has placed him in the opposite camp. He now deals with the challenges of being an outsider.
The rector invited us to consider our own choices and to prayerfully consider how we might do "the next right thing" during this time of cultural, moral, and spiritual turmoil.
I struggle to identify my right thing. My mind and heart are clear on what I believe: the earth and its people are being made to suffer in our collective name, and I feel that my moral identity and integrity has been compromised. How to make my beliefs actionable, however, is unclear. Among people I admire are those who are in-your-face campaigning for values-based change and those who quietly witness to God's mercy and compassion by example and deed. And there are dear people who see things differently and who I loathe to offend; I'm sure Rob Schenk felt this way. How do I make sure I act in love? Where do I fit?
1 Corinthians 12 offers some insight: "Now there are varieties of gifts, but the same Spirit; and there are varieties of services, but the same Lord; and there are varieties of activities, but it is the same God who activates all of them in everyone." My right thing doesn't have to be like yours; we are different people with different gifts. This is a good time to explore how our individual gifts can best be used.
Every day is a new and often troubling story. What is right for one day may not be right for today or tomorrow. This is the time to stay in touch with our God, to be quiet, to listen to what we might do in God's name. This is discernment time. Not an excuse to be a slacker, we need to actively open ourselves to new possibilities.
So what must I do? Well for one, I'm a writer, and perhaps offering these words for your consideration is one thing. I can write to decision-makers. I'm a grandma, and I can make sure my little grands know that love and compassion are the paths to peace among us all. I'm a friend-maker; I can actively reach out to embrace those who I have blindly overlooked because of differences. I can put my Lutheran ordination Bible verse to use: "Let your light so shine before man …. " Whenever possible, I can try to be a light of God's love.
That's today. Tomorrow may require that I hit the streets, I don't know. God has no end of next right things for all of us to implement according to our gifts. Let's stay in touch with each other while we listen for God's word.