Leftovers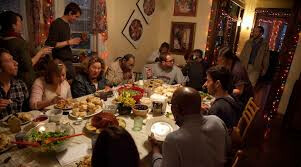 Leftovers are a bane of church existence. Churches tend to gather around food: cookies after church, repasts after funerals, potlucks, dinners, picnics, all kinds of gatherings, served at church or in homes or pretty much anyplace. Almost always, there is food left over: half a cake, a platter of sandwiches, tray after tray of roasted vegetables and hummus.
Caring for those leftovers is one of my quiet pleasures at St. Alban's. When we have an abundance, we load the untouched food into a car and take it to Joseph's House, a home in DC which offers medical care and community to homeless men and women in the final stages of AIDS and terminal cancer. When you walk in the door, the first sense you get is of home: the furniture is shabby; the people gathered do not resemble one another; but there is a palpable tenderness: this house has a kind heart. It gives me great joy to know that our food is nourishing these people.
In a sense, both are leftovers: the food we could not eat, and the people no one quite knew how to care for. The ones on the street: smelly, dirty, confused, the ones from whom we too often turn away because we just don't know what to say. We feel our powerlessness in the face of their need. What form does compassion take, what form can compassion take, in these lives which are so broken?
Jesus speaks to that, a bit, at a slant. There was a time when he went out into a deserted place, and a large crowd followed him, and he taught them because he had compassion on them. And as he was speaking, the sun began to go down, and the disciples urged him to send the people away so that they could eat. But Jesus told them: You feed them. And he took whatever they had and blessed it, and they shared it around around and there was enough, and at the end, they gathered up the broken pieces, many baskets full.
I have always wondered what they did with them, those broken pieces. Did they serve them the next day? Did they scatter them? The Bible is resolutely silent. All we know is that they gathered the broken pieces, and they were with Jesus.
For myself, that's the bit I hold onto: that the broken bits, the broken people, the broken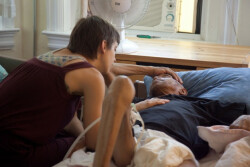 communities, are with Jesus. He gathers them in and holds them close. Whether they stay together or whether they scatter, they are with God.
Over and over, the people of God come down to a remnant. Sometimes the remnant is the group of people who are left in place after an exile or a defeat. Sometimes, it is the people who leave, who go to a place where they may flourish. There is no one right path.
What there is, is a promise, God's first promise to his people: "I will bless you,... so that you will be a blessing." And Jesus' last promise, which is the same: "Lo, I will be with you always, even unto the end of the age."
There are no leftovers. There is no one left behind. There is only grace, wherever we go to find it.
_____
Photos are taken from Joseph's House website: www.josephshouse.org.