Holy Week Waiting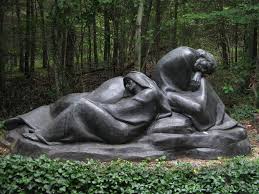 The grass never sleeps.
Or the roses.
Nor does the lily have a secret eye that shuts until morning.
Jesus said, wait with me. But the disciples slept.
The cricket has such splendid fringe on its feet,
and it sings, have you noticed, with its whole body,
and heaven knows if it ever sleeps.
Jesus said, wait with me. And maybe the stars did, maybe
the wind wound itself into a silver tree, and didn't move,
maybe, the lake far away, where once he walked as on a
blue pavement, lay still and waited, wild awake.
Oh the dear bodies, slumped and eye-shut, that could not
keep that vigil, how they must have wept,
so utterly human, knowing this too
must be a part of the story.
"Gethsemane," by Mary Oliver
I've never been good at waiting, usually wanting to get on with whatever needs to happen, wanting to know what's on the final page of the story. This week is so much about waiting, and indeed we know what will happen and how this story ends. Nevertheless, each year we wait and mark the days. We read Jesus's teachings in the temple since his arrival in Jerusalem, and of his preparing his disciples for the days ahead. We know Thursday will come, when Jesus asked his friends to wait with him in Gethsemane … but they slept. And then the darkness of Friday. We wish for, wait for Easter.
How do we wait as people of faith? In Holy Week's familiar rhythm, how do we not become part of the story of sleeping disciples?
This past weekend, our city and nation seemed very much focused on change. As ardent young people (older ones, too) spoke out and took to the streets, they proclaimed their expectation of and commitment to change. Not just waiting for the dawn of a new day but living it, believing it.
That strikes me as a good idea for the rest of this week. Might we actively wait by truly expecting God's sacrificial gift of his son to profoundly change us? Could we grab opportunities—now—to live into this new life God offers? Can the Easter we know is coming find us rejoicing, not only in the resurrection of Jesus, but also the resurrection of passion and purpose within ourselves?
That's what I pray for.