Holy Now
How close can we come to God? I've had some time to think about this over the last couple of weeks as I've gathered materials for a new Sunday School lesson for our 3 to 6 year-olds.
The lesson is called the Symbols of the Holy Eucharist. In it the kids learn to set the "altar" in their classroom. They learn the special names we use for these common things made holy. The table isn't just a table, you see; it's an altar. The plate isn't just a plate; it's a paten. The cup is a chalice. The napkin is (this one's my favorite) a purificator. The kids practice saying these strange words as they learn to set the altar and then put the materials away.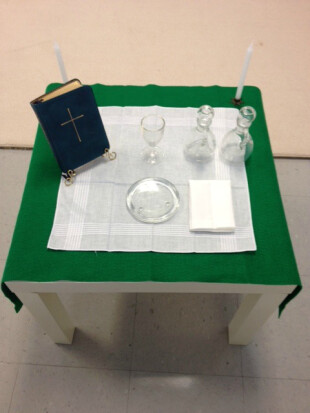 In the lesson we talk about how these everyday things are set apart for this very special use – hence, why we give them special names. As part of Holy Communion, they help to show us how much God loves us, how God feeds us and comes close to us in the bread and wine. That's what the word holy means, of course – to be "set apart" for God's use.
We show the kids how to handle these objects with intention. We trust them to hold them and put them away with care. The lesson and materials then give them more experience to draw on when they see objects like these used in "big church." They can use more of their senses instead of relying primarily on sight. Over time they learn with their bodies that this meal really is for them – that when we say "the gifts of God for the people of God," the "people of God" includes them.
In calling these common things holy – things like cups and plates, napkins and tables – I've found myself wondering how far holiness can extend. How far "set apart" does something need to be to reveal God to us? In our Old Testament lesson for this Sunday, the LORD tells Moses to tell the people: "You shall be holy, for I the LORD your God am holy" (Leviticus 19:1). Fortunately, the text goes on to describe what that looks like – and it's not what you might expect.
We don't get a lecture on teetotaling or abstinence. Instead, we're told not to reap to the very edges of our field; we're to leave some of our harvest for the poor and alien (or immigrant, according to the Common English Bible) among us. Holiness means not lying or stealing or cheating our neighbor. "You shall not hate in your heart anyone of your kin…you shall not take vengeance or bear a grudge against any of your people, but you shall love your neighbor as yourself" (19:17-18). That's what our being "set apart" for God's use in the world looks like.
If we can learn to be holy in that sense, who's to say that the rest of creation can't become holy as well? For us as humans, there seems to be some intention or effort involved to become fully what we were created to be – a reflection or image of God. It's not so hard for me to see the holiness in children. In their joy, their honesty, their capacity for wonder, they reflect God so clearly to me at times it's blinding. With grownups it's a bit harder, I'll admit. Life makes that holiness harder to see; it doesn't mean the potential's not there.
As we seek to come closer to God, thank God for all the ways – including our children – that God has already come close to us.
Peace,
Emily+
P.S. The title for this Cup comes from a song of the same name by Peter Mayer. Google it sometime.